Rubio Ad: 'The Purpose of Our Life Is to Cooperate With God's Plan'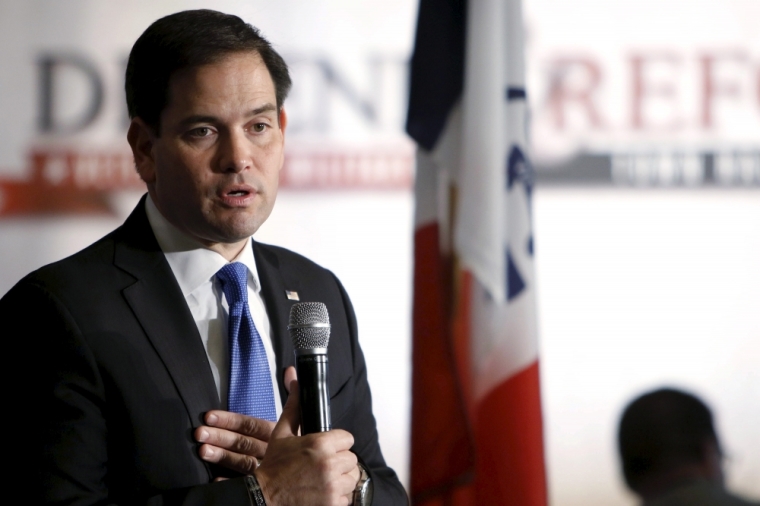 Republican presidential candidate Marco Rubio released a new 30-second television commercial in Iowa that attempts to attract support from Christian conservatives by talking about how he lets his Christian faith impact everything he does.
With the Iowa Caucus set to take place on Feb. 1, the 44-year-old Florida senator currently sits in third place in the Real Clear Politics average of Republican Iowa Caucus polls, behind billionaire Donald Trump and Iowa frontrunner Texas Sen. Ted Cruz, who right now has an average of 31.8 percent of the support in Iowa and has already scored a number of key Evangelical endorsements.
In order to win the Iowa Republican Caucus, Rubio and others will most likely need to attract the support of Iowa's large Evangelical conservative population.
Rubio, who is Catholic, released his new ad this week where he discusses the "struggle" that Christians face in living their lives by God's will.
"Our goal is eternity," Rubio says in the ad. "To live alongside our Creator and for all time to accept a free gift of salvation offered to us by Jesus Christ."
"The struggle on a daily basis as a Christian is to remind ourselves of this — the purpose of our life is to cooperate with God's plan. To those whom much has been given, much is expected and will be asked to account for that."
Rubio then asks viewers: "Is your treasure stored up on Earth or in heaven?"
"For me, I try to allow that to influence me in everything that I do," he answers.
This week's ad is not the first that Rubio has released in hopes of appealing to Evangelicals and social conservatives.
In December, Rubio released another 30-second ad where he claimed that the 2016 election is about "all of us who feel out of place in our own country" and the "millions with traditional values branded 'bigots' and 'haters.'"
After releasing that ad, Rubio did an interview on CBS' "Face the Nation" where he explained that even he has been called a bigot for opposing gay marriage.
"In the broader left, I have been called a bigot for not supporting the definition of marriage," Rubio said. "When it comes to the traditional values, absolutely. I have been called that before. In fact, this very week, I was called anti-Hispanic, anti-Latino by a group that was obviously funded from the left, who argue that unless we agree with them on everything then somehow we have betrayed our community," Rubio said. "I mean, this is standard operating practice from the left."
USA Today reports that Rubio has also released a 1-minute commercial just in time for the first weekend of the NFL playoffs that targets football fans. In the ad, Rubio tosses a football around while answering various football questions like who he thinks will win the Super Bowl.