Marine Officer Court Martialed for Refusing to Remove Bible Verses From Her Desk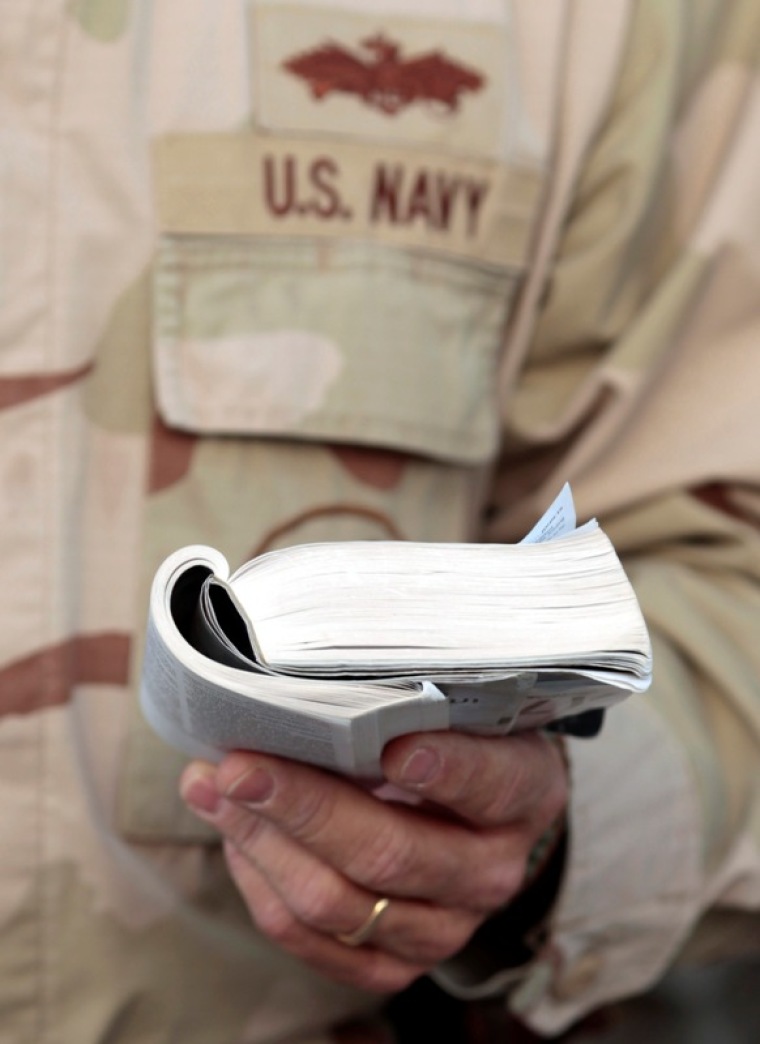 A U.S. Marine officer is now unemployed after she was found guilty at a court martial of disobeying the "lawful order" of her superior officer— who ordered her to remove biblical phrases that she had taped onto her computer and desk.
The Liberty Institute, a legal firm devoted to restoring religious liberty in America, has taken up the appeals case of former Marine Lance Cpl. Monifa Sterling, who was demoted to private and given a bad conduct discharge last year after she was convicted of a number of charges that stem from a May 2013 disagreement she had with her staff sergeant.
Sterling was forced to remove the verse "No weapon formed against me shall prosper," Isaiah 54:17, from her computer and other biblical verses that she had taped to her desk.
Sterling refused her staff sergeant's orders and said it was her First Amendment right to have the verses at her workstation. The next day, Sterling found that her biblical verses had been removed.
Sterling represented herself in her Feb. 1, 2014, court martial trial at Camp Lejune, North Carolina, where she argued that her religious freedom rights were violated.
She was found guilty of showing disrespect toward a superior commissioned officer, four instances of disobeying a lawful order of a noncommissioned officer, and failing to go to her appointed place of duty. The decision was also upheld in the Navy-Marine Court of Criminal Appeals.
The appellate court ruling stated that because she shared her desk with another Marine, she could not argue that the order violated her religious freedom.
"The military judge found that the signs verbiage was biblical in nature, that the desk was shared with another Marine, and the signs were visible to other Marines who came to the appellant's desk for assistance," the court ruling states. "The implication is clear — the junior Marine sharing the desk and the other Marines coming to the desk for assistance would be exposed to biblical quotations in the military workplace."
The appellate court ruling further implies that the taping of biblical verses to the computer and desk could cause hostility among those who don't share Christian beliefs.
"It is not hard to imagine the divisive impact to good order and discipline that may result when a service member is compelled to work at a government desk festooned with religious quotations, especially if that servicemember does not share that religion," the court ruling continued.
The Liberty Institute has filed an appeal to the U.S. Court of Appeals. Personally working on Sterling's case is Liberty Institute volunteer attorney Paul Clement, who is a former U.S. Solicitor General appointed by President George W. Bush and has also argued 75 cases before the U.S. Supreme Court, including a victory in the 2014 Hobby Lobby case.
Liberty Institute's Director of Military Affairs, Mike Berry, pointed out in a statement that there are some inconsistencies with the court's ruling. He stated that other Marines have been given the freedom to decorate their desks the way they want to. However, Fox News pointed out, that the court did not allow that evidence to be admitted.
"If a service member has a right to display a secular poster, put an atheist bumper sticker on their car, or get a Star of David tattoo, then Lance Cpl. Sterling has the right to display a small Bible verse on her computer monitor," Berry said. "If the government can order a Marine not to display a Bible verse, they could try and order her not to get a religious tattoo, or go to church on Sunday."
"Restricting a Marine's free exercise of religion is blatantly unconstitutional," Berry asserted.
Berry also said that Sterling was not even sharing her desk with anyone when this incident occurred.
"This is a very scary time when you are not allowed to have a very small printed Bible verse in your own personal workspace because it might offend other Marines," Liberty Institute's Hiram Sasser told Fox News. "Our Marines are trained to deal with some of the most hostile people on the planet. I don't think they are afraid of tiny words on a tiny piece of paper."