Mark and Grace Driscoll Talk Marriage, Friends With 'Benefits' on '700 Club'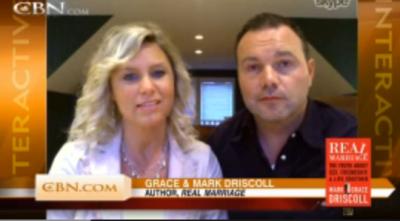 Mars Hill Church pastor Mark Driscoll and his with wife, Grace, appeared on "The 700 Club" Tuesday to speak with host Terry Meeuwsen about love, honesty, and friends with "benefits" in the context of marriage.
Meeuwsen asked the couple about the definition of love, as described in their recently released book, Real Marriage: The Truth About Sex, Friendship, and Life Together.
"We started the book talking really about friendship," said Pastor Driscoll. "The language of the Bible [relays] that to be face-to-face is to be friends. One day we'll be face-to-face with Jesus, because he is the best friend ever – and we want to be face-to-face with our spouse." According to the Seattle, Wash., pastor, love equals friendship.
The couple, in Real Marriage, advise people to "reverse engineer" their lives and marriages. Mrs. Driscoll revealed that this means taking a look at one's "last" day and "prayerfully" deciding what it should look like, and then taking steps to achieve that.
"We give some practical tips on how to make plans to have that life that God wants for you, to have that marriage that God wants for you," she stated. "That is truly loving the way God intended."
The Driscolls discussed the lack of honesty that they believe is missing from many U.S. marriages. However, Pastor Driscoll stressed that everyone is a sinner and Jesus died for that sin, but if people acknowledge this then they can be honest with each other.
"Jesus died for sin so we can forgive one another – that doesn't need to kill our love, joy, and friendship. I think sometimes shame overtakes people and they want to hide. [But] the good news is we can come clean, we can be honest and because Jesus died and rose we can have a new marriage with the same spouse even if we've been in a rough place."
Mrs. Driscoll, who shared similar sentiments, pointed out that love involves no record of wrong doing – so people need to be able to move on from past mistakes. "God asks us to bring everything into the light so that we can fellowship with one another. In order to do that we have to be honest," she said.
She countered that by hiding certain aspects of one's life or lying creates distrust and divides a husband and wife.
"It's a process, it's not immediate," shared Mrs. Driscoll. "It feels immediately like a weight lifted, because you're not having to hide behind the shame anymore, but it does take time for that to work itself out and to communicate through that."
Pastor Driscoll shared that the couple tried to be honest in the book, with the hope of inspiring others to do the same. The senior pastor told Meeuwsen that it all came back to an "abiding belief in Jesus – He loves, forgives and teaches us to [do the same].
"I'll be really honest and say if Jesus wasn't at the center of [our] relationship it wouldn't have worked and it certainly wouldn't look the way it does today. We're good friends having a good time."
Mrs. Driscoll added that respect was also important for any marriage to thrive. If a husband or wife fails to respect his or her spouse then they are not loving as God intended, she stated.
"The 700 Club" host also inquired about the section of Real Marriage that said a good marriage starts with being friends with benefits. However, Mrs. Driscoll countered that it is actually friend with benefits – in the context of the sanctity of marriage how God intended.
"That one friend you can share everything with…good and bad, for better or worse, as the vows say. That friendship is key to being able to build a relationship that has some content, some depth to it," she explained.
Watch Mark and Grace Driscoll on "The 700 Club:"