Mark Driscoll Admits He Should Have 'Acted With More Love and Pastoral Affection' During Leadership Changes at Mars Hill
Observers Disagree With Pastor's Claim That Group Unhappy With Church's Leaders Remain Mostly Anonymous
The normally outspoken and media-engaged Pastor Mark Driscoll of Seattle-based Mars Hill Church, who has attempted to stay away from the spotlight for several months since being embroiled in controversy this past year, admits that it has been a tough season for the church and it is time for reconciliation.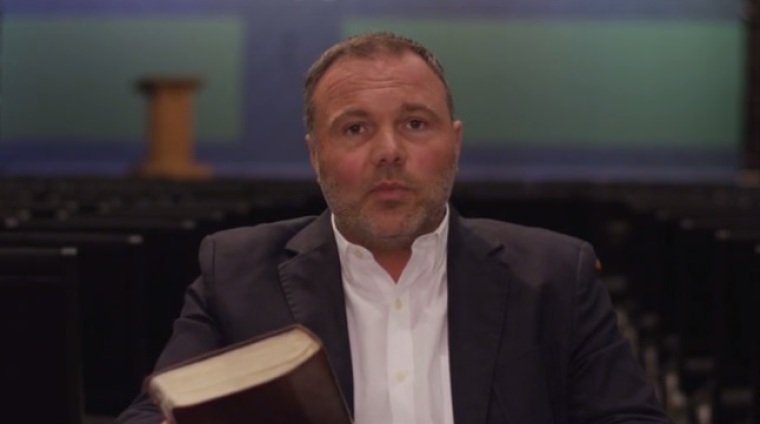 In a 30-minute video on the church's website in which he primarily addresses the Mars Hill congregation (or family), Driscoll admits to the mishandling of a transitional period in which church leaders were dismissed in an uncaring fashion.
"Substantive organizational changes were really caused by our church going to multiple locations and leaders being spread out across our various locations," Driscoll explains in the video released over the past weekend. "At the time we were not, I was not, as sympathetic or empathetic as we should have been."
He said some of the changes in the church had personal implications and although he did not want to speak on their behalf, some people were hurt. He said he should have "acted with more love and pastoral affection." The aftermath of the changes has resulted in "a group of largely anonymous leaders of our Mars Hill Church family" that have gone public with complaints against Driscoll and the church leadership.
"We want to reconcile with those men, our brothers in Christ," he said. Driscoll said he has initiated an open, reconciliation process in which he invites those who want to address the problems at Mars Hill to attend formal meetings through September.
"During this season, as well, I have been rather silent and there are some reasons for that. First of all, we, including myself, needed to determine exactly what was happening," Driscoll said. "If I'm real honest with you, at first, it was just a little overwhelming and a bit confusing. We, and I, were not exactly sure what was happening, so it took a little while to sort that out."
He added that the church wanted to determine how to respond, "not in a way that was angry, but godly, not in a way that was defensive, but was helpful, and so I didn't want to act in a way that was impetuous or premature or ungodly, and so it was with the team and trying to learn and grown and patiently wait to say the right thing at the right time and the right way with the right heart."
Driscoll said that adding to the complexity of the issue is that "a lot of people that we are dealing with remain anonymous and so we don't know how to reconcile or how to work things out with people because we are not entirely sure who they are."
Patheos columnist Warren Throckmorton, who has been regularly reporting and editorializing on various issues revolving around Driscoll and the church's executive board, recently wrote that he has a hard time believing that there is a shortage of people who have made their identities known to Mars Hill leaders.
"I have interviewed over 50 former Mars Hill leaders and members who have made their concerns known to the executive elders with full identification," Throckmorton wrote. "I have seen some of the formal charges and reviewed emails from executive elders and members where there is full identification of the former member's identity. However, according to the former members, the leaders have not followed up on the issues."
He writes that one such former member is "Bina E." She and her husband served in various leadership positions when they were at Mars Hill, according to Throckmorton. He reports that Bina E. said, "The comments about anonymous concerns are amazing to me. We wrote Mark [Driscoll] personally with our concerns in 2008 – a gentle, truthful, heartfelt plea with our names on it. We received no response from him except from other pastors who said Mark was rocked by our letter, but that we burned our bridges with him. That was a sad thing to hear about the pastor who helped lead my husband to Christ and who married us. We also spoke directly with pastors, face to face, about our concerns before leaving– and when we left, we were dropped as friends by them after leaving; some more gradually and some more violently."
At the end of Bina E's comments as reported by Throckmorton, she concludes: "Finally, I'm disturbed that the statement about the reconciliation process being with a group of men? There is much reconciling to do with women. Also, there is much reconciling to do with non-elders– not the least of whom are former elders wives … and kids. It's such a strange process to me that only ex-elders are involved. I hope they address the many non-elders who raised these issues long ago."
Driscoll said the reason he has not addressed this season directly during Sunday services is that "the pulpit is sacred and belongs to the Lord Jesus. The last thing I want to do is turn Sundays into talking about me instead of Jesus, or pointing to me instead of Jesus."
He said that he is excited to share what God has been revealing to him through the Holy Spirit in his studies of the Gospel when he returns in the fall to preach.
"It's been a very encouraging and sobering time to appreciate those that allow me to teach the Bible," Driscoll said.
Pastor Mark Driscoll's "Church Family Update" video about the difficult season at Mars Hill Church.