Mark Driscoll Says Lord Convicted Him of 'Sin Against' Joel Osteen; 'I've Lost Any Right to Criticize Another Pastor'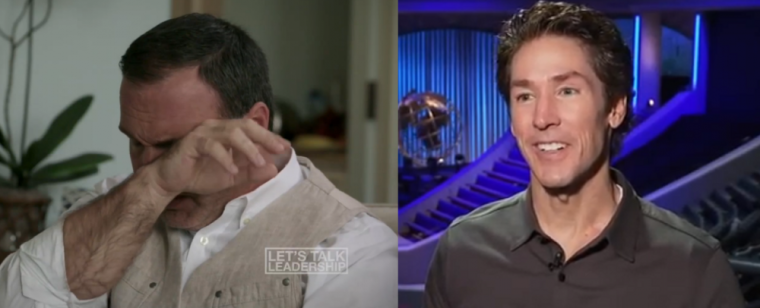 After publicly criticizing the ministry of megachurch pastor Joel Osteen, former Mars Hill Church lead pastor Mark Driscoll says the Lord has convicted him about his "sin" against the popular preacher and he's now seeking to make amends.
Driscoll, who resigned from the leadership of the Seattle-based Mars Hill Church last October amid controversy over his leadership style, was tackled about his criticism of Osteen during a recent interview with Hillsong Church's Brian Houston.
"I always had a huge personal problem with people doing that. People criticizing other pastors even though we are different on some issues. And Joel Osteen is a personal friend of mine and so again, one of the first things I knew about you was that you talked about Joel publicly. So when I first met you I was paranoid because the last thing I wanted was [inaudible] you speaking against me publicly," said Houston to a penitent Driscoll during the interview.
"I think in the providence of God I can honestly say it was a couple of weeks ago that the Lord convicted me of that sin against pastor Joel. And so, through a mutual friend, I have contact with his team and have asked permission to send him a private apology. But in addition to that, I appreciate this opportunity to publicly apologize to him," replied Driscoll.
"When anyone dies they're going to stand and give an account. It won't be to Mark Driscoll," he said.
Earlier in the interview, Driscoll explained that his position on publicly criticizing fellow pastors has evolved since his very public undoing and he has made efforts to reconcile with a number of the pastors he offended in his former ministry.
"I feel like I've lost any right to criticize another pastor or leader. I believe that the lack of empathy causes me to think I knew what they were going through or what they should say or what they should do. Having gone through this very complicated season, I don't know what I'm supposed to say, I don't know what I'm supposed to do and I certainly don't feel the right to tell others what they should say or do," said Driscoll.
"Some of the people I have criticized have been the most loving and kind toward me. It's God's kindness that leads us to repentance and sometimes that kindness comes through others. They have no obligation to be kind and gracious because you have not been with them. So we've seen some remarkable grace and kindness from people that I did not give that to them but they have given that to us," said Driscoll.
"And that has been deeply convicting and brought about repentance. There's a list of pastors I have contacted or called to apologize to, to ask forgiveness from, and I don't want to do that publicly because I don't want to cause them more drama or pain, but that has been part of the journey," he added.
He also apologized for referring to women as "penis homes" in comments he made in a chatroom in 2000 when he was in his late-20s. He said he was a different man then and has since condemned those views which has led to a perception of him that is not accurate.
"For me, I'd start by saying that some of the misperception is entirely my fault. On some things I said and did they were ungodly, they were unwise, and they were unhelpful. And it was in a chatroom in 2000 getting angry, taking a character role, fighting very ungodly, nothing defensible, things I'm completely sorry for. The offense is completely justified," said Driscoll on his comments.
"Looking back on that, that was not a healthy person working from a godly place. And so, I would have a hard time explaining it and I wouldn't even make an effort to defend it," he said of the penis homes reference.
"I publicly want to apologize for that, I sincerely want to apologize for that and that perception about what I think of women is entirely my own fault and I have no one to blame but myself," said Driscoll.
WATCH MARK DRISCOLL's PAST CRITICISM OF JOEL OSTEEN BELOW: