Mark Driscoll Says Storms of Life Led Him to Open New Arizona Church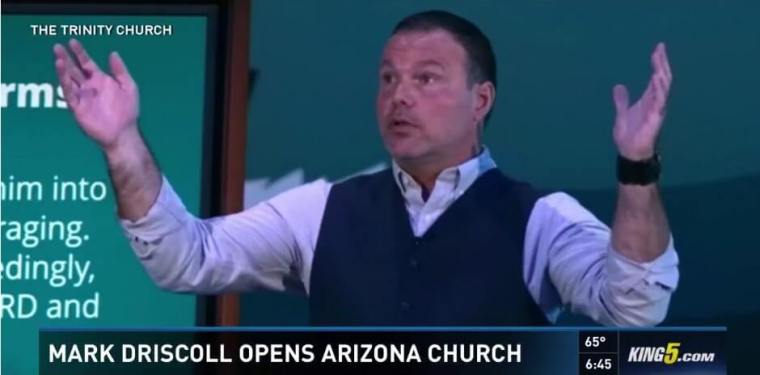 Ex-Mars Hill Pastor Mark Driscoll preached at The Trinity Church in Scottsdale, Arizona, for its official opening on Sunday, saying he ended up there as a result of storms in his life.
"[W]e tend to think if things go well it's from the Lord and if things are hard it must be from Satan. Let me [tell you,] sometimes hard things come from God," Driscoll said during his sermon that focused on the story of Jonah, according to NBC's Seattle affiliate King 5 that was on site outside the church.
"Sometimes God will allow us to endure hardship for two reasons: to change who we are and where we are," he added.
In reference to the tumult of the past two years since his resignation from the now-dissolved Mars Hill megachurch in Seattle, Driscoll said: "Our family is here because of a storm, a storm in our own life. And in the middle of it, we prayed and God gave of His word to my wife and myself at two separate times. We surrendered to the Lord in the midst of our storm so that God could do work in us and move us to this place for mission."
Driscoll preached at both the 9 and 10:45 a.m. services at the 1,400-seat former Glass and Garden Church that he rented for Easter services earlier this year.
Pictures from the Driscolls' and The Trinity Church's Twitter feeds show dozens of people in attendance as well as baptisms taking place.
As visitors arrived at The Trinity Church campus, the first person many saw was protester Dee Holmes, who has driven to Driscoll's services each week from her home in Mesa, Arizona, to protest against the pastor. On Sunday she held up a sign that read: "MARK'S EGO, MONEY & POWER," which was likely a reference to past scandals.
The Christian Post has previously reported that Driscoll left Seattle in the midst of controversy born out of allegations of abusive pastoral practices from 21 former pastors and elders. He additionally faced charges of both plagiarism and using church resources to hire a consultant to inflate sales by buying thousands of copies of his book in order to land on The New York Times best-sellers list.
Both Driscoll and Mars Hill were dismissed from the Acts 29 church planting network in August of 2014. A few months later he resigned as senior pastor and the church announced it was dissolving.
But Driscoll's past failures haven't deterred everyone.
Seattle's King 5 news interviewed one man who traveled from Texas for the grand opening of Trinity Church to hear Driscoll preach.
Paul Beam said he started listening to Driscoll's podcast a few years ago in order to cope with a painful divorce.
"I don't know [Driscoll] personally. But I know that his theology and his teachings that I was hearing in and through those podcasts — they helped me to make a change in my life and they helped me make better decisions," Beam said.
"All I can trust and hope in is God is truly using him regardless of his past," he concluded.