Mark Driscoll's 'Empire' Is Imploding, Says NYT; Megachurch Pastor to Make Special Announcement Sunday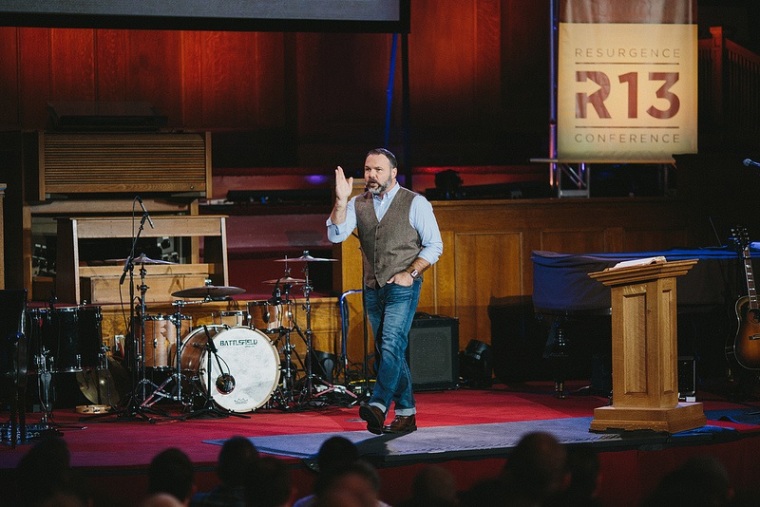 Mars Hill Church officials confirm that Pastor Mark Driscoll will have a special announcement this Sunday on the heels of the latest public accusation against him – improper leadership. However, no further details were released Friday.
"We take these allegations seriously and we are thankful that we have a process in place established in our Bylaws where allegations will be reviewed by our Board and our elders," Communications Director Justin Dean told The Christian Post. "As it is relatively new that these former elders submitted this, at this time we don't have any information on how long that process will take or what the outcome will be but we look forward to hearing from our pastor on Sunday."
The New York Times summarized Driscoll's fall from grace in an article published Friday in which it categorized his "empire" as appearing to be "imploding."
"He has been accused of creating a culture of fear at the church, of plagiarizing, of inappropriately using church funds and of consolidating power to such a degree that it has become difficult for anyone to challenge or even question him," the Times stated. "A flood of former Mars Hill staff members and congregants have come forward, primarily on the Internet but also at a protest in front of the church, to share stories of what they describe as bullying or 'spiritual abuse,' and 21 former pastors have filed a formal complaint in which they call for Mr. Driscoll's removal as the church's leader."
Avid blogger and psychology professor Warren Throckmorton, who has been chronicling much of the controversy surrounding Driscoll, wrote that his sources say a "big announcement" from the pastor is coming on Sunday.
"Based on the calls to resign, some have speculated that his announcement will be to take a sabbatical," Throckmorton wrote in a piece also published on Friday. "Other speculation revolves around the church governance. Perhaps, the church will return governance to the council of elders as opposed to the Board of Advisors and Accountability."
Driscoll, who is normally outspoken and media-engaged has stayed away from the spotlight for several months since being embroiled in controversy. In July, he admitted that it has been a tough season for the church and it is time for reconciliation.
In a 30-minute video on the church's website in which he primarily addresses the Mars Hill congregation, Driscoll admits to mishandling a transitional period in which church leaders were dismissed in an uncaring fashion.
"Substantive organizational changes were really caused by our church going to multiple locations and leaders being spread out across our various locations," Driscoll explains in the video released over the past weekend. "At the time we were not, I was not, as sympathetic or empathetic as we should have been."
He said some of the changes in the church had personal implications and although he did not want to speak on their behalf, some people were hurt. He said he should have "acted with more love and pastoral affection." Some of these leaders have gone public with complaints against Driscoll and the church leadership.
More recently, Driscoll issued yet another apology, this time over vulgar remarks he made under a pseudonym on the church's website 14 years ago.
Driscoll's comments revealed under the name "William Wallace II" posted in 2000. Opening with the words, "We live in a completely pussified nation," Driscoll (as Wallace) condemns the majority of Christian men for being "Promise Keeping homoerotic worship loving mama's boy sensitive emasculated neutered exact male replica evangellyfish."
In his apology he said, "The content of my postings to that discussion board does not reflect how I feel, or how I would conduct myself today. Over the past 14 years I have changed, and, by God's grace, hope to continue to change. I also hope people I have offended and disappointed will forgive me."
Most recently, Mars Hill Church announced the cancellation of its annual Resurgence Conference which was expected to feature a lineup of leading evangelical preachers, some who have reportedly cut ties with Driscoll. The announcement came a week after Driscoll was dismissed from Acts 29, the church planting network he founded, because of questionable leadership, officials of the group of national church leaders said.
"He was really important — in the Internet age, Mark Driscoll definitely built up the evangelical movement enormously," Timothy Keller, the senior pastor of Redeemer Presbyterian Church in New York told the Times. "But the brashness and the arrogance and the rudeness in personal relationships — which he himself has confessed repeatedly — was obvious to many from the earliest days, and he has definitely now disillusioned quite a lot of people."
However, Driscoll still has supporters, including Mars Hill member Rachel Harris, who created a pro-Driscoll Facebook page.
"We've seen how he has changed so many lives, and to see him treated this way is just sad," the Times quoted Harris as saying. "There's positive stuff about our church that's not being heard, and it feels like a family member is getting bullied."
Driscoll is expected to make the big announcement Sunday, Aug. 24, but it is unclear at what time. The first service time is at 8:30 a.m. PT.