'7 Secrets to an Awesome Marriage' Author Kim Kimberling Says Managing Expectations Is Key to Marital Bliss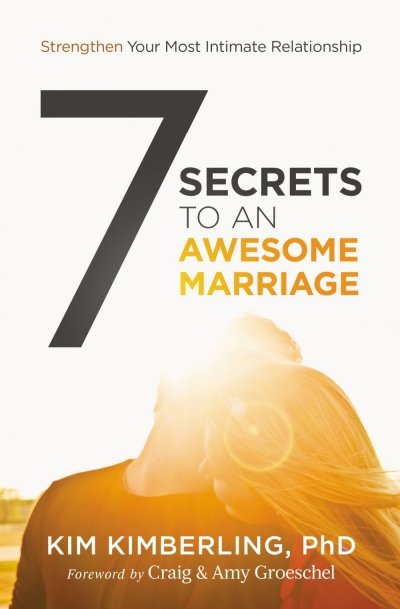 With 40 to 50 percent of marriages in the United States ending in divorce, according to research by the American Psychological Association, the dream of spending a lifetime wed to one's soul mate may seem elusive.
In his latest book, 7 Secrets to an Awesome Marriage, Kim Kimberling, who's been a professional Christian counselor for over 30 years, says to create a lasting marriage he encourages couples to seek change within themselves to eliminate what he calls the "insanities" that so often doom marriages.
"It's easy to think that if our spouse would just change, things would be better," Kimberling told The Christian Post, noting that some couples even blame their ailing marriages on having tied the knot with the wrong person. And instead of attempting to change their spouse, they'd rather change spouses.
In the book's opening chapter, Kimberling also shares a common refrain he's heard from some couples, which is: "I do not have to change. I just need to find the right person."
Kimberling told CP there's another all-too-common insanity that infects many marriages: unexpressed expectations.
"We feel like our expectation is so right that the other person should just get it," says Kimberling, adding how some women say, regarding their husbands, "'he should just know.'"
As an example, Kimberling writes in 7 Secrets: "If my expectation is for my spouse to contact me sometime during the day to show her love, and I do not tell her about this expectation, it is unfair if I get mad when she does not."
On the flip side, however, KImberling warns that some expressed expectations can have a negative impact on marriages because they're impractical or unrealistic, and can lead to major problems.
"Healthy expectations are good for a marriage. Unhealthy expectations can kill a marriage," he advises in Chaper One of 7 Secrets.
The author explains that such expectations are ingrained early in life and often originate from how a person was raised and what was modeled to them by their parents. Despite these mindsets, Kimberling says there's hope.
"If you choose to deal with the skewed way of thinking, life gets better and relationships can get a lot better. ... There's always an answer and there's always hope," says Kimberling, who's also the president and co-founder of Family Christian Counseling in Oklahoma City and uses his 44-year marriage to his wife, Nancy, as an example.
In 7 Secrets, Kimberling's narrative style reads much like a novel as he combines his personal experiences with challenges faced by hypothetical couples to expose common shortcomings among husbands and wives.
After Kimberling teaches couples how to identify and deconstruct their so-called insanities, he shows them how to begin to rebuild their marriages brick-by-brick, starting with a solid foundation, which he says is "the practice of putting God first, spouse second."
"It's closing the gap between where they are and where God wants them to be," says Kimberling, who illustrates this relationship with God in his book:
" … God knows marriage. He knows it inside out and upside down. He even has this unique plan for you because each marriage is unique. He knows exactly what you need and exactly what your spouse needs and exactly what your marriage needs."
Therefore Kimberling encourages couples to seek God together by praying and reading the Bible together, and by worshiping God and serving others together.
Kimberling imparts these and other concepts in 7 Secrets to an Awesome Marriage, including how to fight right, scheduling for a better marriage, sex as the mingling of souls, and the power of fighting on the same team.
"I want people to have hope that their marriage can be better," says Kimberling. "... They have to take the first step."