Maryland School Officer Praised for Stopping 17-Y-O Gunman Who Dies at Scene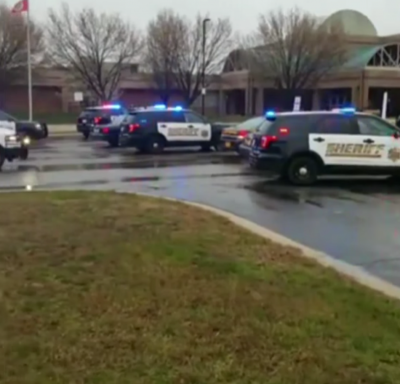 A school resource officer in Maryland, who shot at a 17-year-old gunman at Great Mills High School, is being praised for his actions and for saving lives. 
St. Mary's County Sheriff Tim Cameron revealed that the incident occurred at 7:55 a.m. local time on Tuesday, when the shooter, Austin Wyatt Rollins, injured a 14-year-old male and a 16-year-old female student with a handgun.
School resource officer Blaine Gaskill responded to the situation in less than a minute, and exchanged fire with Rollins in the school hallway. While Gaskill was unharmed, Rollins was later pronounced dead.
Cameron clarified that it is not yet clear whether the 17-year-old was hit by the resource officer's bullet.
"He responded exactly as we train our personnel to respond," the sheriff said, according to CNN.
"This is what we train for, this is what we prepare for, and this is what we pray that we never have to do. On this day, we realized our worst nightmare," he added. "The notion of 'it can't happen here' is no longer a notion."
Rollins is believed to have known the 16-year-old girl, who is in the hospital in critical condition, with information beginning to leak out about the shooter.
Neighbor Toni Foreman, who lives by Rollins' family in Lexington Park, described him as a "good kid from a nice family."
"Whenever snow was out, he would help shovel," she said. "I'm just totally floored that it was him."
Foreman added in a Fox 5 interview that nobody would have guessed that Rollins could do anything violent.
"He played with my son and his cousins when they were out there playing football during the summertime. He would help shovel snow whenever we were all out here shoveling snow. For Halloween and stuff, they would always have candy out for the kids. I never ever had any issues with him at all whatsoever," the neighbor revealed.
Describing the shooting, Tyriq Wheeler, an 11th grader at Great Mills, said that he heard the gunshots inside the school.
"I was talking to my gym teacher, Mr. Griff, and I started walking down the hallway to get to class. And usually there is a whole bunch of group of people in the usual spot, but nobody was there. So that was kind of out of character. And then as I look down, I heard a loud bang, and everybody started running. So I was confused. So I just went straight to my classroom," Wheeler shared.
"We got in the classroom, they locked the door, and as we were sitting in the classroom, everybody was trying to remain calm but, it was kind of hard because of what we just heard. And that's when the police officers came in there, made sure nobody else had a weapon," the student continued.
"And they was checking every single room until we got in the cafeteria. I tried to call, but I wasn't able to get through at first. So when they brought us to the tech center, I was able to use their phone and call my grandmother. And she let me know that they were already on their way."
Maryland Gov. Larry Hogan praised Gaskill's actions, stating, "While it's still tragic, he may have saved other people's lives."
He added that while "our prayers are with students, school personnel, and first responders," the truth is that "prayers are not enough."
"Although our pain remains fresh and the facts remain uncertain, today's horrible events should not be an excuse to pause our conversation about school safety," the governor said. "Instead, it must serve as a call to action."