Mass shooting at Michigan State University leaves 3 students dead, 5 wounded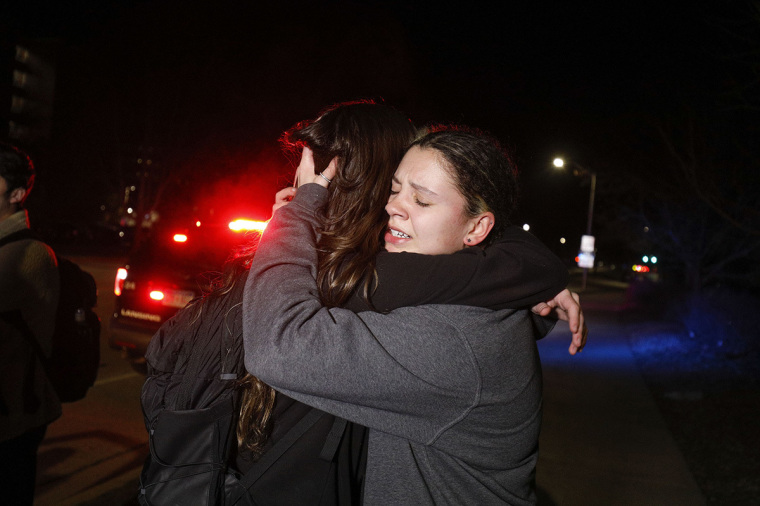 An armed man entered the campus of Michigan State University and opened fire, killing at least three students and wounding five others in a mass shooting before dying of a self-inflicted gunshot wound.
On Monday evening, MSU police posted an alert that there were "shots fired near Berkey Hall on the East Lansing campus," calling on students and others to "secure-in-place immediately."
By a little after 1 a.m. local time, the university reported that the MSU Police had located the shooter and that there was no longer a threat to the campus community.
"All classes — virtual and in-person — are canceled, as are athletic events and all other campus activities for at least 48 hours. Supervisors will be notifying designated essential employees if they should report to campus tomorrow," read an MSU emergency alert sent to students and staff at 3 a.m. "Counseling and Psychiatric Services and the Employee Assistance Program will be making programming and services available in the coming days."
Campus police identified the shooter on Tuesday morning as 43-year-old Anthony Dwayne McRae, giving thanks for "our community for their help."
"Because of the quick release of the suspect photos through our campus security cameras, a caller's tip was able to lead officers to the suspect," MSU police added.
MSU student Claire Papoulias, 19, told CNN that she was taking a class in the room where the shooter began opening fire, recounting that "all of sudden I heard gunshots directly behind me."
"That's when the shooter opened the back classroom door and started firing at my classmates in the back, wounding them. I smelled and saw the gunpowder," said Papoulias.  
"I thought I was going to die. We didn't know where he went. Everyone was on the ground huddling, and I just looked at my classmates and told them it was going to be OK."
Michigan Gov. Grethen Whitmer released a statement in response to the tragedy, linking the incident to the overall trend of mass shootings in the United States.
"This is a uniquely American problem. Too many of us scan rooms for exits when we enter them. We plan who that last text or call would go to. We should not, we cannot, accept living like this," stated Whitmer. "Tonight, Spartans will cry and hold each other a little closer. We will mourn the loss of beautiful souls and pray for those fighting for their lives in the hospital."
Whitmer went on to state that Michigan parents "are on pins and needles calling their kids tonight, checking in on them and telling them they love them. It doesn't have to be this way."