Massive Swarm of Bees Create 10 Feet Tall Hive Inside Historic 95-Y-O Colorado Church (Watch)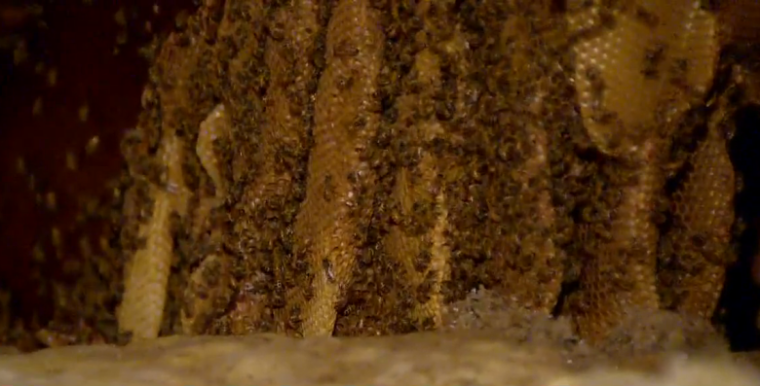 A swarm of bees have made an unlikely home inside a 95-year-old Colorado church, creating a hive inside the sanctuary's rafters that's close to 10 feet long and 3 feet wide.
The hive at Pine Street Church in Boulder was discovered when employees kept finding piles of dead bees in the music room. After some investigating and inquiry with older members of the church, they discovered that there was a massive bee hive above the music room, according to the church's Music Director David Lhommedieu.
Experts working to remove the bees in order to ensure parishioners' safety discussed the rampant infestation with Fox 31 News on Thursday.
"I'm pushing this one to 80,000. Looks like there's a ton of bees," said Greg McMahan with Rocky Mountain Bee. "But we are pushing toward the end of the season. Population has come down. It was a big hive midsummer."
The church has set up a GoFundMe account in order to pay for the removal of the massive hive. Staff also hired bee keepers to rescue and relocate the hive. As of Friday, the church had already reached 100 percent of its $2,500 crowdfunding goal.
"WOW! We are blown away at the generosity of our community. Thank you so much for participating in our campaign to rescue and remove the hive at Pine Street Church," members posted on the church's GoFundMe account page. "Removal will begin tomorrow at 6 a.m. under the direction of our wonderful beekeeper, Gregg McMahan."
Aside from threatening the general safety of the church's attendees, the bees also produced large amounts of honey that ended up oozing through the building's walls.
McMahan described the process of removing the bees to TheDenverChannel.com on Thursday.
"We are going to vacuum all the bees into a container," he said. "We are going to cut out each piece of comb, vacuuming these as we go and piece by piece we will pull this out of here."
He is hopeful that this hive, after it's relocated, will help boost the supply of honey in Colorado which decreased last year after the state lost a larger amount of its honey bee population.
"Colorado lost 40 percent of its honey bee population last year due to pesticides, mites and other things," he said. "We want to do what we can to save this colony."
Pine Street Church was unavailable to comment on the hive's removal by press time.