McDonald's Tweet to Charles Ramsey Signals Reward for Man Hailed as Nat'l Hero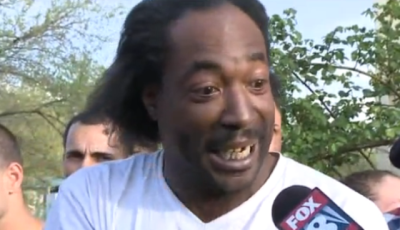 McDonald's Corp.'s tweet to Charles Ramsey has led many to speculate on the fast-food giant's plans to offer the Cleveland, Ohio, man a reward for helping Amanda Berry, Gina DeJesus and Michelle Knight escape a house where they were reportedly held captive for 10 years.
The tweet sent out by the corporation Tuesday afternoon reads: "We salute the courage of Ohio kidnap victims & respect their privacy. Way to go Charles Ramsey- we'll be in touch."
Pat Adams, a spokeswoman for McDonald's, said Wednesday the company will reach out to Ramsey through both the corporate office and the local franchise. She emphasized that McDonald's wants to speak directly with Ramsey, and out of respect for the families, will not share their pending offer with the media.
Adams would not reveal whether the McDonald's offer to Ramsey will include a job offer at a local franchise, a monetary reward or free food.
"I wanted to let you know that over the course of the past couple of days, thousands of people have reached out to us expressing their sentiment for McDonald's to do something for Mr. Ramsey. We hear them," said Adams in a statement to The Christian Post.
"That said, out of respect for the victims involved, as well as Mr. Ramsey, both McDonald's and the local franchisees will personally be reaching out to Mr. Ramsey directly as we said we would with our Tweet."
Recounting his story to the media on Tuesday, Ramsey spoke about his trip on Monday to McDonald's to buy a Big Mac and how he heard her pleas for help while he ate his food from the fast food chain.
"I heard screaming," Ramsey told WEWS-TV. "I'm eating my McDonald's. I come outside; I see this girl going nuts trying to get out of a house."
The mother and aunt of DeJesus, who disappeared at age 14 in April 2004 while walking home from school, spoke to the media on Wednesday, and asked for "time and privacy" from the media.
Sandra Ruiz, DeJesus' aunt, asked the community not to retaliate, and to allow time for the justice system to work. She also asked for the media to give her family privacy and allow them to heal. She promised to speak to everyone in the media when they're ready to talk. Ruiz also asked for God's protection over everyone in the city.
DeJesus' mother provided a public statement and encouraged parents to get their children fingerprinted by the police department, and implored residents to take action, just as Ramsey took action when he heard Berry's cries for help.
Berry, Knight and DeJesus went missing around 10 years ago, and the home located on Seymour Avenue in Cleveland's West Side where they were reportedly being held captive is just a few miles from where they previously lived.
The three women were freed Monday evening when Ramsey saw Berry screaming and kicking at the front door. Ramsey ran up to the house and helped Berry escape and call 911.
DeJesus, Knight, Berry and her 6-year-old daughter, who she gave birth to while captive, were taken for evaluation at a hospital and reunited with their families.
Ariel Castro, 52, the owner of the residence, has been charged with four counts of kidnapping and three counts of rape, all first-degree charges in Ohio, with sentences of 15 years to life in prison. His brothers, Pedro and Onil, who were also arrested when they were found with Ariel, will not face any charges at this time, according to the Cuyahoga County Prosecutor's Office.