Media Blasts Trump's 'Fire and Fury' North Korea Comments but What Did Obama, Bush and Clinton Say?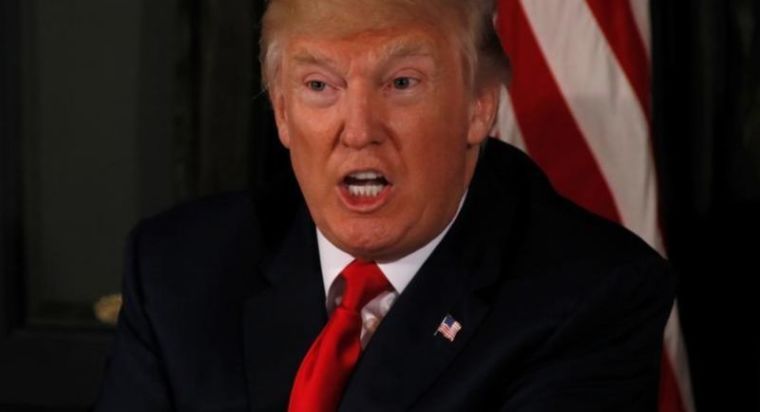 President Donald Trump's strong words of warning for North Korea have been criticized by lawmakers from both parties and the mainstream media but what did past presidents have to say about the rogue nation run by a totalitarian dictatorship?
Last week, Trump vowed to meet North Korean threats with a "fire and fury like the world has never seen." The message came after North Korea reportedly threatened to teach the United States "severe lesson" with its nuclear force if the U.S. engages in any military action.
Following Trump's statement, North Korea threatened to fire a missile in the waters near the Pacific U.S. territory of Guam. However, the threat seems to have been dialed back a bit as North Korean media reports that leader Kim Jong-Un has delayed the operation.
On Wednesday, Trump tweeted that Kim made a "wise" decision," saying that "the alternative would have been both catastrophic and unacceptable!"
On Sunday, Retired Adm. Mike Mullen, who served as the Chairman of the Joint Chiefs of Staff in the early days of the Obama administration, told NBC's Chuck Todd during "Meet the Press" that he's concerned about the strong rhetoric coming from both Trump and North Korea. He then suggested that such rhetoric has "taken away options" for military leaders to make decisions.
"And it looks like clearly he's, at least, verbally focused very specifically on the military options with the rhetoric that's out there," Mullen said.
Republican Sen. John McCain of Arizona, chair of the Armed Services Committee, suggested last week that the president might not be able to follow through on some of the threats he has made, saying that the president has got to be sure he can actually do what he said he could do.
"It's not terrible what he said," McCain said. "It's kind of the classic Trump in that he overstates things."
Despite the backlash that Trump has received for his remarks toward North Korea, past presidents have also been firm in their comments toward the regime, which is an isolated totalitarian state that annually ranks as the worst persecutor of Christians in the world.
In 2016, Democrat President Barack Obama said the U.S. could "destroy" North Korea and called the regime "erratic" and Kim "irresponsible."
"We would, obviously, destroy North Korea with our arsenals. But aside from the humanitarian costs of that, they are right next door to our vital ally, Republic of Korea," Obama said at the White House last April.
Similarly, Obama, in April 2014, didn't mince words when he called North Korea a "pariah state that would rather starve its people than feed their hopes and dreams" while speaking in South Korea. Obama also somewhat downplayed North Korea's threats of preparation for a nuclear test.
"Anybody can make threats. That does not make you strong. Those things don't come through force, they have to be earned," he said.
"[The U.S. doesn't] hesitate to use our military might to defend our allies and our way of life," the president added.
In April 2009, Obama issued a warning to North Korea not to launch a long-range ballistic missile, saying the regime won't be able to do so with "impunity."
"Should North Korea decide to take this action, we will work with all interested partners in the international community to take appropriate steps to let North Korea know that they cannot threaten the safety and stability of other countries with impunity," Obama said.
As far as Republican President George W. Bush goes, he didn't mince words with North Korea either.
Fox News reports that during Bush's term in office, he dubbed North Korea, along with Iran and Iraq, as an "axis of evil."
Bush accused North Korea in 2002 in his State of the Union address of being a regime that is "arming with missiles and weapons of mass destruction, while starving its citizens."
As the San Diego Tribune reported, North Korea confirmed that Bush was right later that year when it admitted to secretly conducting nuclear-weapons programs for years. North Korea subsequently withdrew from Joint Framework Agreement that had been agreed to during the Bill Clinton administration that was supposed to halt the nation's nuclear program.
After his presidency, Bush has continued to call out North Korea and its leader. In 2016, Bush called North Korea the "greatest sustained humanitarian challenge of our lifetime." He also called Kim a "sadistic warden" who runs the country.
During his presidency, Clinton, a Democrat, also had some harsh words for North Korea.
At a press conference in 1993, Clinton asserted that he knows of "no one who seriously believes that the United States and [South Korea] would be defeated in a war of aggression by North Korea if they were to attack."
Clinton also said that if North Korea were to attack they would have to pay "a price so great that the nation would probably not survive as it is known today."
Clinton tried to strike up a deal with North Korea in which more than $4 billion in energy aid would be provided to North Korea over a span of 10 years, while North Korea would dismantle its nuclear weapons programs.
The agreement as never adhered to on North Korea's part and broke down in 2003. After the agreement fell apart, Bush was in office and reportedly told a Chinese leader that the U.S. "has no hostile intentions toward North Korea" and was seeking a peaceful solution to the situation.
Although some believe that Trump's rhetoric on North Korea is indicative that he is seeking a military solution, Trump said during the 2016 election that he was willing to meet with Kim Jong-Un, "under the right circumstances," to help alleviate tensions over the nation's nuclear program.
At the time, Trump was criticized by Democratic nominee Hillary Clinton, who said that Trump was more interested in befriending Kim that "backing up our friends and allies in the region."