Megachurch pastor John Ortberg: Christians often dismissive of science for 'no good reason'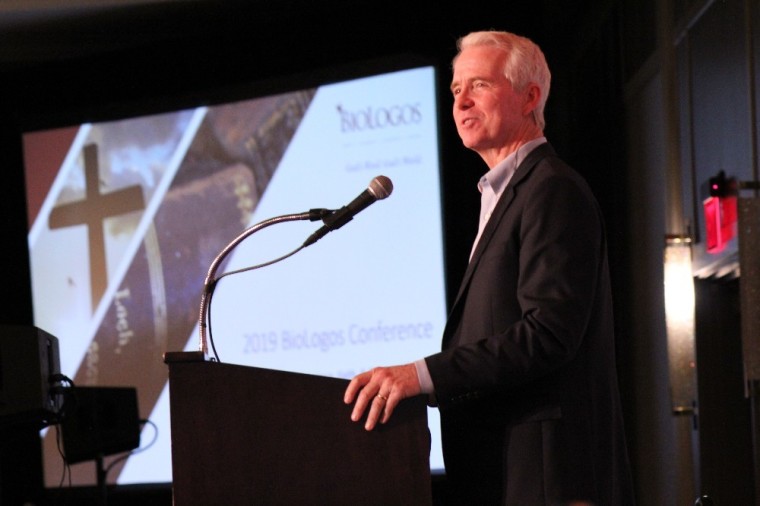 Silicon Valley megachurch pastor and author John Ortberg is calling on Christians to be less dismissive of scientific discoveries, suggesting that passing uninformed judgments on scientific theory is not a way to love God with "all your mind."
Ortberg, the pastor of the 4,000-member Menlo Church in Menlo Park, California, spoke before hundreds of pastors, scientists and scholars gathered last week in Baltimore, Maryland, for a conference marking the 10th anniversary of the BioLogos conference.
The 61-year-old Ortberg is a member of the advisory council of the BioLogos Foundation, an advocacy organization that promotes Evolutionary Creationism that was founded with the goal of ushering harmony between science and biblical faith.
With the theme of the conference being "Beyond Conflict," the church leader outlined on Wednesday four gifts that he feels Christians should bring to the broader world.
The first gift is "humility." Ortberg's talk comes at a time in which many Christians — particularly from a Young Earth Creation background  — can be dismissive of points of a scientific consensus and discovery if they somehow conflict with their literal interpretations of the Bible. 
Ortberg, who studied clinical psychology at Fuller Seminary, explained that he grew up in a Baptist church where he experienced a kind of writing-off of scientific theories.
"A woman in our church asked me, 'Why do you need to study [Sigmund] Freud when we have the Bible?'" he recalled. "I asked her, 'Have you ever actually read Freud? Can you name something he has actually written? Do you know the difference between projection and reaction formation or how you distinguish between the conscience and the ego ideal, or the difference between suppression and repression?' Whatever you think of [Freud], he is one of the dominant minds of the 20th Century."
Ortberg stressed that Freud was a brilliant neurologist, doctor and follower of psychoanalysis.  
"[Y]ou're telling me you think he can be dismissed and you can't even tell me the title of a single thing he wrote?" Ortberg recalled asking the woman.
Far too often, Christians pass judgments on statements from the scientific community "with no good reason at all."
"[Martin] Luther called [Nicolaus] Copernicus an upstart astrologer possibly because Copernicus dedicated his work to the pope," Ortberg explained. "Within two generations — and Mark Noll writes about this in The Scandal of the Evangelical Mind — all the reformation churches accepted a new view of the solar system."
He warned that "moving slowly before passing theological judgments on scientific theory is one of the ways that we can love God with all of our minds."
The second gift that Christians should bring the secular society is "curiosity." Ortberg argued that too often, religious leaders "abuse their authority" and too many people are led to believe whatever religious authorities tell them to believe.
"I recently read a book about curiosity and the interpretation from the author on Genesis 3 was very interesting," the pastor said. "[The argument] was the story of the fall and the Bible is actually anti-curiosity, that curiosity is what led to the fall and that people are supposed to believe whatever religious authorities tell them to believe."
However, he detailed that human beings have a need to make sense of the world. It is a need that, he said, will never go away.
But the effort within some churches to stifle curiosity runs counter to the fact that science was largely historically inspired by spiritual and metaphysical questions.
"The work of historians of science will often tell us that to a very significant extent, that what helped for science to emerge in humanity was religious thought, in particular, Christianity," Ortberg said.  "[It was] the view that the universe was the product of an orderly God, a reasonable God and yet a God who is also unpredictably creative so that it would require empirical research."
He cited English mathematician and philosopher Alfred Whitehead who said that it was the "medieval insistence on the rationality of God" that made it possible for science to emerge.
Additionally, he stated that the explosion of technology in the Middle Ages happened largely in monastic communities.
"Mechanical clocks were invented by monks because they needed to know when to pray," Ortberg said. "When we first read about the invention of eyeglasses in a sermon around 1300, [it was] because monks needed to pour over texts."
Ortberg argued that a lack of curiosity is a "sin."
The gift that Ortberg spent the most time explaining was the gift of "knowledge."
"The prophet, speaking for God, said that 'my people will perish with lack of knowledge,'" he continued. "We live in a day, of course, when the question of who has knowledge is hotly contested because knowledge means authority and authority means power."
Although many are led to believe that something has to be proven in a scientific or mathematical way in order to "constitute knowledge," Ortberg noted that there are many questions in the world that science can't answer.
One such question is the classic line from William Shakespeare: "To be or not to be."
"It is better for things to be than not to be. It is better for us to be than not to be. It is better for you to be. This is not a preference or an opinion. It is not cultural. It is not biologically programmed. It is knowledge," Ortberg said. "It is true. But it is not scientific knowledge.
"People often assume that faith is opposed to knowledge in our day. It grew by inviting rational consideration often in opposition to authority."
Today, people are urged to consider life's most important questions as "matters of preference or tradition but not of knowledge," he said.
"In other words, to a large extent, we live in a day where educated people teach us to believe that where knowledge is most desperately needed, it has become most apparently unavailable," he explained.  "As a result, we are plagued by skepticism, cynicism, confusion, uncertainty, doubt and eventually despair."
At the basic level, Ortberg said that knowing right from wrong is "essential to humanity." 
"Even in a secular age, I find it fascinating that the defining hallmark of sanity in the judicial system is the capacity to know right from wrong," he stressed. "A conversation with faith and science has so much business to add to life's knowledge."
Pastors and church leaders need to be stewards of "moral and spiritual knowledge" rather than stewards of tradition, history and values because "people perish for lack of knowledge," he added.
Ortberg concluded by sharing his fourth and final gift that he believes Christians should bring to the larger society: song.
The pastor said that one way to communicate the great story and evoke wonder is through song because a good song has rich cognitive contents and expresses unity as well as joy that reaches the core of the human soul.
"That is why the beauty of creation and song often go together," he said.