Melania Trump Confirms She Is Practicing Catholic After Pope Meeting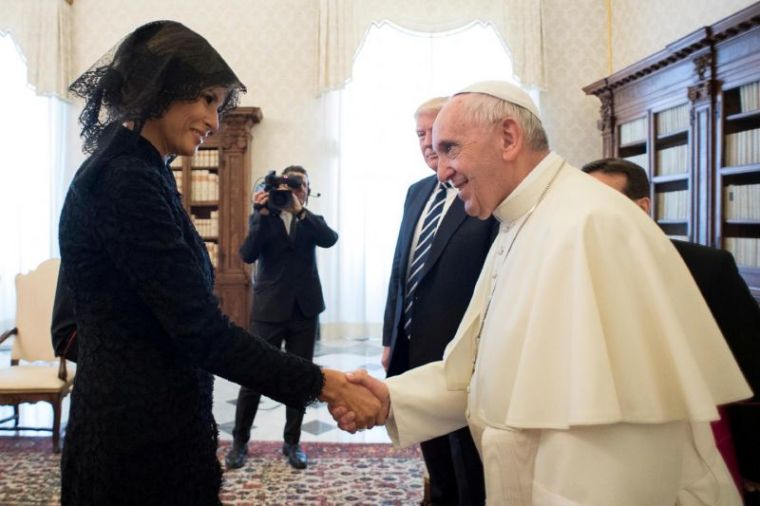 Hours after meeting with Pope Francis who blessed a rosary for her at the Vatican Wednesday, First Lady Melania Trump confirmed that she's a practicing Roman Catholic.
The previously unknown detail about her faith was confirmed by her spokeswoman Stephanie Grisham, according to the Daily Mail.
No further details, such as when the first lady became Catholic, were given. She grew up in Slovenia under Communism and was never baptized as a child, says the Catholic Herald. She married President Donald Trump, who said he is a life-long Presbyterian, at an Episcopal church in Palm Beach, Florida, in 2005.
Prior to her visit with Pope Francis on Tuesday, Melania Trump shared how much she was looking forward to the meeting with Pope Francis.
"The @Potus and I are looking forward to our visit with His Holiness Pope Francis @Pontifex. This promises to be a personal and very special visit," she tweeted.
Hours after the meeting she said it was an experience she would never forget.
"Today's visit with His Holiness Pope Francis @Pontifex is one I'll never forget. I was humbled by the honor. Blessings to all," she noted in a follow-up tweet along with a photo of her meeting the pope.
The first lady placed flowers at the feet of a statue of the Virgin Mary and spent time praying at the Bambino Gesù Hospital during her visit. According to the Herald, when she moves to the White House this summer, she will be the first Catholic to live at 1600 Pennsylvania Ave. since President John F. Kennedy and his wife, Jackie, in the early 1960s.
Unlike the many controversial professions of faith made by her husband, perhaps the most public exhibition of Melania Trump's faith before now came in February when she recited "The Lord's Prayer" at a rally with her husband in Florida, which was was mocked by liberal critics.
At his meeting with Pope Francis in the Vatican on Wednesday, President Trump spent 30 minutes speaking privately in the library of the Apostolic Palace, according to Catholic News Service. It was reported that initially the meeting was formal and stiff, but the mood lightened after the pope met the first lady. He asked if she fed her husband "potica," which is a traditional cake in Slovenia and it resulted in laughs all around.
As he completed the visit with the pontiff, President Trump told him, "I won't forget what you said."
Pope Francis gave the president a split medallion held together by an olive tree, which his interpreter told Trump is "a symbol of peace."
"I am giving you this because I hope you may be this olive tree to make peace," the pope is said to have told Trump in Spanish.
"We can use peace," the president reportedly responded.
In addition to the medallion, the pope also gave President Trump a personally signed copy of his message for World Peace Day 2017. Trump was also gifted copies of the pope's, "The Joy of the Gospel," "Amoris Laetitia" on the family, and "Laudato Si,'" on the environment.
President Trump presented Pope Francis with a gift box containing five of slain civil rights leader the Rev. Martin Luther King Jr.'s books, including a signed copy of The Strength to Love.
"I think you will enjoy them," Trump told the pope. "I hope you do."