Melania Trump urges Liberty U. students to help opioid addicts, end stigma
Sponsored by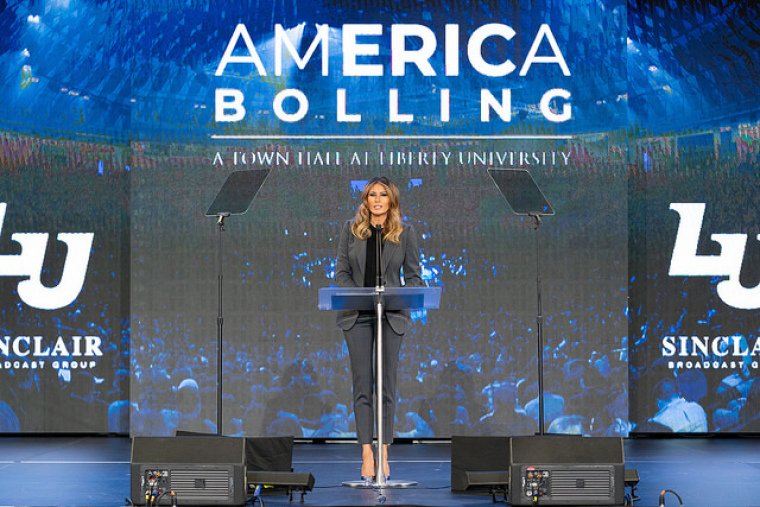 First Lady Melania Trump spoke at Liberty University as part of a town hall on the opioid epidemic in the United States, telling students that they should help those affected and end the stigma of addiction.
"I believe in the power of all of you," Trump said at the university's convocation on Wednesday morning. "Together with all of you, I know we can make a real difference and save lives. You have a responsibility to yourself and also to those around you who may be struggling.
"While you may never personally become addicted, the chances of you knowing someone who struggles with it are very high."
The first lady also explained that there needed to be an end to the stigma facing those who suffered from opioid addiction.
"We must commit to removing the stigma of shame that comes with addiction and helping change public opinion so people find evidence-based treatment before it's too late," she said.
Trump has spoken with her 12-year-old son, Barron, about the dangers of drugs.
"I teach him what is right, what is wrong. I will always tell him that drugs ... could be very dangerous and they could mess up your mind and body, and to love yourself more than you love drugs," she said.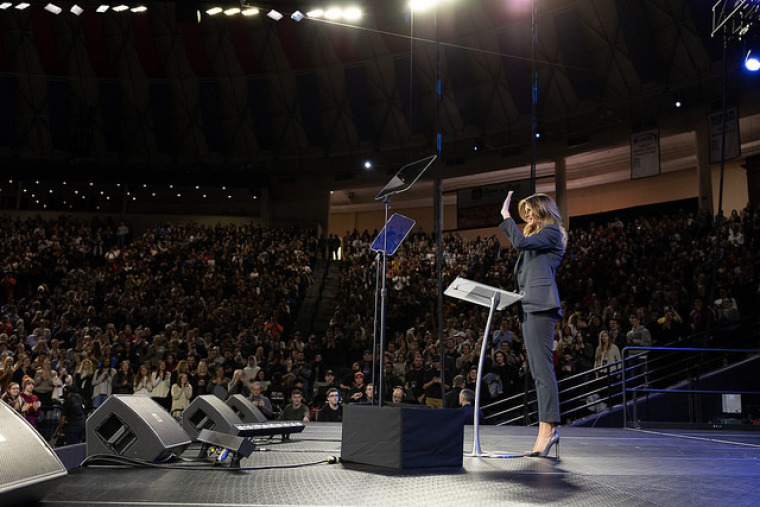 The town hall event also featured conservative author Eric Bolling, Secretary of Homeland Security Kirstjen Nielsen, Secretary of Health and Human Services Alex Azar II, author and actress Dianna Hart, and Liberty University President Jerry Falwell, Jr.
During his remarks, Bolling explained that he became involved in combating the opioid epidemic after his son died of an accidental overdose.
"He was a sophomore. He's not unlike many of you sitting right here. Good student, talked to him every day. He's gone," said Bolling.
"Since this happened, I've made it my passion to talk to people, to talk to young people, to talk to families, to talk to parents, to talk to coworkers about the dangers of opioids."
During a question and answer session, Azar also echoed the need to help end the stigma associated with drug addiction, stating that "this addiction is not a moral failing."
"It is a medical issue and there are medical ways that we can help bring you out of it," Azar noted. "It might even be a lifetime of recovery, but there are ways we can help you."
Over the past few years, there has been a sharp increase in deaths related to prescription and non-prescription opioid drugs among Americans. According to the Department of Health and Human Services, over 42,000 Americans overdosed on opioids in 2016, which is five times higher than in 1999.
Last year, HHS declared opioid addiction and overdosing a public health emergency and in March, President Donald Trump rolled out a plan to combat the epidemic, which included a controversial proposal to give the death penalty for certain drug traffickers considered to be "big pushers."
In May, the American Association of Christian Counselors held an all-day event, titled "The Opioid Crisis: Creating Church and Community Collaboration," at Grace Fellowship Church in York, Pennsylvania.
AACC President Tim Clinton told The Christian Post in an earlier interview that his organization chose to focus on the opioid epidemic because it is "a problem that is impacting communities, churches and families throughout the nation."
"No one entity can stem the tide ... we must work together to help people recover from opioid addiction," explained Clinton.
"We are determined to help eradicate this horrible scourge from devastating our society. This event showcases a model of community, civic, and church collaboration that should be reproduced nationwide to help those ensnared by opiates and other substance use disorders."