Memphis Grizzlies Grant Wish; Draft 8-Year-Old Boy With Cerebral Palsy
An 8-year-old boy with cerebral palsy had his wish come true over the weekend when he was drafted by his favorite NBA team.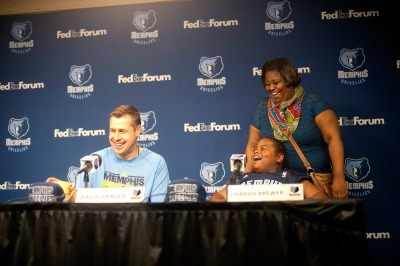 Charvis Brewer became the youngest person ever drafted into the NBA when he signed with the Memphis Grizzlies on Sunday, according to the team's website. His dream was made possible by the Make-A-Wish Foundation of Mid-South.
"The Grizzlies were the most accommodating, welcoming, hospitable people I have ever seen," said Miranda Harbor, director of community outreach for Make-A-Wish Mid-South.
The foundation's website says Charvis was eating brunch with his family in downtown Memphis when Grizzlies announcer Pete Pranica suddenly entered the restaurant and repeatedly began calling out the boy's name. Pranica then told Charvis that he would have to report to the FedExForum to meet the team and attend practice.
While still at the restaurant, Charvis was also greeted by Grizzlies guard Mike Conley, who gave him an official team jersey. A limousine then took the boy to the arena, where he and his family participated in a "press conference" with head coach Dave Joerger. Charvis also attended practice, visited the locker room and ate lunch with the team, among other things.
"When Make-A-Wish approached us with Charvis' request to be drafted by the Memphis Grizzlies, the entire organization from players to coaches to staff jumped at the opportunity to make his wish come true," a statement issued Monday by Grizzlies CEO Jason Levien reads, in part. "He's a great kid that comes from a great family and is so full of life. We are a bigger fan of his than he is of ours."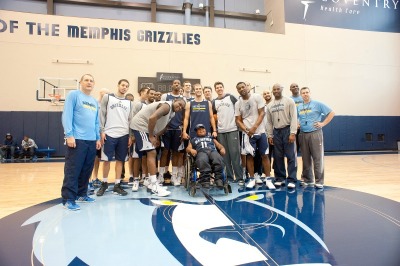 Charvis and his family rode to the arena in a limousine Monday night to watch the team take on the Chicago Bulls. Charvis high fived the Grizzlies players before they took the court, according to Harbor, then he and his family watched the game from box seats.
Harbor says the Memphis players were welcoming to Charvis and his family during their visit, and she praised the Grizzlies organization as a whole for the way they made his dream come true.
"People know and love Make-A-Wish, and people are always kind and supportive, but when someone goes above and beyond that for someone who they don't know just out of the generosity and kindness of their heart, it's stunning in a wonderful way," she said.
Make-A-Wish Mid-South, one of 62 Make-A-Wish chapters nationwide, works to make the dreams of children with life-threatening medical conditions become a reality. Since it was established in 1986, the Mid-South chapter alone has granted more than 4,300 wishes.