MercyMe releases first album since 'I Can Only Imagine' box office success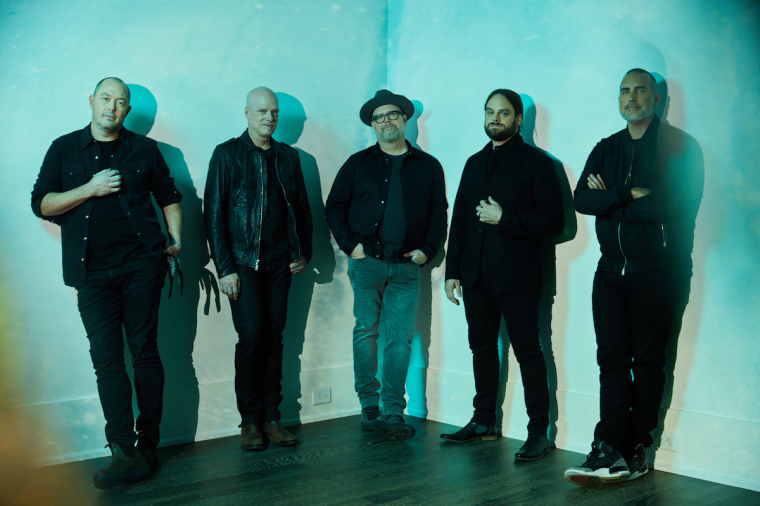 Multi-platinum Christian band MercyMe released their new album, inhale (exhale), following the success of their blockbuster film "I Can Only Imagine," and say they are overwhelmed with "gratitude" that they still get to make music following a year like 2020.

"Say I Won't," MercyMe's first single off their 10th studio album, is already No. 4 on multiple Billboard Christian charts. The track is a timely declaration of faith and perseverance in the face of tragedy. It was inspired by the band's longtime friend Gary Miracle, who contracted an infection that resulted in having both of his arms and legs amputated.
The album, comprised of 16 songs, is their first music release since the global success of their movie, "I Can Only Imagine," which follows the life of frontman Bart Millard and details how the band became who they are today. 
"I Can Only Imagine," the film was named after MercyMe's crossover single of the same name. The faith-based movie brought in $17.1 million domestically during its opening weekend, and over $83 million in total, superseding all expectations. The film would eventually go "on global autopilot," according to filmmaker Jon Erwin.
"A couple of the people singing on this album, Gloria Gaynor and Gary LeVox, are people that I met because of the movie, so it's crazy," Millard told The Christian Post in an interview. "I don't think we still even [comprehend] the reach that it had."
Creating inhale (exhale), produced by Tedd T., Brown Bannister and Jordan Mohilowski, was a process of over two year and features a song with Gary LeVox, of the award-winning country super group Rascal Flatts, titled "A Little Love," and the tune "Brand New" by disco legend Gloria Gaynor. Other songs listed are "Almost Home" and "On Our Way," featuring Millard's son, Sam Wesley.
"We've been in the band for 27 years, we've definitely seen the highs and lows, and we just can't believe that people still remotely care that we make music and that we're still able to avoid hard labor. So it's been a win-win all the way around," Millard declared. 
Along with several media appearances on mainstream platforms, the award-winning band will also be promoting their new album with their upcoming Live and Outside Tour.
The following is an edited transcript of The Christian Post's full interview with Millard and MercyMe member Mike Scheuchzer who both share what the past two years have been like following the movie's success, working on music, and then creating an album during a pandemic. 

Christian Post: What inspired the title inhale (exhale)?
Millard: We had a different album title, it's taken about two years to make the record and it was originally going to be called Spaceman. We were getting close to wrapping it up and the idea was not of this world. And then, the pandemic hit, and we kind of scrapped everything and started over because there's no way you're going to go through this and not write songs during it.
We kept saying, we just want the album to give people a chance to just take a breath and just remember what matters and leave all this other stuff aside. You say it long enough, [then] it kind of happens. And so we decided to go with the title inhale (exhale), and we always thought it felt so fitting with everything we've gone through.
CP: What was it like getting back into music after the success of the film?
Millard: I think that's why this album took so long, other than the pandemic. I lament is what I do best and write about the things that I'm struggling with. After the movie and touring, it was just a season where things were really good [with] my family, with just the time at home, everything was in a great place. It was weird for me because I started avoiding songwriting because I didn't want to go to whatever that dark place is to try to write something, I just didn't want to do it. So I kind of drug my feet for a long time.
It was so crazy and busy that we just weren't in a hurry. We talked about inhale (exhale), we needed to breathe for a second and that was all before the pandemic. Then finally, two years and one month, that's [how long] the whole album has taken from start to finish.
So I was stalling for a while and then when the pandemic hit, it was this weird sense of 'When are we going to do this again?' And then that moment when it feels like it's taken from you, everything kind of flipped. We didn't have any deadlines anymore and so then we just started. We have nothing else to do, let's go to the studio. We just started writing like crazy. It felt like we were in a garage band again, or something like that for that season. In a weird way, the pandemic definitely bought us the time we needed to just go, 'Oh, yeah, let's get this right, let's just take risk.
For us, the album's kind of all over the place musically, which we love. If we all didn't agree it was a good song, then it didn't go on the record. It was just a fun process. We've never had that much time to make an album. I don't advise it, but it was cool. 
Michael John Scheuchzer: There's good and bad to that. We could definitely be our own worst enemies when we had no time stamp on it. But in that, at the same time, it allowed us to really pursue things that we probably wouldn't have felt like we could, like when we would have to wrap up on it a little quicker. There were songs that wouldn't have happened had we not had that extra time. So I think in the end, it really turned into something. 
CP: The success of the "I Can Only Imagine" film opened your music and message up to a new audience. How has that been for you? 
Millard: We've seen some success before that, back when Imagine kind of [went] to mainstream and stuff, but never on this scale. We've never done the whole movie thing and at the pace that that thing moves, I'd never seen anything like it. It was very overwhelming and surreal.
A couple of the people singing on this album, Gloria Gaynor and Gary LeVox, are people that I met because of the movie, so it's crazy. I don't think we still even get the reach that it had. I'll run into people, especially in Nashville, I'll do fundraisers and I'll sing with a bunch of country, iconic people, and I'm like, I'm just going to do my thing ... and they'll come find me like, 'Hey, I saw the movie, or I love the song.' It's like, 'What is happening right now.' So it's been cool. Still to this day, people will reach out and say, 'I've been listening.' It's really awesome.
Scheuchzer: The song, it took on a whole new life too. Because, in the past, it connected with people because when you lose a loved one you just kind of imagine what they're experiencing, and now hearing the story behind where it came from.
We were getting emails and just hearing from people constantly about the really difficult relationship we might have had with our dads. A lot of people who were just finding healing through that or asking forgiveness through that. It's been incredible, for sure, just to see it take on a whole new life.
CP: You wrote a lot of songs for the new record. What was the determining factor for each song that made the cut on the album? Was there a theme? 
Millard: It was never about subject matter. It kind of became more of taking the 30,000-foot view and looking at, we still believe in full albums, and so it's kind of like where does the album take you emotionally and the pace of it.
We probably spent way more time than we should have just working up every setlist, every order. We also knew there's going to be another album that comes much sooner than normal. So if the song didn't make it, part of the process was literally, what song is best for the next album? So we were almost doing like [double set list].
Songs like 'Brand New' with Gloria Gaynor, it was written early, but then was like, 'I don't know, if we need it, then at the very end, we're like, 'We could use something that's a little more light-hearted.' It's like playing Tetris and trying to find the right pieces that fit. It really comes down to the flow of the record, or the album itself, and we want it to take people somewhere. 
CP: Can you share the inspiration behind the song "Brightside" and how we can encourage people in these times to look on the bright side?
Millard: The song, originally when I wrote it, it was [about] a friend of mine that was a pastor who had to step down from his church and kind of walking through that with him. It's the idea that it's easy to find God in the things that are going great, but He's still in the brokenness, and I just love the title "Bright Side of Broken."
When I started writing the lyrics, it was just almost this sarcasm of "Man, don't tell [us] it's just a season, don't tell me the glass is half full, because I'm just completely shattered right now."
A lot of times we try to say the right things to people and we don't know what to say, so that's kind of where it started. Then the beautiful thing about being broken, where I believe that suffering is a gift because you can't truly understand grace or forgiveness until you've hit rock bottom. But the idea that the chorus saying, "Brightside of broken is heart busted open with every break the light will chase the darkness away." It really came out of me just not knowing what to say to someone and just kind of processing that. 
Near the end of the record, we were talking about what songs need to be on the album. We were missing that moment that's a bigger deal than like being a radio single — just that emotional connection, and this kind of reset in the middle of all these fast songs. It was cool to get alone in the midst of all this and ... hash that out on my own and just find a place for it. And I was ... just really happy the way it turned out.
CP: Mike, is there a song on the album that stands out to you?
Scheuchzer: Actually, there are a bunch for different reasons [why] my favorite song is "Let Yourself Be Loved." For me, it's just a great reminder. I know me at my worst and I can have a real hard time recognizing that anybody could ever forgive or love me as I am and that's what Jesus does.
I think it's just a great reminder to anybody. Because we all look in the mirror some days and are like, "yeah, you're not that great." Having that encouragement and that reminder that Christ sees us. If we can love ourselves the way He loves us, and He sees us, it'll change everything!
CP: Your track "A Little Love" is an anthem we can use right now with so much division. How did that song come together?
Millard: "A Little Love," actually, one of our producers, Jordan, who's just a beast and so creative and so talented, he and a couple other guys were working on that idea for something else they played it for me. I think they were trying to get it placed somewhere and I was like, "Dude, this song is amazing. If you just change this and this, it could be pointed to Jesus a little bit more." So they let us take a stab at it.
What's funny about Gary LeVox, who's the lead singer [of] Rascal Flatts, after the movie we met and became really good friends and he told me back then, "I'm gonna sing on your next record." It wasn't like can I? I kind of stressed like, "Where do we put Gary on this thing? Like I don't even know what song it would be."
Typically, when he's been featured, it's usually a power ballad and I was like, "I don't want to do that." Then when the song came about, we were like, "Man, he would kill this." He did. It's like it [was] made for him. It was so much fun and I love the song, but I love the process of making that song with Gary. That was some of the best memories we have is being in the studio with him. 
We don't look at a lot of songs that [are] outside, it's usually ideas that we've written or started. When I heard this, I was like, "I don't know if there's anything more relevant than that."
We're in such a polarizing society right now and this perfect storm of politics and pandemic, and all the crazy stuff that was 2020 to be able to say, "a little love goes a long, long way." It sounds so simple but so profound at the same time. It is absolutely a message, probably one of the most relevant messages on the album right now.
CP: MercyMe was named Billboard's Top Christian artist of a decade and has achieved massive success. How have you all grown throughout the years? 
Scheuchzer: For me, personally, I'm in a place where there's just a lot of gratitude that we still get to do this — that we get to be recognized and people think that we're the band of the decade or whatever. It is a huge honor. And I don't ever want to take it for granted, especially after having it all taken away last year. We couldn't go out and do shows, and just knowing it could all be gone so quickly. Just be grateful for everything and we have a lot to be grateful for. 
Millard: Same. I'd say gratefulness for sure. We've been in the band for 27 years. We've definitely seen the highs and lows, and we just can't believe that people still remotely care that we make music and that we're still able to avoid hard labor. So it's been a win-win all the way around. There's never been a how much longer do we do this? It's like, "We still get to do it." They're gonna have to take it from us, I guess, because we love making music so much.
CP: Can you share what fans can expect from the Live and Outside tour? 
Millard: We're just dying to do shows. It's been about a year; I think we've done one show in the last year. So we got approached with the idea of — what if we went to these minor league baseball stadiums that other than their home games don't have anything going on? There's plenty of room to spread out and be outside and people can feel safe and it's summer. It's like, "Yes, let's just get out in the fresh air."
The hard part right now is that our shows start in May and so normally you start selling tickets six months out. [But] we're having to wait until the venues [say], "Yes, we have enough staff." A lot of people are understaffed right now. A lot of these are last minute.
So we can announce it and then it's a mad sprint to the show, but we'll try it. That's where the challenge is in some cases. It'll be 30 days to sell tickets and do a show, which normally a promoter would say, "No, we can't do it."
[But] If 10 people show up, I will play like it's a million. I'm happy to be doing it. So we are adding shows whenever they'll tell us throughout the summer. Hopefully, we get a lot of them out there. The challenge is that every state's a little bit different in what they say you can and can't do.
Some will be like, "Hey, it's up to you guys to decide what's safe we don't want a part of it." So it's trying to be considerate and respectful to all of our fans wherever you are and just how do you do this. That's been a challenge too. I don't think any of us even thought about how hard it would be to get started again.
Not just when venues open, but the idea that baseball stadiums don't have enough staff and they're trying to hire people back or the safety stuff and everything you got to factor. In some of our meetings, we feel like adults having to make decisions and it's awful but it's worth it. We're just ready to do shows.
For more information on inhale (exhale) and the new tour, visit mercyme.org.