Mexican Bishops Urge Families of 43 Kidnapped Students to Keep Hoping for Rescue Despite Fears of Massacre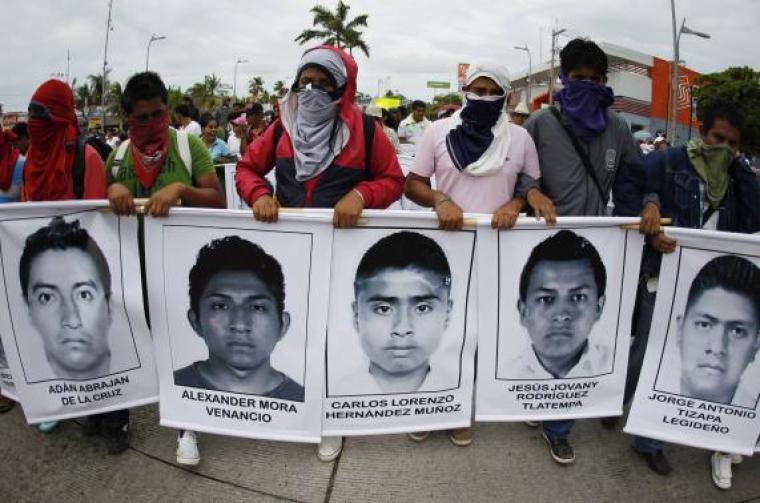 Roman Catholic Church bishops from the Province of Acapulco in Mexico are urging families to hold on to hope as authorities continue searching for the 43 students kidnapped by drug cartel gunmen. Many of the students are feared to have been massacred, and even burned alive.
"United in pain and suffering, we greet you so you can feel our comfort and our hope, along with feelings of sympathy for the disappearance and death of your children, on Sept. 26, in the city of Iguala," reads the statement by the bishops from the Archdiocese of Acapulco, published by Fides News Agency on Monday.
"We encourage you to continue to look ahead. You have to keep walking because God always has good things for his children. Have hope because hope pushes to keep fighting, to continue to live with dignity, to continue working for a better world," the statement added.
Press TV reported that hundreds of protesters continue marching in Acapulco, demanding the government increase its efforts in searching for the students who disappeared in September. The kidnappings in the southern city of Iguala were allegedly carried out by police officers who turned the students over to the Guerreros Unidos drug cartel.
At least three students were killed in the incident, while the others are feared to have been massacred by the gang members.
Mexico has been the sight of intense drug warfare for years, which has led to several protests in major cities where residents have accused the government of not doing enough to tackle the criminal violence.
"Why are they killing us?" asked 48-year-old protester Pedro Padilla in a previous interview with Reuters. "We're not here just for the students, but also because of what is happening in many places across Guerrero, where the people are very afraid of the narcos."
Vatican Radio noted that there are fears the students might have been burned alive, which last week prompted Pope Francis to ask for prayers for the victims and their families.
"I would like to raise a prayer and draw close in our hearts to the people of Mexico, who are suffering from the loss of these students and many similar problems. May our hearts be close to them, in prayer at this time," Francis said.
The Archdiocese of Mexico City has said that "the evil that Mexico suffers is a true decomposition of the social fabric, an evil from which no sector of the country escapes."
"The seriousness of the crisis demands a deep replanting of our morals, our laws and the social and political organization of our homeland," the statement added.
"It is necessary to reconstruct the country. It is urgent that there be a commitment from all sectors of society to combat the immorality, impunity, corruption and cynicism that has our nation on its knees and covered in shame. The political class has showed itself to be unworthy and their parties have shown themselves to be totally incompetent for such a large task."
The bishops of Acapulco added that they want to comfort the thousands of families who have suffered at the hands of criminal gangs in the past few years.
"We want to be attentive to your needs, such as those of thousands of families who in recent years have experienced situations like yours, such as kidnappings, extortions, forced displacement and death of a member of family. We are committed to supporting them in their faith, to experience comfort and hope, in order to be able to forgive, and heal wounds and anger that have blossomed in your heart," the bishops said.