Mexico's Attorney General Says Evidence Show 43 Students All Murdered; Parents in Disbelief, Church Urges Believers Not to Be Pessimistic About Country's Situation
Mexico's Attorney General Says Evidence Show 43 Students All Murdered; Parents in Disbelief, Church Urges Believers Not to Be Pessimistic About Country's Situation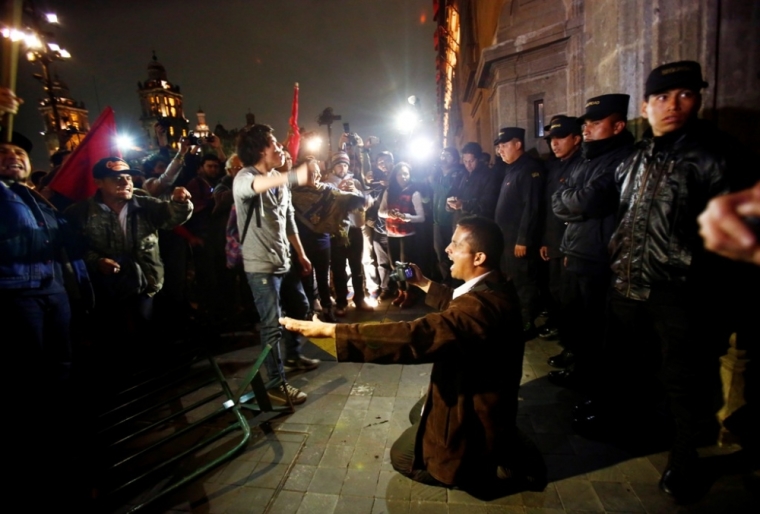 While Mexico's attorney general said that he has proof that the 43 students who were taken by a cartel in September have been killed, parents said that they will not be giving up hope that their children are alive until there is hard evidence to the contrary.
Jesus Murillo Karam, the attorney general, said that his team has interviewed 99 different people, including members of the criminal gang who are believed to have killed the students, and said that he can confirm the murders, BBC News reported.
"The evidence allows us to determine that the students were kidnapped, killed, burned and thrown in the river," Karam said.
The abduction in the southern state of Guerrero in September caused widespread outrage across Mexico, and led to local police reforms. The Catholic Church in the Latin American country has also spoken out and said that it is time for Mexico to change and address its ongoing problem with criminal gangs and mass killings.
According to officials, the students were killed by the cartel and their bodies were burnt at a rubbish dump. While the remains of one student has so far been successfully identified by DNA analysis, parents have said that they refuse to accept that all missing students met the same fate.
"We don't believe anything of what they say," said one of the parents, Carmen Cruz. The father's 19-year-old son Jorge is one of the missing students. "We are not going to allow this case to be closed."
The laboratory in Austria, which is conducting the tests, has said it is impossible to identify the other remains because of the condition they are in.
Cardinal Norberto Rivera, the archbishop of Mexico, said on Tuesday that meaningful changes in the country are needed ahead of Mexico's elections later in 2015.
"For a better world external changes are not enough. There is something that needs to be changed in depth, and Jesus taught us: change must come from the heart if one truly wants personal improvement and if one wants to change our society. So far, the changes announced often say they want to change everything, but nothing changes," Rivera said.
Christian leaders have also been calling on the faithful "not to fall into pessimism" despite the struggles facing the country.
"The country is experiencing difficult times, perhaps a crisis of confidence in society, in the authorities, there are many doubts. However, there are priests and faithful who are looking for solutions, in order not to fall into pessimism," said The Apostolic Nuncio in Mexico, Archbishop Christophe Pierre, in December.