Michael Vick Thanks God for Helping Him Overcome Dog Fighting Disgrace (VIDEO)
NFL quarterback Michael Vick has said in a recent interview that he acknowledges the controversy over his dog fighting conviction three years ago still continues, but thanks God for helping him put all that behind him.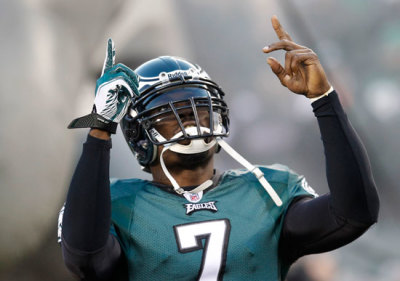 Speaking about the things that inspired him to get out of his rut while in jail and rebuild his life and career, the quarterback expressed gratitude to God.
"I thank God," Vick said in an interview with USA Today. "With success comes a lot of responsibility. This is my responsibility. Because it's not just about me, it's about every kid that I can affect."
"I've made peace with it, because I have no control over it. It's not like I could do it all over again," the Philadelphia Eagles star continued. "But at the same time, I think I made a lot of changes for the better and I think in my quest to be an advocate against dogfighting and working with the Humane Society, I've helped more animals than I've hurt."
Vick is also promoting his autobiography, Finally Free, which will be released on Sept 4, 2012. He began writing it in prison in Leavenworth, Kan., where he spent 21 months for participating in illegal dog fighting activities.
In the interview, he explains that he realizes the mistakes he made in life were very serious, but the experience has helped him "reclaim the narrative to his life."
"People are always going to have their opinions and feel the way that they do," Vick added. "You can't change it. The reason I'm writing this book is so people can have an understanding and not just go off of what they see on TV or what they heard, the picture that's been created."
The Eagles quarterback also admits he had a hard time explaining his prison sentence to his five-year old son.
"Your job is to be a role model to your kids and to be the best father figure you can be," Vick expressed. "And it was a situation where I couldn't do that and I had to confess and tell him the truth."
"It was probably the hardest thing I ever had to do. Seeing him crying, knowing I had no control over it. It was something that money couldn't get me out of," he added.
His wife, Kijafa Vick, admitted that the family will always have to face up to her husband's past crimes, but it is part of who he is today and it is something they are dealing with.
"He can't run from his past all the time," Kijafa Vick said. "He has to answer questions about it. Accept responsibility. And I think he does a fairly good job of it. Of course you get tired of it, because it's a negative thing and he's trying to get past it. He understands that it's a part of his life and he has to try and make the best out of it."