Michele Bachmann: 'Rapture of The Church' Is 'Coming Faster Than Anyone Can See,' God Will Punish America for Disobeying His Word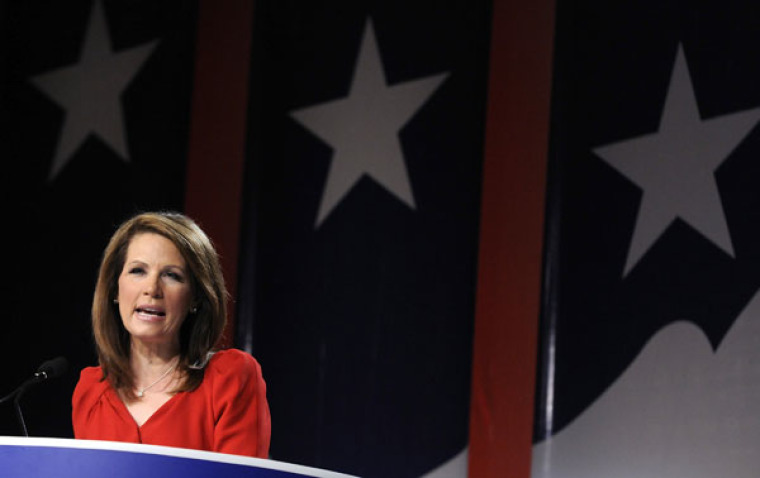 Former U.S. congresswoman and 2012 Republican presidential candidate Michele Bachmann claimed that the "rapture of the Church" is looming and will be brought to reality due to the foreign policies of president Barack Obama, and added that God will punish the United States for disobeying His will.
As previously reported by The Christian Post, the 59-year-old Minnesotan recently spoke with Jan Markell on the "Understanding the End Times" radio program and labeled Obama's foreign policy — specifically his desire for a nuclear deal with Iran – as being "pro the goals of Islamic Jihad." She added that Obama's foreign policy will lead to the coming of the Islamic Messiah (Mahdi) and the return of Jesus Christ.
This past weekend, the second part of Bachmann's interview with Markell aired and Bachmann again asserted that the second coming of Christ is right around the corner. But in part two of the interview, she also weighed in on the impact that abortion and gay marriage have on God's view of the United States.
"We need to realize how close this clock is to getting toward the midnight hour and I think that's why, for our sake and for the sake of our family, for our nation and the next generations, we need to cry out to a Holy God," Bachmann explained. "This is coming faster than anyone can see."
Bachmann explained that in light of the coming rapture, Christians should rejoice in Christ's coming because it is the "most exciting time in history."
"Prophets said we look to the future. We long to see those days, live in those days. Why? Because it is the return of a soon incoming king. Jesus Christ is coming back," Bachmann said. "We in our lifetimes, potentially, could see Jesus Christ returning to earth, the rapture of the Church. These are wonderful times but we see the destruction. But, this is a destruction that was foretold."
Markell offered her insight into the conversation by citing the 60 million babies that have been aborted in the U.S. since 1973 and the potential Supreme Court ruling that could make gay marriage a national right as signs that God could soon be punishing America for its disobedience of His word.
"I mean, God judged ancient Israel for similar kinds of offenses," Markell said. "I am afraid that some serious consequences lay ahead of us for the policies that we continue to do that violate his principles."
Bachmann agreed with Markell's notion and added that the "cursings" the Bible speaks of "aren't true just for the day that they were written for, they are also true for all people and all tribes and all time."