Mike Huckabee Defends Paraguay's Decision Not to Perform Late-Term Abortion on 11-Y-O Rape Victim Who Gave Birth to Healthy Baby Named 'Miracle'
Mike Huckabee Defends Paraguay's Decision Not to Perform Late-Term Abortion on 11-Y-O Rape Victim Who Gave Birth to Healthy Baby Named 'Miracle'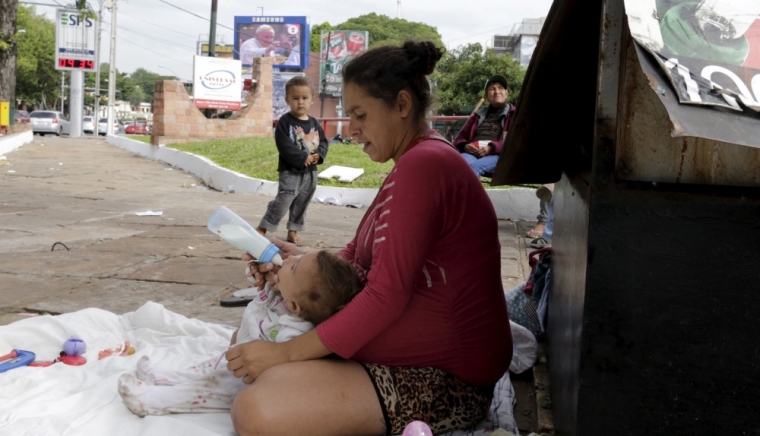 GOP presidential candidate and ordained Baptist minister Mike Huckabee has defended the government of Paraguay's decision not to perform a late-term abortion on an 11-year-old girl who was repeatedly raped by her stepfather. Huckabee described the case as a "terrible tragedy," but argued that an abortion would not solve the problem.
"Let nobody be misled, a 10-year-old girl being raped is horrible. But does it solve the problem by taking the life of an innocent child — that's really the issue," Huckabee said in an interview with CNN on Sunday.
The case in question concerns an 11-year-old girl who was allegedly repeatedly raped by her stepfather when she was 10 (she turned 11 in May). The traditionally Roman Catholic South American country ruled that she would not be granted the late-term abortion her mother was seeking, with Health Minister Antonio Barrios declaring in May that "the pregnancy will not be interrupted."
The decision sparked condemnation from human rights groups, such as Amnesty International, an organization that's also pushing for global legalized prostitution.
"The physical and psychological impact of forcing this young girl to continue with a pregnancy is tantamount to torture," Guadalupe Marengo, deputy director of Americas Program at Amnesty International, claimed at the time.
On Friday, the 11-year-old gave birth to a baby girl via Caesarean section. The baby has been named Milagros, which is Spanish for miracles, RTE News reported.
Mario Villalba, director of the Red Cross Hospital, said the delivery "was like any other Caesarean, without complications, the difference being the age."
The 11-year-old girl's mother, who hasn't been named, was arrested for neglect, but was allowed to visit her daughter in the hospital.
Despite the stable condition of the girl and her baby, Erika Guevara, Amnesty's director for the Americas, argued that Paraguayan authorities violated the 11-year-old's human rights by not performing the late-term abortion her mother was seeking.
In his interview, Huckabee admitted that telling a 10-year-old girl who has been raped that she has to carry out a pregnancy is a terrible tragedy, but said that taking yet another life would only compound the tragedy.
"When an abortion happens, there are two victims," the GOP candidate added. "One is the child, the other is that birth mother, who often will go through extraordinary guilt years later when she begins to think through what happened, with the baby, with her."
He added that he realizes there are people who will hold very different views on the case, and said he respects that.
"I just come out on the side that life is precious, every life has worth and value," Huckabee said.