Mike Huckabee Faces Class Action Lawsuit Over Robo Calls Promoting Christian Movie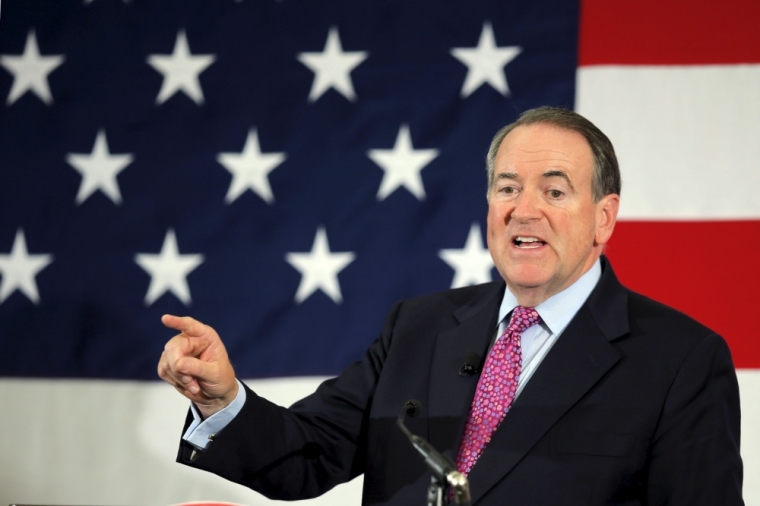 A U.S. appeals court has revived a 2012 lawsuit against Republican presidential hopeful Mike Huckabee claiming he was part of a group that violated the Telephone Consumer Protection Act in 2012 with recorded robo calls to promote Christian film, "Last Ounce of Courage."
In a 3-0 decision this week, the 8th U.S. Circuit Court of Appeals in St. Louis said a lower court judge was not right in dismissing claims by petitioners Ron and Dorit Golan under the Telephone Consumer Protection Act and Missouri's "do not call" law, in their proposed $5 million class action lawsuit, Reuters reported.
The Glans, St. Louis residents, filed the lawsuit in 2012 after they received two prerecorded messages on their home phone stating, "Liberty. This is a public survey call. We may call back later," according to Courthouse News Service.
Those who answered the call heard a message from Huckabee, who was a Fox News host at the time, conducting a survey that asked how the person felt about "traditional American values."
Calls were reportedly made to 34 million residential phone lines and cell phones.
The Golans claimed that Huckabee and the movie's promoters violated the laws by placing robo calls, and sought certification of a subclass who were on the Missouri do-not-call list but still received calls.
A federal court dismissed the claims last year, saying they did not demonstrate sufficient injury to give them standing under the law curbing robo calls.
However, Circuit Judge Diana Murphy disagreed with the defense arguments this week, stating, "Although the campaign appeared to survey whether recipients had 'traditional American values,' each call was initiated for the purpose of promoting 'Last Ounce of Courage,'" and "qualified as 'telemarketing' even though the messages never referenced the film."
The court did not rule on whether Huckabee, a former two-term governor of Arkansas, could be "vicariously liable" for the calls. It returned the case to U.S. District Judge E. Richard Webber in St. Louis, who ruled last year that the Golans lacked standing to sue.
"Last Ounce of Courage" is a family drama film directed by Darrel Campbell, Kevin McAfee and starring Marshall R. Teague, Jennifer O'Neill, and Fred Williamson. It's about the struggle of Bob Revere, a veteran who feels his religious freedom is under attack. As mayor, he launches a campaign to promote American-Christian values, but comes under attack from groups advocating for church-state separation.