Huckabee Camp Says Removal of Duggars From Website Was Planned; 'It Will Be Up to Them' If They Join Campaign Trail, Huckabee Asserts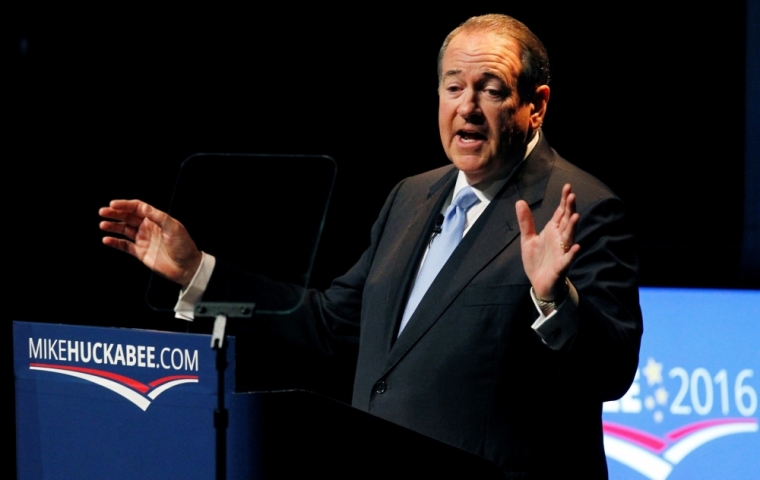 Update: June 5, 7:15 PM: Alice Stewart, communications director for Mike Huckabee, reached out to The Christian Post to reiterate that the Huckabee campaign had always planned to rotate new voices of endorsement in the "I like Mike" section of his website at the beginning of every month, which is why Jim Bob's and Michelle Duggar's names no longer appear on his campaign website.
Once prominently featured on the "I like Mike" sidebar, now the Mike Huckabee for President website currently has no mention of endorsements from Jim Bob and Michelle Duggar.
The scrubbing of the Duggars from the site appears to have happened Monday night, before what some perceived as a less than stellar interview of Jim Bob and Michelle Duggar on Fox News.
On Tuesday, Huckabee was asked by Buzzfeed whether the Duggars would be joining him on the campaign trail.
"I don't know, it will be up to them. Ask them, I don't know," Huckabee responded.
Huckabee's senior communications advisor, J. Hogan Gidley, downplayed the scrubbing of the Duggar endorsements, telling E! News: "The plan when we launched the Huckabee for President website simply was to rotate supporters' pictures the first of every month."
In the wake of the Josh Duggar molestation scandal, Huckabee has been a vigorous and vocal supporter of the family, including Josh. In a Facebook post dated May 22, Huckabee praised the family's handling of the matter calling it "honest" and "open."
"Today, Janet and I want to show up and stand up for our friends," declared Huckabee. "Let others run from them. We will run to them with our support."
He continued, "No purpose whatsoever is served by those who are now trying to discredit Josh or his family by sensationalizing the story."
Chad Gallagher, head of the Arkansas firm Legacy Consulting, is now working as a public relations expert for the Duggars. Gallagher is an adviser to Huckabee and executive director of Huck Pac.
The Duggars endorsed Huckabee during his 2008 presidential campaign and in 2016. The family backed Rick Santorum in 2012.
Jim Bob Duggar is a former representative in the Arkansas State House, serving from 1999–2002.
Huckabee received criticism this week for joking that he wished he could have identified as a girl in high school so he could have showered with his female classmates.
The video, which recently emerged from a February appearance at the National Religious Broadcasters Convention, was poking fun at the emerging movement in public schools for some transgender students demanding use of different bathrooms and locker rooms than the gender they were assigned at birth.
"You're laughing because it sounds so ridiculous doesn't it?" Huckabee asked the audience.
Some national media reports claimed Huckabee was being hypocritical for moralizing about transgender students while simultaneously supporting the Duggars.
Fox News will air an interview with Jill Dillard and Jessa Seewalt, two victims and sisters of Josh, on Friday to get their side of the story of the molestation scandal. Jim Bob and Michelle Duggar spoke with Fox's Megyn Kelly on Wednesday.
TLC, which airs the show "19 Kids and Counting," has pulled the show off the air for now but has so far remained silent about a final decision on the popular program's future.