Mike Pence at Notre Dame: 'Suppression of Freedom of Speech' Is 'Outside the American Culture'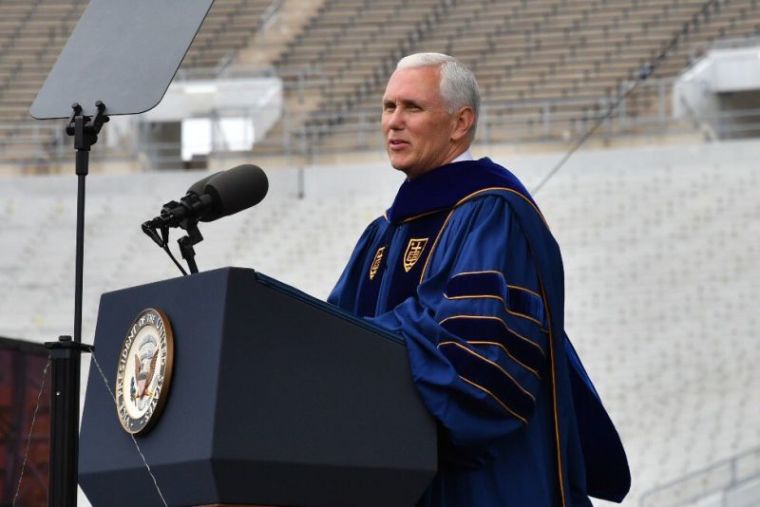 In his commencement speech at at the University of Notre Dame on Sunday, Vice President Mike Pence spoke against "safe zones" on campuses and said "the suppression of freedom of speech" is "wholly outside the American tradition." A group of graduating students walked out in protest.
"This university stands without apology for human freedom and the inherent dignity of every human person, and it holds fast to the faith that gave it birth," the vice president told over 3,100 graduating students at the Catholic university. "Your commitment to social concerns melds faith and action to overcome poverty worldwide. Your focus on ethics and culture promotes the value of all human life."
Pence, the former governor of Indiana, told them that "in so many causes I can assure you that in these matters, you have an ally in our still-new administration."
"You know, the greatest honor of my life is to serve as vice president to the 45th president of the United States of America, President Donald Trump," Pence added, just as he had also told the graduating students at Grove City College in Pennsylvania Saturday.
Pence praised the Trump administration, saying, "Just as Notre Dame has stood strong to protect its religious liberty, I'm proud that this president just took steps to ensure that this university and the Little Sisters of the Poor could not be forced to violate their consciences to fully participate in American civic life. And just as Notre Dame has stood for those who are persecuted for their faith around the world, just a short while ago, in Saudi Arabia, this president spoke out against religious persecution of all people of all faiths."
Pence called Notre Dame "a vanguard of freedom of expression and the free exchange of ideas at a time sadly, when free speech and civility are waning on campuses across America," and also "an exception, an island in a sea of conformity, so far spared from the noxious wave that seems to be rushing over much of academia."
"Notre Dame is a campus where deliberation is welcomed, where opposing views are debated, and where every speaker, no matter how unpopular or unfashionable, is afforded the right to air their views in the open for all to hear," he continued. "Far too many campuses across America have become characterized by speech codes, safe zones, tone-policing, administration-sanctioned political correctness, all of which amounts to nothing less than suppression of the freedom of speech."
Pence said "these all-too-common practices are destructive of learning and the pursuit of knowledge," and "are wholly outside the American tradition."
He explained, "As you, our youth, are the future, and universities the bellwether of thought and culture, I would submit that the increasing intolerance and suppression of the time-honored tradition of free expression on our campuses jeopardizes the liberties of every American. This should not, and must not be met with silence."
During the commencement speech, a student activist group, We StaND For, at the university staged a walkout, according to The Hill.
"During his time as governor of the state of Indiana and now as a Vice-President, Pence has targeted the civil rights protections of members of LBGT+ community, rejected the Syrian refugee resettlement program, supported an unconstitutional ban of religious minorities, and fought against sanctuary cities," the group said in an earlier statement. "All of these policies have marginalized our vulnerable sisters and brothers for their religion, skin color, or sexual orientation."
Father John Jenkins, president of the university, addressed the division at the ceremony, noting that "too often ... the love that fires our passion is twisted into a hatred for those who disagree."
"But we must also listen to those who disagree, care for the bonds that join us together and find ways to build a society where all can flourish — even the people who don't look like us, think like us, or vote with us," Jenkins said.
At the conclusion of his speech, Pence told the students, "If you hold fast to Him, to the faith you've deepened in this place and to all you've learned and the examples you've seen, I know you will not only persevere, you will prevail. And you will lead your families, your professions, and our country to unimaginable heights."