Mike Pence to Christian College Graduates: Proud to 'Stand With Trump in Defense of Life'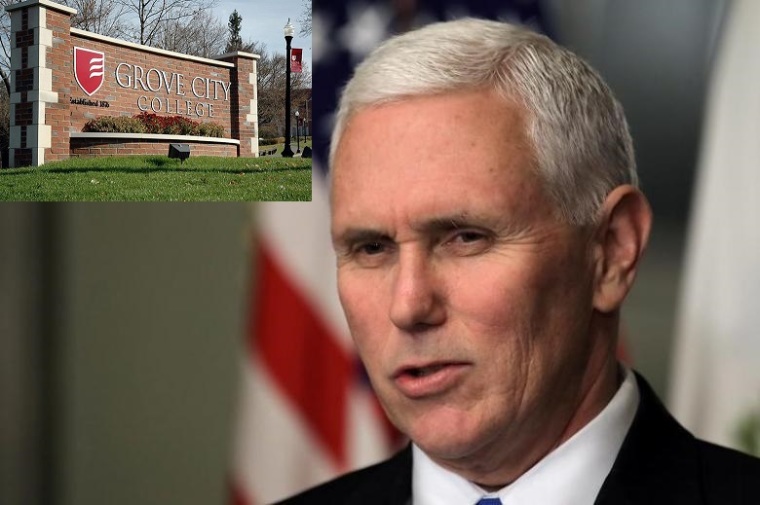 In his commencement remarks at Grove City College in Pennsylvania Saturday, Vice President Mike Pence called President Trump an "example of leadership and perseverance," and said he is proud to be a "vice president to a president who stands without apology for the sanctity of life and all the God-given liberties."
"I've been a governor, now I'm vice president of the United States, but the most important job that I will ever hold is husband and father to three wonderful kids," Pence told the largest graduating class in the Christian college's 137-year history. "You've received an education not just in facts and figures but in principled leadership, grounded in faith and freedom."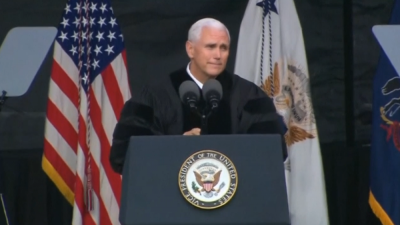 Pence told the students they need look no further than "a friend of mine as an example of leadership and perseverance: The 45th President of the United States of America, President Donald Trump."
Days after the college announced that Pence would deliver the keynote address, some members of the school community had been riled by the decision due to his alliance with President Trump.
"Alumni and students flooded administrators' inboxes with emails protesting the decision, and faculty members have called for boycotts. Many who oppose the decision say that hosting Mr. Pence will serve as an endorsement of the current president," Molly Wicker, a junior at Grove City College, wrote in an op-ed for The New York Times. "For many on campus, Mr. Pence's reputation for being a very faith-oriented politician does not make up for his being Mr. Trump's vice president."
In his remarks Saturday, however, Pence said, "You know, from the first day of our administration, and in the great tradition of this college, our president has been freeing the American economy by rolling back the heavy hand of big government. He's been expanding educational choice opportunities for some of our most disadvantaged children. He's been rebuilding our military, restoring safety to our streets, and I can't tell you how proud I am to vice president to a president who stands without apology for the sanctity of life and all the God-given liberties in the Constitution of the United States."
Pence also quoted President Trump as saying at the evangelical Christian Liberty University in Lynchburg, Virginia: "Nothing worth doing ever came easy. Following your convictions means you must be willing to face criticism from those who lack the courage to do what's right."
Pence told the graduates not to fear criticism. "Have the humility to listen to it. Learn from it. And most importantly, push through. Persistence is the key. Never quit on your dreams. Dreams may be deferred but they must never be abandoned."
To encourage the graduates, Pence added, "From this day forward, to the Grove City College class of 2017, you are called to lead fearlessly. Be men and women of integrity, with a servant's heart. Expect opposition and persevere. And lastly, have faith. For as the good book says, 'He knows the plans He has for you. Plans to prosper you and not to harm you. Plans to give you hope and a future.'"
He concluded, "Have faith that He that brought you this far will never leave you and never forsake you, because He never will. If you hold fast to him, to the faith that deepened in this special place and to all that you learned from this extraordinary faculty, I know in my heart of hearts you will not only persevere, you will prevail."
The vice president is scheduled to speak at the University of Notre Dame where a protest against him is also planned Sunday, and at the U.S. Naval Academy on Friday.