Mike Pence Joins Franklin Graham's Texas Relief Work; Drone Video Shows Incredible Harvey Devastation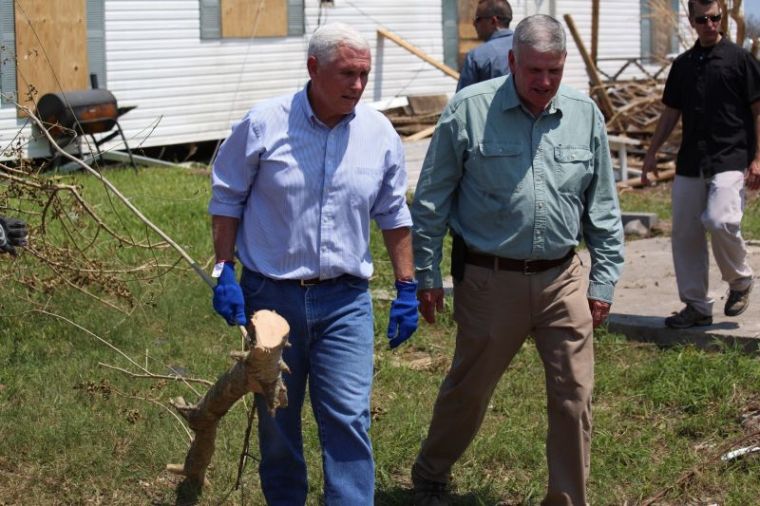 Vice President Mike Pence, his wife Karen, and Texas Governor Greg Abbott joined the Rev. Franklin Graham on Thursday to help Samaritan's Purse staff and volunteers in Rockport, Texas, as they carried out relief work in the wake of the devastation caused by Hurricane Harvey.
"After difficult days, the President sent us here, to say the American people are with you. We will be here every day until this region rebuilds bigger and better than ever before," Pence told Samaritan's Purse volunteers.
Abbott said that Sunday is to be a day of prayer for Texas, with officials stating that 44 people have died so far in storm-related incidents, while 32,000 people have been forced into shelters.
USA TODAY Network drones, meanwhile, captured the incredible scope of the flood damage caused by Harvey throughout the state.
The captured footage surveyed the wreckage of homes in Port Aransas, the ravaged docks in Rockport, and a flooded chemical plant in Baytown, displaying the rebuilding challenges that lie ahead of the state.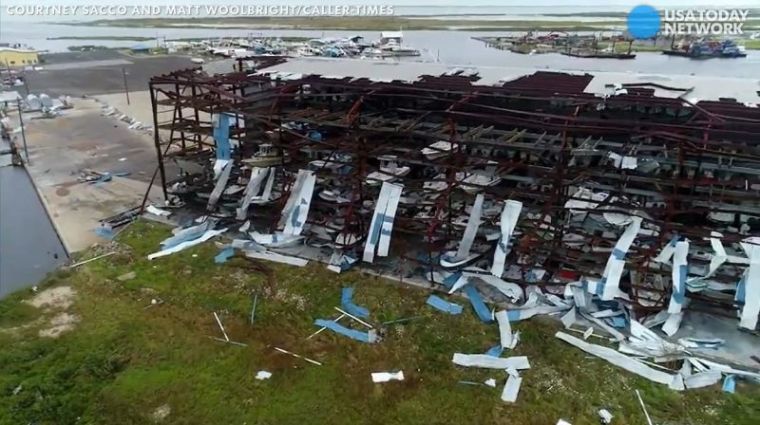 Graham, who is president and CEO of Samaritan's Purse, said, "We need Christian men and women willing to come to south Texas to help us."
"There's so much need down here. We've got two locations up and we'll have three more by the end of next week. We'll be able to receive 1,000 volunteers a day."
Graham also expressed his gratitude to Pence for joining in relief efforts in a message on Facebook Thursday.
"Thank you Vice President Mike Pence and Second Lady Karen Pence for spending time today with victims of #HurricaneHarvey and the volunteers trying to make a difference in people's lives. The Vice President took time to help volunteers move downed trees at a family's home where Samaritan's Purse is working," the evangelist wrote.
"It was also an honor to have Texas Governor Greg Abbott there, and he signed a proclamation declaring Sunday, Sept. 3, a Day of Prayer in Texas. We will certainly be praying with them."
Samaritan's Purse indicated that 100,000 Texas homes have been affected by the storm, with the 12,000-member Texas National Guard, the U.S. Navy, Marines, Air Force, and Coast Guard all calling in to assist with rescue and relief efforts.
A large number of Christian ministries and other humanitarian relief groups have been helping in the crisis, including Operation Blessing International.
The group said in an update that it is providing relief in the form of encouragement, food, water, and basic hygiene supplies to those in need in hard-hit areas like Rockport and Taft.
It has also partnered with other ministries, such as Abundant Life Christian Center, to distribute supplies.
"Without ministries like this — Operation Blessing — a lot of these people would go hungry," said LaShund Lambert, Abundant Life's worship pastor.
"The reason you see all the excitement with all the families and the mommas is, what momma wouldn't want to be able to feed her children? What daddy doesn't want to be able to provide? But when all the stores are shut, you can have all the money in the world, but you can't feed your family."
Watch the USA TODAY drone footage of Harvey's devastation below: