Millions of Records and Fans Later, It's Still All About Jesus for Global Coalition of Empowered21 Worship Leaders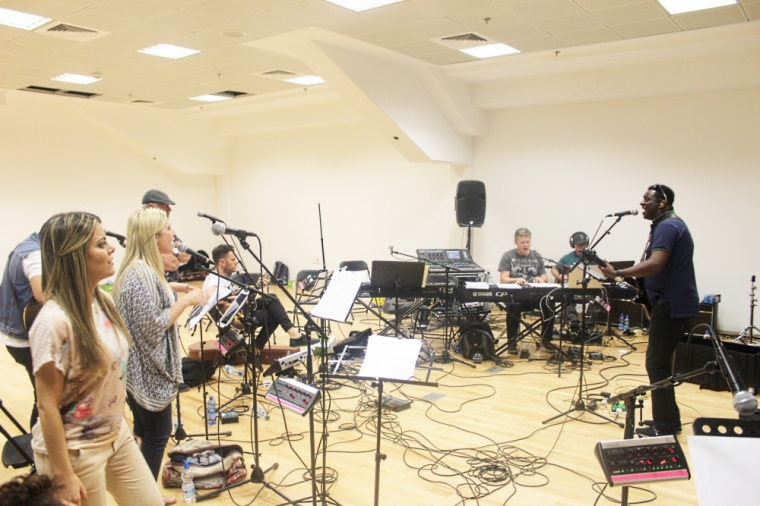 JERUSALEM — Two million people once showed up at a worship service to hear her sing live, but for popular Brazilian worship leader Ana Paula Valadao and the global coalition of worship leaders at the Empowered21 Global Congress in Jerusalem this week, nothing behind their magnetic music will be about them. It's always about Jesus, they say, always.
They are perhaps some of the most popular worship leaders you have never heard of, primarily because for a number of them their following comes from Christian believers outside of the United States.
At a practice session for the worship leaders a day before their first public outing together on Wednesday night at the Spirit-empowered event billed "From The Ends Of The Earth" inside the Jerusalem Pais arena, the unassuming Valadao says she's hoping God ruins their plan.
"We can do nothing without the Holy Spirit in our lives," she said when asked to discuss what this Spirit-Empowered movement is all about. "We depend totally on Him. Even as we sing and play our music, if His presence is not among us, is not moving freely among us, we rather not do it. So we even hope He ruins our plans and shows up in our midst with power, with His sweet presence breaking our hearts into repentance."
The event, expected to run May 20-25, could result in the largest Christian Pentecost Sunday celebration in the Jewish nation's modern history when numbers for the event are tallied on the weekend, according to Jeremy Burton, executive director for university relations and communications at Oral Roberts University.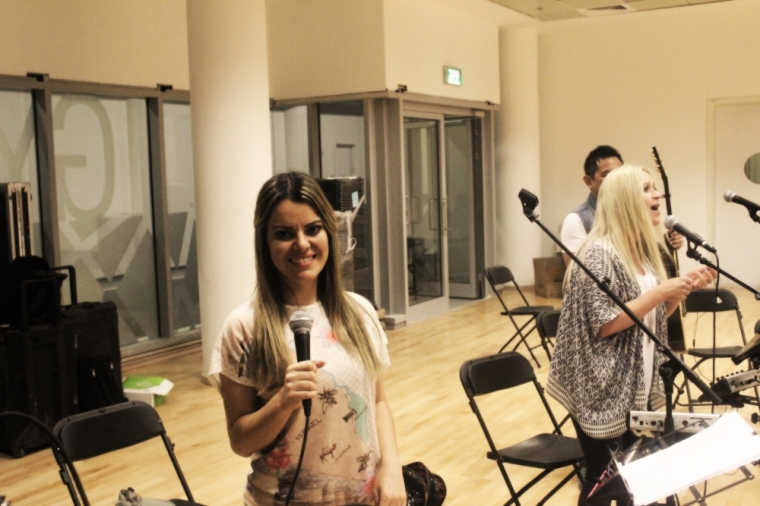 And Oral Roberts University President, William M. Wilson, who also serves as president and co-chair of Empowered21, agreed in an earlier statement.
"This is a pivotal moment in history for the global Spirit–empowered movement. … The Impartation service, which will pass the mantel of the global Spirit–empowered movement on to the next generation, is of particular significance. Our prayer is that this service will be a catalyst, igniting the hearts and minds of young people from around the globe with the fire of God's love and power."
Valadao and the team of worship leaders representing multiple countries and cultures include: Sidney Mohede, worship pastor at Jakarta Praise Community Church in Indonesia; Noel Robinson, itinerant worship leader from England; Jukka Palonen, Dove-award winning music producer from the U.S. and Europe; Christer Tepper, violinist; and studio musician, Mark Baldwin, both from the U.S. They were all brought together by Steve Merkel, senior director at Integrity Music, one of the sponsors of the event.
"Steve Merkel is the producer who invited all of us and their purpose was to unite different nations together and gather people who are influencing their nation through worship. So I was invited to represent Brazil and South America, and I'm so excited to be a part of this amazing group of worship leaders from around the world," explained Valadao.
These worship leaders don't see themselves as performers or entertainers and that's one of the reasons why they don't get distracted by the pitfalls of celebrity and are able to stay grounded.
"I think because we are worshippers, not performers, we are not entertainers. We are not here to perform who we are. I think as worshippers, the longer we have been doing this, the more we understand that this is not about us. It's about this Jesus who has saved us," said Mohede, who left the U.S. to minister in Jakarta in his early 20s.
"We are believers who want to be at a place like this because of the event," explained Baldwin during rehearsal Tuesday.
They are all united by the belief that everything done for the Kingdom of God is much more effective when done through the empowerment of the Holy Spirit, and they are pushing to expand this Pentecostal/Charismatic tenet supported by more than 640 million Spirit-filled Christians across the world.
According to Baldwin, the Spirit-Empowered movement is incredible because of its direct focus on the dependence on God's spirit to achieve His will in the lives of believers.
He said he likes the diversity of the Empowered21 conference and highlighted that it's what God's church is going to look like, noting that the gathering was unlike many churches in the U.S. where people usually worship in environments with others who look like themselves.
Robinson said, for him, the event is a "spiritual statement."
"It is a real honor, I don't think events like this, and I call it an event to start with, doesn't happen every single week. It doesn't happen every year. ... I think that we are entering a new season of the church and actually a gathering like this right in Jerusalem, where Jesus is going to set his foot down, is actually signaling to the world the intention of the church. The church is not running away from Jerusalem or Israel, the church is actually running to this place to make a spiritual statement," he said.
A part of that statement, said Mohede, is the unifying effect of God's spirit among those who allow it to move.
"We are a body. It's not just about one church, it's about the church … and to be a part of this it's like what Noel said, there's gonna be something supernatural happening this week and we believe it with all our hearts or else we would not be here," he said.
"To be here, I know that we are investing in something supernatural, in the Kingdom of God and the body of Christ, so I really expect the Holy Spirit is gonna do something mighty. It's not even about our music or what we can do on the platform. I mean, if the Holy Spirit wants to use us, brilliant, but if He just wants to show up and do whatever, it's brilliant as well; so it really is never about us," he noted.