Mississippi Legislature Passes Bill Allowing Student-Led Prayer in Schools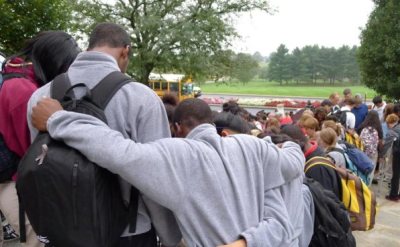 The Mississippi Legislature passed a bill allowing student-led prayer in public schools with a majority vote in both the Senate and the House.
Senate Bill 2633 – also known as "The Mississippi Student Religious Liberties Act of 2013"– prohibits public schools in the state from discrimination due to student's expression of religious beliefs. The bill, which passed March 6, has been sent to Gov. Phil Bryant for his signature.
Representative Mark Formby (R-Pearl River) has introduced a school prayer bill every year since 2009. He shared with The Christian Post on Tuesday his reasoning for supporting such a bill, saying, "Legislators, especially those who claim to be Christian and that represent constituencies that are predominately Christian according to polling, should make proactive moves to stand in the gap. That's what I see this particular bill doing."
Formby, who is of the Baptist faith, went on to say, "I think that it is very obvious, any casual by-stander can tell that there is an attack on religion in general, especially on Christianity."
The American Civil Liberties Union (ACLU) and the ACLU of Mississippi sent a letter in a separate matter to a local Mississippi school district in October demanding that there be an end "to its widespread practice of promoting religious beliefs to students, faculty and staff," according to an official document.
In spite of possible opposition, Formby expects the bill to become law soon. The State Senate passed the bill with an overwhelming majority vote of 50-1. The House passed the bill with a vote of 109-6, with 5 not voting, absent or voting present.
The bill states that in addition to student-led prayer, it will provide for voluntary student expression of religious viewpoints in public schools and in class assignments. The legislation currently reads, "Students may express their beliefs about religion in homework, artwork, and other written and oral assignments free from discrimination based on the religious content of their submissions." It goes on to say that students may not be penalized or rewarded on account of the religious content of their work.
Allowance is also made for students to have freedom to organize religious groups, gatherings and activities before, during and after the school day as well as a "limited public forum" for student speakers at non-graduation and graduation events with an opportunity to offer religious expression. The Model Policy includes provisions that allow students selected under certain criteria the opportunity to introduce football games and speak at graduation ceremonies without discrimination against religious views they hold.
The bill also permits students in public schools to wear clothing, accessories and jewelry that display religious messages or religious symbols in the same manner and to the same extent that other types of clothing, accessories and jewelry that display messages or symbols are permitted.
Gov. Phil Bryant is expected to sign the bill by Mar 18. Once signed by the governor, the act will take effect on July 1 and will be applied in the 2013-14 school year.