Mom holding baby and gun threatens to blow up church before tackled by congregants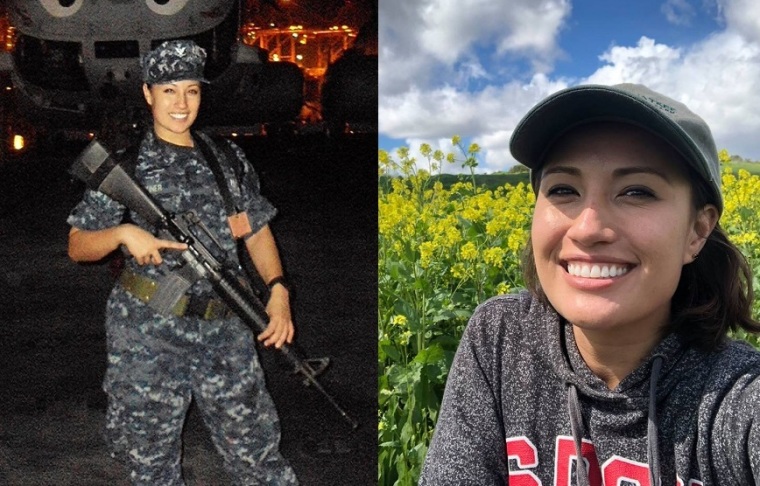 A former part-time NBC 7 producer, mother of two and Navy veteran threatened to blow up a San Diego church while armed with a handgun and holding a 10-month-old baby during an Easter Sunday service before she was tackled by congregants.
San Diego police, told KGTV that the incident happened just after 12 p.m. at 4350 Mt. Everest Blvd. at Tsidkenu Church, a non-denominational church on the property of Mt. Everest Academy.
Police said that the woman, identified as Anna Conkey, 31, walked into the church with the handgun and her 10-month-old baby, then made the threat to blow up the church while on the stage.
"The female walked up on stage and made threats that she was going to blow up the church while waving the handgun," officials said.
"She was saying craziness about the rapture not being real and everyone going to hell," one witness reported.
David Michael Miller, another witness and member of the U.S. Army who was part of the team that tackled Conkey and held her until police arrived, told NBC 7 that she pointed the gun at the congregation, herself and at her baby as others tried to approach her.
"She was being very apprehensive, pointing the gun at them, pointing the gun at her baby, saying 'Don't come closer, don't come any closer,'" Miller said.
The news network also reported that minutes before the incident they were sent an email from an account with the name "Anna Conkey" with a news tip about what happened.
"There's a woman claiming to be the messiah, saying she was sent to blow up the foundation of the Church—she's got a gun and a child is involved. Address is 4350 Mount Everest Blvd San Diego, CA 92117. There's about 70 people in the auditorium of the school where the church service is held," the message said.
Police later confirmed that the gun Conkey was armed with was not loaded and no one had been hurt.
"Because of some quick-thinking parishioners here at the scene she was quickly subdued before anything really bad could happen," SDPD Lt. Christian Sharp told NBC 7.
Tsidkenu Church lead pastor Benjamin Wisan said Conkey was removed from the church a week earlier.
Conkey explained in a YouTube video on April 14 that God had given her a message for the church.
"Well I had a message to share with my church today, and God had told me before I even went. He was like Anna, it's not gonna be how you imagine it. And I certainly never imagined that I'd never even get to speak because He told me I was supposed to give a message," Conkey said in the video.
"They told me to go. They told me they would call the police if I didn't leave. Yeah. I didn't do anything. I didn't do anything that was hmmm, I guess when I said that I had more authority over the teacher which is true because God told me I'm his messenger. I'm an apostle and I'm a prophet. And according to the Bible, a prophet and apostle has more authority than the teacher so I happened to say that, then they told me to go. See how much they care about their hierarchy in the church. I was sent there for a reason," she continued.
And because she wasn't allowed to share her message, Conkey said she pronounced a curse on the church that would make the church reveal their deepest darkest secrets every time they prophesied.
Linda Grace, one of Conkey's neighbors, told NBC 7 that she was surprised by the incident.
"I don't know why. I saw her this morning. Why didn't she give me the baby or ask me for help or ask me to go with her or something. She just said she was going to church," Grace said.
Conkey is now facing five felonies, including child cruelty, possession of a firearm at a school, making false bomb threats, and two counts of assault with a firearm. She was also charged with disturbing a religious meeting and resisting an officer.
Her husband was on deployment on the East Coast with the U.S. Navy when the incident happened. Her two children were taken into protective custody at the time of the incident.