Moody Bible Institute Facing Controversy Over Faculty Cuts, Low Student Enrollment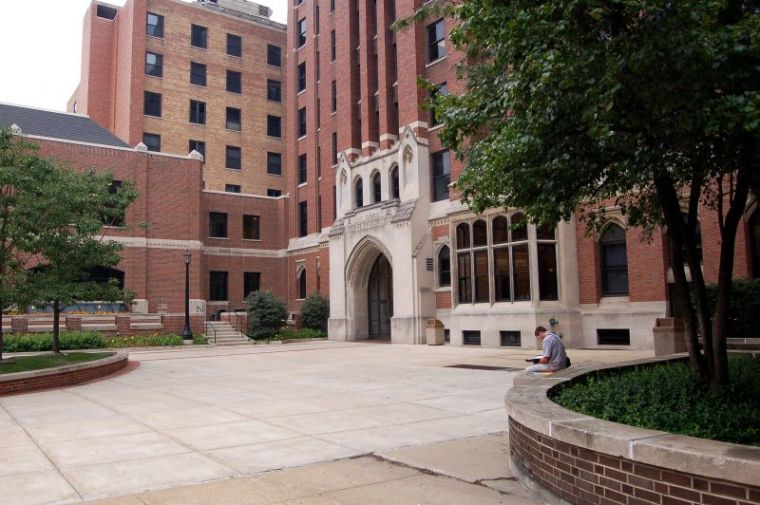 Moody Bible Institute is in the midst of what some say is a "crisis" involving falling enrollment numbers, theologically liberal professors, and an administration that has betrayed the school's mission and created a culture of fear.
The school, however, maintains that recent strategic moves have better positioned the institution for the future and they are presently addressing concerns.
In November, Moody Bible Institute of Chicago — founded in 1886 and named after renowned American evangelist Dwight L. Moody — announced that as part of a strategic initiative to preserve its long-term financial well-being, it would close its campus in Spokane, Washington, its distance learning extension site in Pasadena, California, and some faculty members in Chicago would be cut. Student enrollment is reportedly down significantly across the board.
Julie Roys, host of Moody Radio's "Up For Debate" program, recounted on her website Thursday in an essay titled "Moody Bible Institute Facing Unprecedented Crisis. Please Pray!" that the Executive Committee of the Moody Bible Institute Board of Trustees would be meeting Friday with MBI President Paul Nyquist to discuss allegations against his administration that include permitting professors who do not believe in the inerrancy of the Bible to write curriculum and teach.
Other allegations include allowing a professor who supports liberal causes like Planned Parenthood and liberation theology to both teach and spearhead missions conferences, and permitting a top education official to practice reverse-discrimination and repeatedly violate the institute's bylaws.
Whistleblowers are said to have been silenced, reprimanded or fired, and the atmosphere at the school is one of fear and intimidation, Roys noted. The Higher Learning Commission, which oversees accreditation for Moody, stipulates that the school must share governance with faculty, something the administration has also allegedly refused to do.
When Roys learned of these charges last fall she urged Moody trustees to investigate but the trustees reportedly went directly to the president, did not interview any faculty, and the matter was ultimately dropped. Roys opted to conduct her own investigation in which she interviewed many faculty members and summarily flew to Michigan in December to present her findings to Moody Trustee Emeritus Paul Johnson and Vice-Chairman of the Board of Trustees Rick Warren.
Roys explained in an email to The Christian Post Friday that for too long, Moody "has swept wrongdoing under the rug" and that if they are to ever recover, a new era of transparency and accountability is needed.
She believes that "the ideal outcome" would be for Nyquist to resign immediately, with further resignations to come in the days ahead, adding that while she has no idea what the outcome of Friday's meeting will be she knows Warren and Johnson are "pushing hard for resignations."
"The board also needs to suspend the faculty firings the administration announced in November. The board has much evidence indicating that some of those firings may be payback for those who objected to theological drift at the institute," Roys told CP.
"It also has ample evidence that there are professors who deny inerrancy as it's been historically defined by the institute, and who promote liberation theology and other liberal causes in their classrooms. Some of these are being retained by the school, but should be fired."
In November, members of the Moody staff published an open, anonymous letter in Moody Standard, the student newspaper, which was reprinted on a relatively new website called "The Broken Twig: Documenting the Decline and Fall of the Moody Bible Institute." In the letter the staff voiced concerns about the administration, saying they had "engendered a culture of fear" and that they "don't feel that the administration is willing to listen or respond in wise ways."
They also wrote that the administration had made misleading claims about the faculty cuts, particularly when they told Christianity Today that approximately 10 percent of Institute staff was being let go, when in truth 34 out of the 112 full-time faculty were cut, "just under one-third."
The Broken Twig also posted an email from Intercultural Studies professor Jean Penfound to Vice President and Associate Provost of Faculty Larry Davidhizar which addressed three administrative issues: "inconsistencies between stated beliefs and actions, antagonism toward faculty, and intentional actions to squelch true shared governance." The email spoke of low morale among the faculty and explained how they often feared administrative retribution.
Roys noted on her website that she intends to release more details from her investigation in the coming days.
In a Friday statement emailed to The Christian Post, Moody director of public relations Brian Regnerus said that Moody's recent staff reductions came as a result of strategic changes the school made — outlined on their website — in order to set the institution on course for "continued Kingdom impact."
"Such changes often result in wide-ranging emotions, especially for those whose jobs may have been impacted," he explained, and "[a]s people seek to understand such changes, some reflect on past events and attribute new meaning to them. For others, the stress of change may impact their sense of trust in the organization."
No organization, Moody included, is immune from these kinds of challenges, he added.
"Moody recently became aware of a personal blog post by a Moody employee that addresses the recent changes at Moody as well as makes a number of assertions about Moody primarily based on anonymous and second-hand sources and include past events that have been resolved," Regnerus continued.
"These assertions, referred to in the blog post as 'allegations,' are presented in an emotionally-charged and misleading way from a particular perspective without a full understanding of the actual facts. The blog's characterization of Moody's current state disappointedly paints an incomplete and inaccurate picture."
He stressed that the school is conducting a comprehensive review of the matters to confirm that "past events have been properly cared for and that any other matters are handled in an appropriate manner."
Yet because many issues brought up in the blog were personnel-related, he said, Moody leadership would not be addressing anything in response to personal blog posts out of respect for the privacy of the individuals involved and given the laws governing such processes.
"In our mission to educate the next generation of Christian leaders, and to spread the good news of the gospel through our radio and publishing ministries for the advancement of God's Word, we remain steadfast in our commitment to the inspiration and inerrancy of the Word of God. Moody faces challenges, but we do so with hope and a renewed confidence in the Lord's sovereignty as He guides and provides for Moody, which He has faithfully done for 132 years," the statement concluded.