Most Americans Support Trump's Bathroom Policy Over Obama's Order That Boys Use Girls' Bathrooms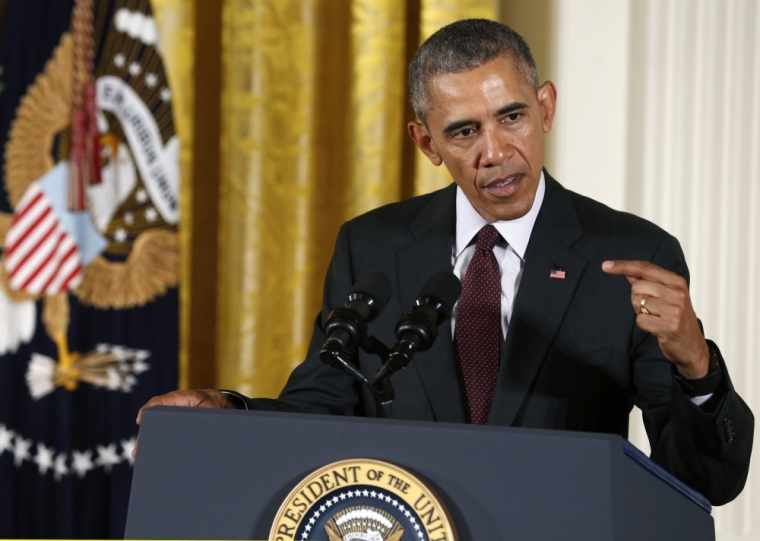 A poll has found that the majority of Americans do not agree with President Barack Obama's directive that public schools allow students to go into bathrooms based on their gender identity, not their birth sex, and instead back Donald Trump's idea to let states decide for themselves.
As Breitbart News reported on Sunday, the mid-May poll by Rasmussen Reports found that as many as 65 percent of the respondents back the Republican Presidential Candidate's proposal to allow state and local governments to decide on bathroom policy, rather than adapting a one-size-fits-all directive.
"I believe it should be states' rights and I think the states should make the decision, they're more capable of making the decision," Trump explained his position earlier in May in an interview with ABC's "Good Morning America."
"I just think it should be states' rights. I think many things actually should be states' rights, but this is a perfect example of it," he added.
The Rasmussen poll of 1,000 adults asked the question "Do you favor or oppose allowing transgender students to use the bathrooms of the opposite biological sex?"
It found that 51 percent of those who responded do not agree with the goal, 33 percent support it, and 16 percent declined to answer. However, half of those 33 percent in support of the idea would still prefer state and local governments to set bathroom policies in schools, rather than having the federal government make the decision for them, the survey found.
Obama has argued that allowing students to go into bathrooms according to their gender identify instead of their birth sex would counter bullying.
"We're talking about kids, and anybody who's been in school, been in high school, who's been a parent, I think should realize that kids who are sometimes in the minority — kids who have a different sexual orientation or are transgender — are subject to a lot of bullying, potentially they are vulnerable," the president has said.
"I think that it is part of our obligation as a society to make sure that everybody is treated fairly, and our kids are all loved, and that they're protected and that their dignity is affirmed."
Several state governors have vowed to fight the directive, with Texas' Lt. Governor Dan Patrick stating: "President Obama, in the dark of the night — without consulting Congress, without consulting educators, without consulting parents — decides to issue an executive order, like this superintendent, forcing transgender policies on schools and on parents who clearly don't want it."
Reuters Polling results from April also revealed that Americans continue to hold more traditional views on gender and bathrooms. While 40.9 percent of 1,753 respondents said "people should use public restrooms according to the gender which they identify," close to 45 percent of respondents said "people should use public restrooms according to their biological sex."
Much of the transgender debate in America has stemmed from a recently passed bathroom law in North Carolina that prevents local governments and municipalities from enacting ordinances that force businesses and other places of public accommodation to allow men to use women's bathrooms and vice versa.
Conservative groups, including the North Carolina Family Policy Council, have said that they will continue to defend the law despite heavy pressure from LGBT activists.
"They want to force North Carolina to embrace their radical left-wing agenda. North Carolina has led the way in standing up to these special interest groups, and now we are paying the price. Other states are watching us to see if these groups can be stopped," the group said on its website.