Movie Review: 'Faith of Our Fathers' Is Solid Tribute to 'Forgotten' Vietnam Veterans; Showcases Faith on Battlefield
As the nation commemorates the 50th anniversary of the Vietnam War, a new movie that hit theaters Wednesday – just in time for Independence Day – seeks to honor the men and women who served in the war that so deeply divided America that we often ignore it. The movie is called "Faith of Our Fathers," and it spotlights the Vietnam War in a way that other movies have not.
It follows the stories of two men searching for answers of how their fathers were killed in action, and it's being released by the same studio (PureFlix) that made "God's Not Dead" and "Do You Believe?"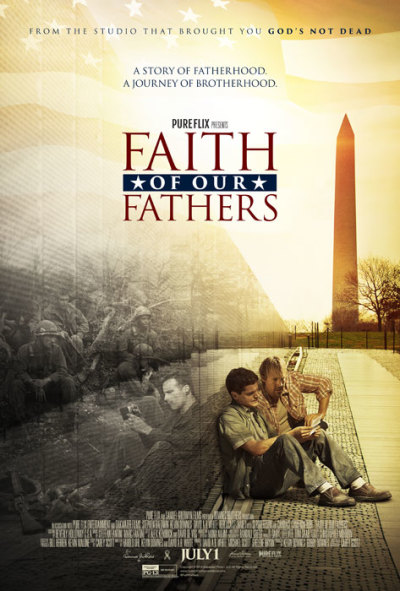 Kevin Downes ("Mom's Night Out," "Courageous") and David A.R. White ("God's Not Dead") play the roles of John Paul and Wayne, two men who couldn't be more different but are tied by the knowledge – discovered through war letters – that their fathers knew one another and died in the same war. John Paul lives in a middle class neighborhood with a wife and kid, while Wayne lives in a rural shack, once spent time in prison, and now enjoys his life as a hermit.
Wayne demands they embark on a road trip to the Vietnam War to find answers, and John Paul grudgingly agrees. Along the way they meet an eclectic group of characters, including ones played by singer Rebecca St. James and reality star Si Robertson ("Duck Dynasty).
The movie's strength is the interaction between Downes and White, including their humorous antics and frequent disagreements. St. James does a nice job, and Robertson, as expected, is funny. The film is a solid tribute to veterans. It also showcases the role of faith on the battlefield.
Downes, who also served as one of the producers, told The Christian Post the movie was made with one goal: pay tribute to veterans, particularly the ones who served in Vietnam, where 58,000 Americans died and 2.7 million fought.
"What I love is it is a film that honors veterans, and that's the heart behind the film – to honor veterans, especially veterans of the Vietnam War," he said. "They seem to be forgotten."
He prays the movie will impact families of those who were killed, wounded or missing in action.
"I'm hoping it will help provide healing and let people know that there's a God who loves them very much," Downes said.
The movie already has had an impact on veterans who have watched it in pre-screenings, such as one man who had served three tours in Iraq.
"He was in tears as he talked out, just because he was so thankful for this film," Downes said. "He felt it completely spoke to him."
While we can name cities and battles of most wars – Gettysburg, Pearl Harbor and Iowa Jima, for instance – but when it comes to Vietnam, we often draw blanks. We also assume that we lost the Vietnam War, when the reality is more complicated than that. (Some even say America won every major battle.) All of that is sad, because Vietnam veterans surround us each day – at work, at church, perhaps even at home.
On this Fourth of July weekend, let's give them the honor they deserve.
Faith of Our Fathers is rated PG-13 for brief war violence. It contains no sexuality or language.
Entertainment rating: 3 out of 4 stars. Family friendly rating: 3.5 out of 4 stars.
Michael Foust has covered the Christian film industry for a decade and has been a full-time editor and writer for 20 years. He blogs at
MichaelFoust.com