Muslim Convert to Be Charged for Beheading Oklahoma Woman
Muslim Convert to Be Charged for Beheading Oklahoma Woman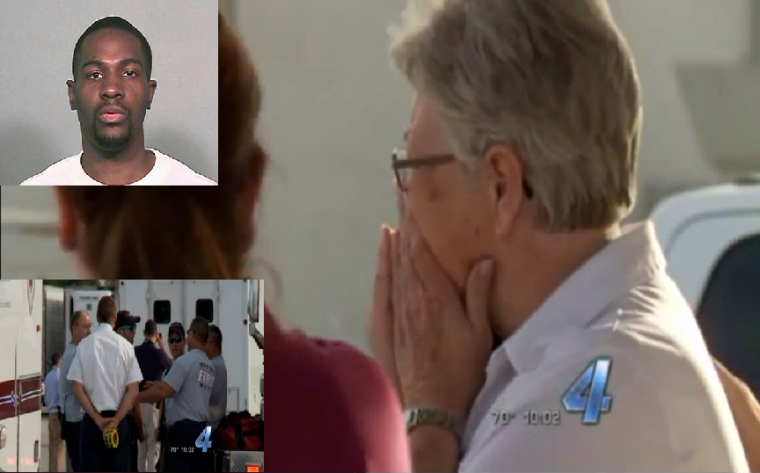 An Oklahoma man, who allegedly beheaded a former co-worker and stabbed another at a food processing plant before being shot and arrested, will be charged Monday with first-degree murder and assault and battery with a deadly weapon, police said.
The suspect, identified as 30-year-old Alton Nolen and who is in hospital in stable condition, will be charged Monday and is likely also to face federal charges, The Associated Press quoted Police Sgt. Jeremy Lewis as saying.
Nolen was fired from Vaughan Foods in Moore, Oklahoma, Thursday, and soon thereafter he attacked 54-year-old Colleen Hufford with a knife several times and severed her head, according to police.
The suspect then attacked 43-year-old Traci Johnson with the same knife, but Mark Vaughan, an Oklahoma County reserve deputy and a former CEO of the company, shot him.
Lewis earlier said the suspect had recently started trying to convert several employees to Islam. He had the words "as-salaamu alaikum," which means "peace be with you" in Arabic, tattooed on his abdomen, "Jesus Christ" on his chest, "Judah" on his left arm, and praying hands on his right arm.
Nolen was earlier convicted on drug-related charges and of assaulting an officer in 2011. He was chased and pulled over by state troopers because of outstanding warrants in October 2010.
In a video posted on Facebook Sunday, Nolen's mother, Joyce Nolen, said, "My heart is just so heavy right now. That's not my son."
She added that her son was raised up believing in God and he believes. "That's not my son. There is two sides to every story and we are only hearing one. His family, our hearts bleed right now because what they saying Alton has done. I want to apologize to both families — because this is not Alton."
Meanwhile, a spokesman for an Oklahoma City Islamic group said that the suspect was a frequent worshipper at a mosque and was "a little weird."
"He was a nice, quiet, low-key guy," the AP quoted Saad Mohammed, director of information for the Islamic Society of Greater Oklahoma City, as saying. "He acted a little odd" but his behavior never raised any "red flags," he added.
Nolen, who uses the name Jah'Keem Yisrael on Facebook, had earlier posted pictures of beheadings with the note, "Islam will dominate the world. Freedom can go to hell."
Nolen was convicted in March 2011 on charges of marijuana possession and assaulting a state trooper. A month later, he was sentenced to six years for cocaine possession, according to the AP. The three sentences ran concurrently even though the convictions were in different counties. Further, his time was reduced due to credit for good conduct.
"This case perfectly illustrates the problem with the Department of Corrections," Oklahoman quoted County District Attorney David Prater as saying.
"You'd think there would be, maybe, some sort of screening process or something that could have identified some of these issues while he was [in prison]," Cleveland County District Attorney Greg Mashburn added. "Maybe it wouldn't have caught it. Maybe it would have. Clearly, he needed to be in prison."
The FBI is helping the Moore Police Department to investigate whether the suspect's beliefs played a role in the attack.