Muslim Parents 'Turning to Christ' Through Children Who've Embraced Christianity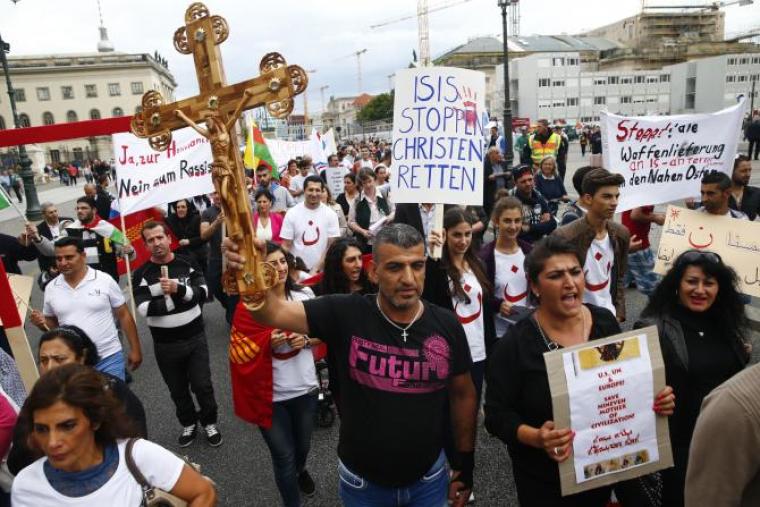 Muslim families displaced by the Islamic State terror group are reportedly turning to Jesus Christ, following in the footsteps of hundreds of children who've embraced Christianity through educational programs.
The Gospel Herald reported on Tuesday the testimony of a ministry director working in northern Iraq with Christian Aid Mission, an organization that helps ministry partners provide relief and spread the faith, describing how 600 children have attended one of the programs.
The children have received Bibles and heard the Gospel, allowing them to then go on and share the love of Christ with their parents.
"That night, we asked the kids to go tell their parents about what they had heard and share the story of Jesus with everyone," the director said. "Mahmood's father came the next day complaining to us about our influence in his kid's decision to accept Christ," he said of one 10-year-old boy's father.
"His father had never heard a word about Jesus, so he gave us the opportunity to tell him about Christ and His salvation," the director continued. "Not long after that, he accepted Christ and took Bibles for his wife and two daughters."
The boy's father was reportedly so moved by his newfound Christian faith that he started a Bible study in his house at 10 a.m. every Friday, which is the Muslim prayer day.
The ministry said that a number of other parents have also decided to accept Christ after being moved to do so by their own children.
The parents who've made the decision have done so despite fears of backlash from their communities, which are often highly resistant to Muslims converting to Christianity.
IS has been targeting both Christians and Muslims who don't agree with its ideology and war campaign in Iraq and Syria which has driven millions from their homes, creating a vast refugee crisis.
CAM said its ministry partners in Iraq have stepped up to provide much needed aid to fleeing families, and to introduce them to the Bible and the Christian faith.
"Despite the region still being in a state of war, large groups of displaced inhabitants are risking their lives trying to return home," the ministry leader continued.
"Although this is dangerous, due to living conditions in the camps, the lack of resources and the cold weather, many are still trying," he added.
"We provided some humanitarian support to the displaced that were in the camps, in the roads and in small villages located between the cities of Erbil, Dohuk and Mosul, but the need was much greater than our resources."
Voice of the Martyrs Canada, which supports Christian radio broadcasts in the region, said  in January that it's possible thousands, maybe even millions, of Muslims in the Middle East could convert to the Christian faith.
"There are thousands upon thousands coming to Christ," VOMC told BosNewsLife at the time. "We are in regular contact with our FM stations in Iraq and have talked with many people who have family in the Middle East."
Mission group Elam Ministries added that "church leaders believe millions can be added to the Church in the next few years — such is the spiritual hunger that exists and the disillusionment with the Islamic regime," referring to people in Iran.
Many Muslim conversions to Christianity have also been reported in refugee communities that have made it to Europe, with the Austrian Catholic Church, for example, announcing in March that its adult baptisms more than doubled during 2016, due to the influx of migrants.