Muslims Outraged as Ind. Billboard Calls Muhammad a 'Rapist' Who Married a 6-Year-Old, Beheaded Jews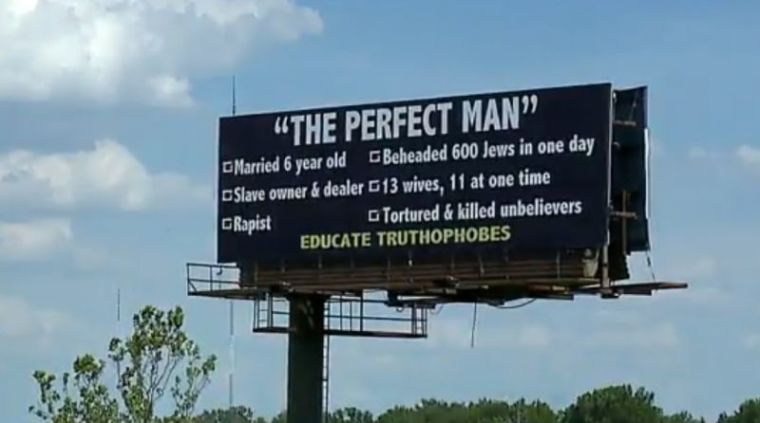 Muslims in Indianapolis, Indiana, have spoken out against an anti-Muslim billboard that calls the Islamic prophet Muhammad a "rapist" and "slave owner" who beheaded over 600 Jews in one day and married a 6-year-old child.
As FOX59 reported on Monday, the billboard, which went up on the southbound lanes of I-465 near the Washington Street exit, does not mention Muhammad by name, but lists several attributes of a so-called "Perfect Man," which are often points of contention laid out by critics of Islam.
"These are completely false statements," Rima Shahid, executive director of the Muslim Alliance of Indiana, told NBC News on Tuesday.
"I'd really like people to read about the seven points that are mentioned on the billboard because you'll find that none of them are true," she contested.
"It's a cowardly act because they didn't put a name on the billboard even though they must have gone through a lot of effort and resources to put it up."
Shahid said that she is "outraged and shocked that this would go up in our city."
"This is the first time hate speech like this has appeared. We didn't think these type of beliefs existed in Indianapolis and now it's in the heart of the city," she continued.
IndyStar reported that the billboard was put up by a "Virginia-based outdoor advertising seller," which has a history of controversial statements about Islam.
Don Woodsmall of a firm called LightPoint Impressions was identified as the man who sold the ad to a "group of patriotic Americans," who he said were denied advertising by national companies.
"Their desire, born out of love and not hate, is to launch a national conversation," Woodsmall reportedly said.
He said he felt it was his "duty as a patriotic American to accept the Perfect Man advertisement designed to inform the American public of the true root cause of the cascading violence that is endemic to and systemic in Islam."
Chris Kopf, who was listed on the now-deleted LightPoint Impressions website as a co-principal, said that he has parted ways with Woodsmall.
"We owned some assets together — billboards — a number of years ago," Kopf explained. "We have parted ways relative to those assets many years ago."
Farial Khatri of the Islamic Society of North America said that while they support free speech, the billboard "is also rooted in bigotry."
Kahtri argued that the ad is specifically meant to disparage the Muslim faith and noted that the ads have also been put up in New York and other cities.
Indianapolis resident Ali Khan said that the billboard has made him feel "sick," when driving by.
"You feel under attack when you see something like that, it's just so hateful to spread vicious lies about a religion," he commented. "If someone is confused or has a problem with Islam, why not just talk to a Muslim before paying for a billboard?"
Watch FOX59's video of the billboard: