Myanmar Rebels Detain Over 90 Christian Leaders, Shut Down Over 50 Churches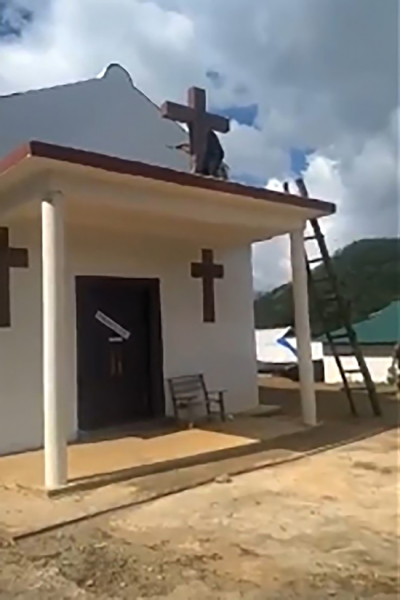 Dozens of Christian churches have been shut down in Eastern Myanmar in recent weeks while as many 92 Christian leaders have been detained by a rebel faction, according to the Lahu Baptist Convention.
The convention, based in the Eastern Shan state, released a statement last week condemning the actions taken by the United Wa State Army, the military wing of the de-facto ruling party of the Wa state and Myanmar's largest ethnic rebel group.
According The Irrawaddy, a news website run by Burmese exiles living in Thailand, the convention stated in its Sept. 25 statement that at least 52 churches in the Mong Pauk Township have been closed and stripped of all Christian symbols by the UWSA. At least three churches were completely demolished.
The convention explained that the rebel faction, whose sovereignty is not officially recognized by the Myanmar military but has helped the military in its battles in the Shan state, detained the 92 Christian leaders as well as about 40 Wa students in territory it controls in the Shan state.
Although the USWA was said to have initially detained more students, its alleged to have freed the students who were not of Wa ethnicity.
"We are very worried about our members who have been detained because we have lost contact with them," LBC spokesman, the Rev. Dr. Lazarus, told The Irrawaddy. "We heard that when they were taken, they were not allowed to take their clothes with them. The weather in Mong Pauk is cold."
The convention fears that the UWSA is forcing the detained students to serve as soldiers in its army.
According to Lazarus, the convention has heard that the USWA plans to hold detainees until it celebrates the 30th anniversary of the USWA cease-fire with the Myanmar government in April 2019.
"The UWSA has also forcibly recruited 41 male and female students who were participating Bible study classes in various churches," Lazarus told Radio Free Asia.
Lazarus explained that areas under UWSA control are now cut off and travel there is no longer possible.
"[W]e will hold a prayer ceremony on Oct. 7," Lazarus explained. "We have about 400 followers, and we'll pray for the quick release of our brethren who have been taken away."
According to Radio Free Asia, the USWA distributed a six-point statement on Sept. 6 that, among other things, states that churches, missionaries, teachers, and clergy in its territory should be investigated. The statement also called for a list of all churches in Wa-controlled areas to be created.
Additionally, the statement demands that churches built after 1989 to be destroyed, and forbids new churches in USWA territory from being built. The statement also requires that all religious leaders be local residents of the Wa region and must have permission from the Wa government to do religious activities.
Morning Star News, a nonprofit news outlet dedicated to covering Christian persecution worldwide, reports that UWSA released another statement on Sept. 13 saying that all churches built after 1992 would be destroyed or shut down because they were built without permission of UWSA's leaders.
According to Morning Star News, the UWSA declared on a UWSA-run television program that it arrested the religious leaders for violating laws that prevent foreigners from serving as religious leaders. UWSA also accused the Christian leaders of forcibly converting some ethnic people to Christianity.
UWSA spokesman Nyi Rang told The Irrawaddy that the religious leaders were detained because there were some "extremists" among the group.
One local Christian leader based in Keng Tung told Morning Star News that "Wa officials instructed Christians in Mong Pauk not even to worship at home these days."
"So some Christian members dare not to live in Mong Pauk any longer," the leader said. "They came to stay in Keng Tung town as they are fearful."
Tat Jack, a local resident whose relatives are being detained, told Morning Star News that the Wa rebels are holding those detained in the group's stronghold in Mong Maw.
"My uncle is a preacher," Jack explained. "He lives at a village nearby the Wa rebel base, Panghsang city. He and his son were detained in early September. But we are not allowed to visit them. We also heard that many members of the Christian community there are detained."
The convention's statement last week follows reports that the USWA destroyed or closed down at least 12 churches and some Christian schools on Sept. 20.
Ah Kar, a Mong Maw town resident, had previously explained that while many people were arrested briefly for worshiping, some had their heads shaved by authorities before being released. Women were among those who had their heads shaved.
Myanmar ranks as the 24th-worst country in the world when it comes to Christian persecution, according to Open Doors USA's 2018 World Watch List.
Myanmar's military has been accused by many of committing a genocide against the Rohingya community in the Rakhine state last August, which led to the displacement of over hundreds of thousands of people.
The U.S. government and other international actors have also condemned human rights violations committed by the Myanmar military in the Kachin and Shan states, where thousands are internally displaced.
Bob Roberts, an evangelical Texas pastor who visited the Kachin state this year, told The Christian Post that as many as 60 churches in Kachin have been destroyed or bombed in the last 18 months. About 20 of those churches were said to have been turned into Buddhist pagodas.