Nabeel Qureshi Hospitalized for Nearly 3 Weeks After Tube Got Lodged in His Throat
Nabeel Qureshi Hospitalized for Nearly 3 Weeks After Tube Got Lodged in His Throat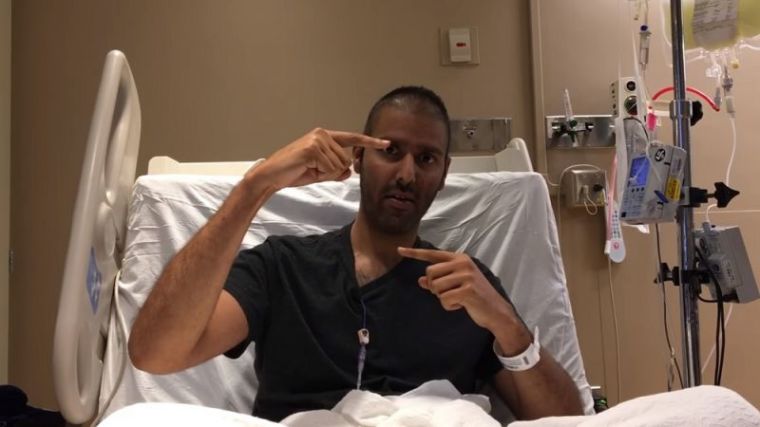 Cancer-stricken apologist and author Nabeel Qureshi has been hospitalized for the better part of the last three weeks after mesh tubing that was supposed to help him eat got dislodged and stuck in his throat.
In a Facebook post Tuesday afternoon Qureshi, who was diagnosed last year with advanced-stage stomach cancer, explained that he is still in the hospital after checking into the emergency room on July 21 because of a dislodged stent in his esophagus.
"I'm still in the hospital. Day 19! Please continue to pray," Qureshi, who served with Ravi Zacharias International Ministries before he was diagnosed last summer, wrote in the social media post.
Qureshi also apologized for not updating his followers more frequently about his medical situation.
Qureshi, who is now living in Houston, Texas, with his family, announced on July 23 through his Facebook page that he was hospitalized after a dislodged stent caused was he described as the most painful experience of his life.
On July 28, Qureshi recorded the 38th edition of his video blog from his hospital bed and explained he was still in the medical facility even though the stent that was causing the pain had been removed about five days earlier. Qureshi explained in the video that he expected to be released from the hospital just a few days later.
"At this point, we have been in the hospital a whole other week. Again, some paperwork, some red tape, trying to get transferred, blah, blah, blah," Qureshi said in the video.
In his July 28 video, Qureshi said the stent was originally inserted on July 20 after he consulted a doctor about the fact that he had not been able to eat for the past few weeks and had lost about 20 pounds.
Although the stent was supposed to help prevent blockages in the stomach, it got dislodged the next morning and traveled all the way up into Qureshi's esophagus, where it expanded.
"If you can imagine a 14 centimeter mesh tube stuck in your throat, that is what was going on," Qureshi said. "I was just vomiting blood as we were trying to make our way to the ER. While I was in the ER, I was in excruciating pain. I have never felt or imagined pain like this before. It was internal, as if something inside me was trying to explode out."
Qureshi said that for whatever reason, it wasn't until Sunday, after suffering for about 60 hours, that the stent was removed.
"During that time, I was feeling such tremendous pain. I almost went to this new phase of being where I am not feeling the pain. I am watching myself feel that pain," Qureshi said.
"I don't know if you call that kind of an out of body experience. But, I just can't even relay to you how much pain I was in. [It was] off the charts," he said. "If anyone touched me or moved me, I would start vomiting blood. I sat up straight for both evenings. I wasn't able to lay back to go to bed. For Friday night and Saturday night, I was just sitting up the whole time."
While waiting to get the stent removed from his throat, a series of hiccups caused Qureshi to have repeated spasms of severe pain.
Qureshi explained that during this time, he had an overwhelming spiritual experience — as if God or angels were comforting him.
"As I was going through this tremendous pain that I had only ever conceived of ... I felt like I heard voices of reassurance. I don't know if it was just my head or if the Lord was speaking to me or if angels were whispering assurances. I just felt a presence — that even though I knew it wasn't physically there I just knew there was a presence there," Qureshi said.
"I had some friends come to pray for me. As they were praying for me, I was thinking, 'Did they lay their hands on my head? Did they lay their hands on my stomach?' I would look to see what they were doing and they were standing next to me and they weren't laying hands. But, I could feel hands on my stomach and on my head."
Qureshi stressed that there must have been some kind of divine presence.
"I know for certain based on this past week's experiences that when you are going through the absolute worst of it, God will be there. He will send His comfort — be it through ministering angels or His own voice. I am still not sure which," Qureshi said. "He was there for me and I don't think I am anyone special. So, He will be there for you if you are going through something like that as well. Without a doubt, the worst pain I have ever felt in my life and God was there."
According to Qureshi, the next step was for him to receive what is referred to as a jejunostomy feeding tube, or J-tube, which enables people to receive supplemental nutriton formulas and water directly into the small intestine.
"That way, I can stop losing weight and regain nourishment and hopefully start becoming healthy again," he said.
On July 31, Qureshi went in for laparoscopic surgery to get the J-tube placed.