Nabeel Qureshi Plans to Undergo Expensive Cancer Treatment After Generous Donations
Nabeel Qureshi Plans to Undergo Expensive Cancer Treatment After Generous Donations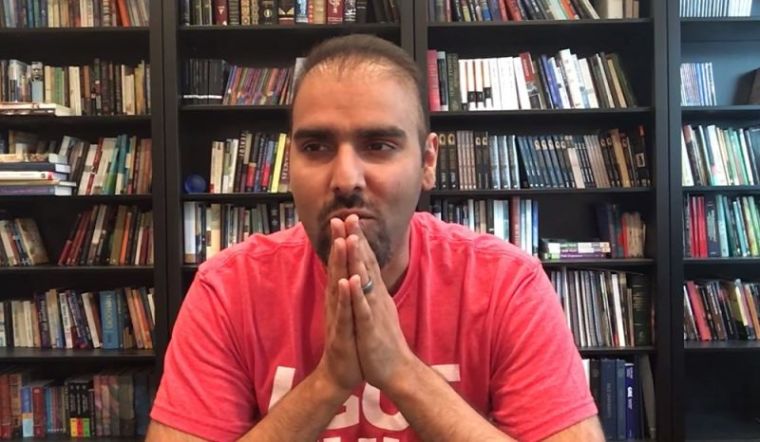 Evangelist Nabeel Qureshi, who is suffering from advanced-stage stomach cancer, has announced that he will be able to undergo highly expensive immunotherapy treatment thanks to the quick flow of donations he has received on his GoFundMe account and a private donor.
Earlier this month, Qureshi, an author and former speaker with Ravi Zacharias International Ministries, announced on his video blog that the chemotherapy he had undergone didn't eliminate his tumor and that his already-low chance of survival had decreased. He added that he was weighing the option of second-line treatments, such as immunotherapy, which he says works on about 20 percent of patients and can extend life.
But because immunotherapy for his type of cancer has not yet been approved by the Food and Drug Administration, it would likely not be covered under his health insurance, which is paid for by RZIM and will expire in early 2018. According to Qureshi, the cost for such a treatment would be about $20,000 per dose.
On May 19, Qureshi established a GoFundMe crowdfunding account dedicated to paying for his medical costs. Should he pass, the proceeds would go to help his baby daughter, Ayah, and wife, Michelle, pay for Ayah's education and other costs. In just 13 days, the GoFundMe account has raised an astonishing total of over $258,000.
In a video blog update posted on Tuesday, Qureshi explained that he will likely undergo immunotherapy.
"The immunotherapy looks like it will happen, thanks so much from the funding from the GoFundMe," Qureshi said, noting that he hopes to start the treatment later this week or next week.
Later in the video, he added that a private donor has agreed to pay for the first three rounds of the immunotherapy treatment.
"I shouldn't have to draw from the GoFundMe for the first three rounds but there are four of this particular one," Qureshi detailed. "We will be able to pay for it. We are trying to see if we can get the price reduced but they are going off money that I made last year."
Although Qureshi worked for most of last year, he has been out of work since he was diagnosed last August.
"They want to see how much money you make before they decide whether or not to reduce the price of your medication," he explained.
Recently, Qureshi found out that the FDA approved a new type of immunotherapy for his type of cancer if there are certain mutations within the tumor.
"We will see if that mutation is present within the tumor in my stomach. If it is, I shall have another option for immunotherapy, which should be covered by my [health insurance] since the FDA has approved it," he said. "So there are exciting avenues and prospects and I continue to look into alternative methods of treatment. So I am encouraged and I am hopeful."
Qureshi explained that he underwent his tenth round of chemotherapy on Monday, which also marked his second round of Taxol and Cyramza.
"The side effects are different. With the [drugs] that I used to get, it was a lot of nausea," Qureshi recalled. "This time, not so much nausea, but a lot of body aches and pains."
Overall, Qureshi believes that his new chemotherapy treatment is working.
"I have been able to eat more since starting this round of chemo. That's a good thing. The pain in my chest has been decreasing and the pain in my stomach has been decreasing. So I am thinking that this round of chemo is working," he said. "Of course, the first type of chemo that I had, the platinum-based chemo, worked quite well for the first four rounds. It decreased the primary tumor by 80 percent. That may happen again. Of course, the part that is left grows back. We are hoping for more than 80 percent, we are praying for 100 percent of the tumor to go away and also the metastatic node, especially, because that is what is keeping surgery from happening."
Appearing on one of her husband's video blog updates last week, Qureshi's wife, Michelle, explained that nothing has shaken her hope.
"I have never felt it before but since September, I have had this just overwhelming peace about the whole situation, but a peace that is going to lead to healing," Michelle Qureshi said. "This was in September. This was before we started receiving prophetic words. This was before we even had our community here [in Houston]. This was before we started hearing a bunch of stories about healing. So I believe this is coming from the Holy Spirit."
"Radiation has been one of the toughest things for me," she continued. "Just seeing Nabeel kind of more laid out, just hurting, having such a hard time eating, having to continue life and continue taking care of Ayah, during that and even during everything, nothing has shaken my hope."