NASA Advisor Tells Congress to Pray if Asteroid Heads Towards NYC (VIDEO)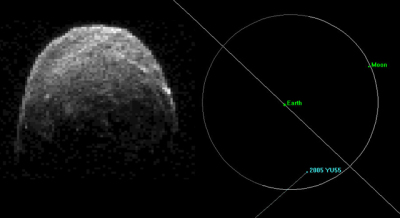 Most scientists would recommend taking cover if an asteroid was headed towards Earth, but one had a different piece of advice for Congressmen and Congresswomen when questioned. He advised taking a more spiritual approach to the possibility of impending doom.
"What would you do if you detected even a small one like the one that detonated in Russia headed for New York in three weeks? What would you do?" Representative Bill Posey asked NASA's boss Charles Bolden.
"Bend over and what?" Posey asked, expecting a traditional joke to ensue.
"The answer to you is, if it's coming in three weeks: Pray," Bolden responded, surprising everyone. "We are where we are today because you all told us to do something– and between the Administration and the Congress– the funding did not come," Bolden explained.
He later added that NASA has identified, and is keeping watch on, 9,600 "near earth objects," which could someday end up in our atmosphere and pose a threat. The agency requested more funding from the government but did not receive the requested amount, the Daily News reported.
On Feb. 15, a meteor exploded over Russia and caused a great deal of destruction over a large area. The meteor was not expected to hit and caught everyone off guard, which accounted for the devastation and approximately 100 injuries. Most injuries were caused by secondhand effect, meaning that the destruction of buildings and glass led to the injuries, not the meteor itself.
Last month a 150-foot asteroid narrowly missed hitting Earth by 17,150 miles, NASA reported.
"If we were in our orbit 15 minutes earlier than we will be this afternoon, then it would hit us," astrophysicist Neil deGrasse Tyson told WNYC radio. "It's invading our space; it might just pass between us and the moon."
"This will happen at some point," Humankind posted on the Daily News website, "and when it does… that's all folks."
Of course, some are having a bit of a laugh at the idea of an asteroid landing in the heart of New York City.
"If you see a small asteroid heading for Times Square, get out the camera," suggested Richard Rabinowitz.
"No worries fellow new Yorkers. Bloomberg has banned meteors larger than 10 feet from entering the greater tri-state area," VoiceInTheWilderness added, poking fun at Bloomberg's numerous attempts to ban things within the city.
Watch what happened when the meteor exploded over Russia HERE:
Meteor Hits Earth in Russia