NBA Responds to Claim of Ignoring Excessive Fouls Against Jeremy Lin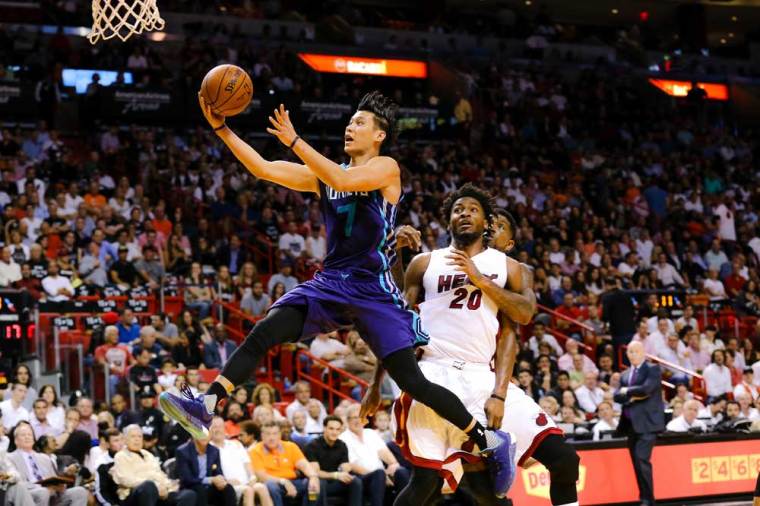 The NBA is responding to Jeremy Lin and his fans who may believe the Asian-American Charlotte Hornets point guard is taking unusually hard contact without drawing any flagrant fouls that call attention to the excessive hitting.
"After reviewing our extensive officiating database, we have found no data that suggests Jeremy Lin is disadvantaged by our officiating staff. NBA referees use a set of criteria provided by the league office in determining whether a foul should be called flagrant," an official statement from the NBA reads. "Following the game, contact that is deemed flagrant by referees and other hard contact (whether called or not) is reviewed by NBA Basketball Operations. As part of that review, Basketball Operations uses that same set of criteria, multiple video angles and enhancements, and it's comparable database to calibrate its judgment."
The statement comes as a direct response to a fan made YouTube video called "Jeremy Lin:Too Flagrant Not To Call" which has received over 1 million views. Aside from the video montage compiled of all the recent hard hits Lin has taken trying to drive to the basket, a description was written in the video.
"Lin's health and safety are at risk, as Lin gets hit unnecessarily and excessively in the face, head, and neck areas by other players frequently. The most alarming aspect of these incidents is that the referees didn't make the right calls to protect the player, Lin, from harm," the video description reads. "Evidently, the lack of calls and reviews from the referees encourages other players to continue using hard foul tactics on Lin."
The 27-year-old guard saw the fan video created by 48-year-old Hsiu-Chen Kuei. During a post game interview, Lin said he hoped the NBA would see the fan video and start reviewing more calls.
"I'm just thankful the fans are trying to do something about it, and trying to push the league to at least review some of the stuff," Lin said, according to For The Win. "What happened on the film is exactly what happened."
However, it is not likely that the NBA will make any real changes, after the league provided statistics to prove that Lin is not taking a great deal of contact compared to other players.
"With respect to the data, over the last three seasons, Mr. Lin ranked 21st among all players in number of drives to the basket with 1,537. While he has not drawn a flagrant foul in that time, neither have other guards known for their driving ability like Reggie Jackson (2,031 drives), Tony Parker (1,974), Tyreke Evans (1,969), Ty Lawson (1,891), Kyrie Irving (1,649) or Victor Oladipo (1,544)," the NBA statement reads. "Conversely, Mr. Lin has drawn more common fouls on those drives than any of those previously listed players and has drawn fouls at the seventh-highest rate among the 23 players with more than 1,500 drives. Furthermore, given the infrequency of flagrant fouls (roughly 1 per every 500 foul calls), it is not statistically significant that none of Mr. Lin's 814 fouls drawn were deemed flagrant."