NC Pastor Has 'Already Forgiven' Whoever Torched Primarily Black Church; Police Investigating Arson as Possible Hate Crime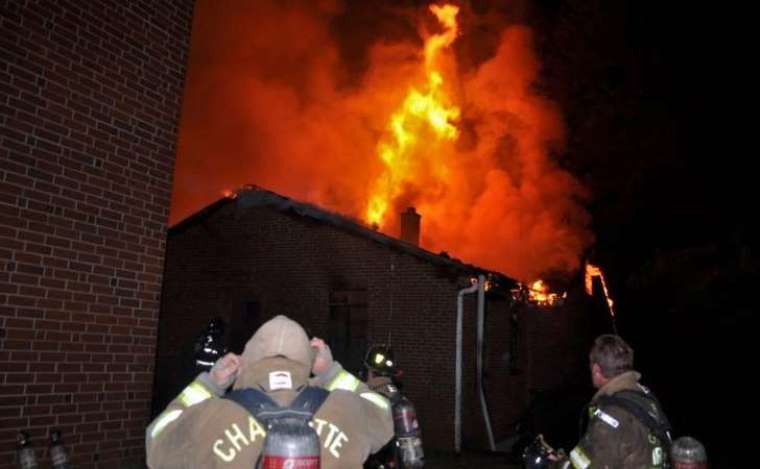 The pastor of a North Carolina church that the Charlotte Fire Department says was intentionally set ablaze in an arson attack on Wednesday, said his congregation has forgiven whoever is responsible, even though police say it could be a hate crime.
Pastor Mannix Kinsey of Briar Creek Road Baptist Church, a primarily black church in East Charlotte, helplessly watched part of his church burn down early Wednesday as 75 local firefighters struggled for an hour to get it under control.
"When I got here I was even amazed to see that the flames were so high," Kinsey told WBTV. "I am thinking, 'Oh my goodness, this church is going to be destroyed.'"
What was once a homely place of worship is now just piles of charred debris. All that's left are fond memories of what used to be, along with $250,000 in damages. Kinsey is staying optimistic, however, as no lives were lost in the blaze.
"We have already forgiven them and we're hoping that the investigation will take its place and do what's necessary," he said. "These buildings can be repaired, they can be built over. This is the opportunity for God to really touch the hearts of individuals … we don't have any malice against anyone else."
Investigators say fire patterns found amongst the ashes of the 85-member church led them to rule the incident an arson attack.
"The evidence that we found out here does indicate that it's a set fire," said Senior Fire Investigator David Williams.
Police have yet to share details on possible suspects as the investigation is said to be ongoing. They are still in the process of gathering information to determine whether or not the arson attack was a hate crime.
"That is one of the angles that we're examining at this point," said Williams. "If we find information that leads us to go down that path, we'll pursue it. But we've not eliminated that yet."
Despite the extensive damage caused by the fire, the church sanctuary remains intact and planned services will still go on as scheduled. The incident did, however, jeopardize plans for a summer camp which will affect roughly 30 children as the church works to find a new location.
The fire comes one week after a deadly shooting at the historic Emanuel African Methodist Episcopal Church in Charleston, South Carolina. Dylann Roof, a 21-year-old white man of Lexington, admitted to opening fire during a Bible study at the black church, killing six females and three males, including the church's late pastor Democratic State Sen. Clementa Pinckney.