Nearly 700 ISIS terrorists killed in 2022; US warns about 'next generation' of jihadi fighters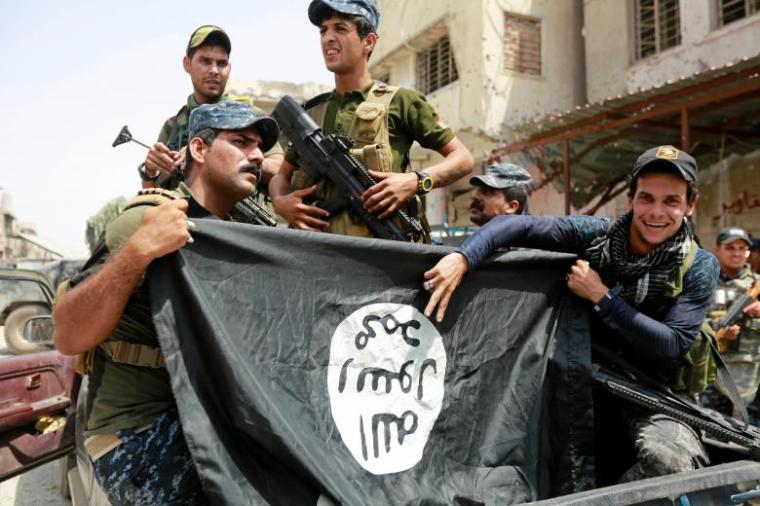 U.S. forces and their allies killed at least 686 Islamic State suspects in Iraq and Syria in 2022 "to degrade the terror group's ability to direct and inspire destabilizing attacks in the region and globally," according to the U.S. Central Command.
As the IS operatives were killed in the two countries where they once held large swathes of territories, "no U.S. forces were injured or killed" in the 313 operations the American troops and partner forces conducted this year, CENTCOM said in a statement.
The forces killed at least 466 IS operatives in Syria and at least 220 in Iraq, in addition to 215 and 159 detentions, respectively. CENTCOM stated that in Syria, U.S. forces carried out only 14 operations unilaterally, and none in Iraq, where the U.S. only advises, assists and enables Iraqi Security Forces.
In Syria, 108 operations were done in partnership with the Syrian Democratic Forces.
"These operations degraded ISIS and removed a cadre of senior leaders from the battlefield, to include the emir of ISIS and dozens of regional leaders as well as hundreds of fighters," the statement said.
"The emerging, reliable and steady ability of our Iraqi and Syrian partner forces to conduct unilateral operations to capture and kill ISIS leaders allows us to maintain steady pressure on the ISIS network," said Major General Matt McFarlane, commander of Combined Joint Task Force – Operation Inherent Resolve.
In October, U.S. forces killed three senior IS leaders — Abu Ala, the No. 2 Islamic State leader in Syria, and Abu Mu'ad al Qahtani, another IS leader — in two separate military operations in Syria, CBS News reported at the time.
In July, Maher al-Agal, the head of IS in Syria, was killed, about five months after the death of IS' top leader, Abu Ibrahim al-Hashimi al-Qurayshi, in an overnight raid by U.S. special forces in northwestern Syria, according to NBC News.
"While we have significantly degraded (ISIS's) capability, the vile ideology remains uncontained and unconstrained," CENTCOM commander Gen. Michael "Erik" Kurilla said.
"There are, today, more than 10,000 ISIS leaders and fighters in detention facilities throughout Syria and more than 20,000 ISIS leaders and fighters in detention facilities in Iraq."
Kurilla warned about the "potential next generation of ISIS."
"These are the more than 25,000 children in the al-Hol camp (in northern Syria) who are in danger. These children in the camp are prime targets for ISIS radicalization," Kurilla said. "The international community must work together to remove these children from this environment by repatriating them to their countries or communities of origin while improving conditions in the camp."
Advocates have long raised human rights concerns within the al-Hol camp, where over 50,000 people, mostly family members of Islamic State fighters, are living. Kurilla visited the camp last month after the bodies of two girls were found beheaded in the camp. 
"This visit, my third to al Hol since taking command on April 1st, reaffirmed for me the gravity of the situation at the camp," Kurilla said in a statement. "The more than 25,000 children at the camp are in danger — the recent beheading of two Egyptian girls, ages 12 and 13, inside the camp is a horrific reminder of that. The children in the camp are prime targets for ISIS radicalization."
At a G20 event centered on religion's role in helping solve global problems held in Indonesia last month, the Most Rev. Bashar Warda, the Chaldean Catholic Archbishop of Erbil, shared that "sectarian violence" is a significant problem in Iraq, where, during the last decade, thousands of Iraqi religious minorities were killed, enslaved or forced to flee their homelands.
Although Christians in Iraq once numbered around 1.5 million, that number has fallen to below 200,000 today as the Christian population has deteriorated since the United States military intervention began in 2003.
"Without an end to this sectarian violence, there is no future for religious pluralism in Iraq, or anywhere else in the Mideast for that matter," Warda stated, noting that after around 1,900 years of existing in the region, "we Christians of Iraq now find ourselves on the very edge of extinction."
In Syria, the Christian population declined from 10% to less than 2%, falling from 1.5 million just before the war began to around 300,000 today, Aid to the Church in Need reported last month.