Netanyahu Warns Israel Could Attack Iran if Tehran's Aggression Continues Unchecked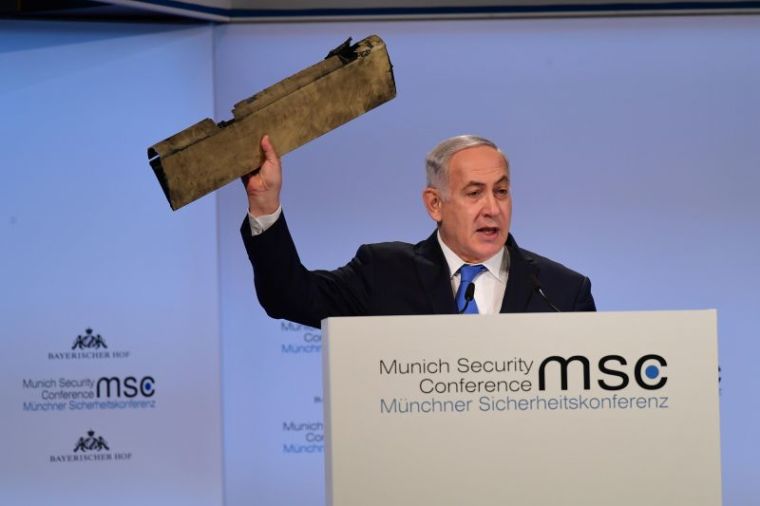 Israel will not hesitate to attack Iran if Tehran's aggression against Israel continues unchecked, Prime Minister Binyamin Netanyahu warned at the Munich Security Conference Sunday.
"Israel will not allow Iran's regime to put a noose of terror around our neck," Netanyahu said. "We will act without hesitation to defend ourselves. And we will act if necessary not just against Iran's proxies that are attacking us, but against Iran itself."
Netanyahu's comments came just over a week after Israel shot down an Iranian drone that had penetrated its airspace and launched an attack on Iranian targets in Syria in response.
Holding aloft a piece of the drone, Netanyahu called on Iran's Foreign Minister Mohammad Zarif, who was due to speak at a later session at the conference, to take it back with him to the "tyrants in Tehran" and deliver a message that Iran should not "test Israel's resolve."
"Israel will continue to prevent Iran from establishing a permanent military presence in Syria. Israel will continue to act to prevent Iran from establishing another terror base from which to threaten Israel," Netanyahu said."
Comparing the 2015 Joint Comprehensive Plan of Action to the 1938 Munich Agreement, Netanyahu suggested the nuclear deal signed between the world powers and Iran was also an act of appeasement that had only emboldened the regime in Tehran and brought war closer.
"In fact, it has unleashed a dangerous Iranian tiger in our region and beyond. Through its proxies, Shia militias in Iraq, the Houthis in Yemen, Hezbollah in Lebanon, Hamas in Gaza; Iran is devouring huge swathes of the Middle East," the prime minister warned.
Ashley Obel contributed to this report