New Poll Reveals Most Americans Don't Find Pastors, Religious Leaders Trustworthy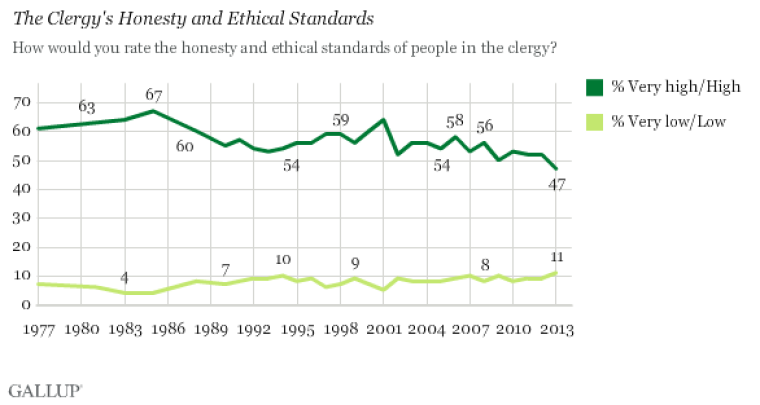 The majority of Americans no longer rate pastors and religious leaders' honesty and ethical standards highly. A Gallup poll released earlier this week reveals that for the first time since the question was introduced in 1977, trust in clergy has dropped below 50 percent.
Gallup attributed the decline of trust in religious leaders on scandals.
"If views of a certain profession have changed, it usually has been a function of scandal surrounding it. The Catholic priest abuse stories from the early 2000s helped lead to a sharp drop in Americans' ratings of clergy, a decline from which the profession has yet to fully recover," Art Swift, Gallup's managing editor wrote.
John Fea, a history professor at Messiah College, said that the Evangelical world has seen its own scandals in the past few years which likely have also contributed to this cynicism.
"Within evangelism, part of the problem is all kinds of moral lapses among pastors. I think this Mark Driscoll plagiarism thing...the [Vision Forum] president who had an extra-marital affair. All of this kind of bad behavior by pastors causes people to mistrust these kinds of spiritual leaders," Fea told The Christian Post.
Fea also noted that since the Great Awakening's George Whitfield, Evangelicals have been driven by "powerful, almost celebrity-like leaders."
"When those leaders fail us, we somehow feel that evangelicalism has failed us well," he added.
Fea suggested that one of the ways that religious leaders could reverse their image might be if they focused less on cultivating their public image and instead worked on more internally tending to their congregation.
"I don't think Rick Warren is out there sort of making hospital visits and visiting people's homes within his congregation, 8-10,000 person congregation, said Fea."I think the rise of megachurches and celebrities pulls these pastors away from daily work of pastoring and perhaps the answer may be to return to a smaller model."
Overall, healthcare providers were consistently rated the highest by Americans, with nurses, pharmacists and medical doctors composing three of the top four slots. Americans ranked lawyers, business executives, and bankers no higher than 29 percent for their trustworthiness.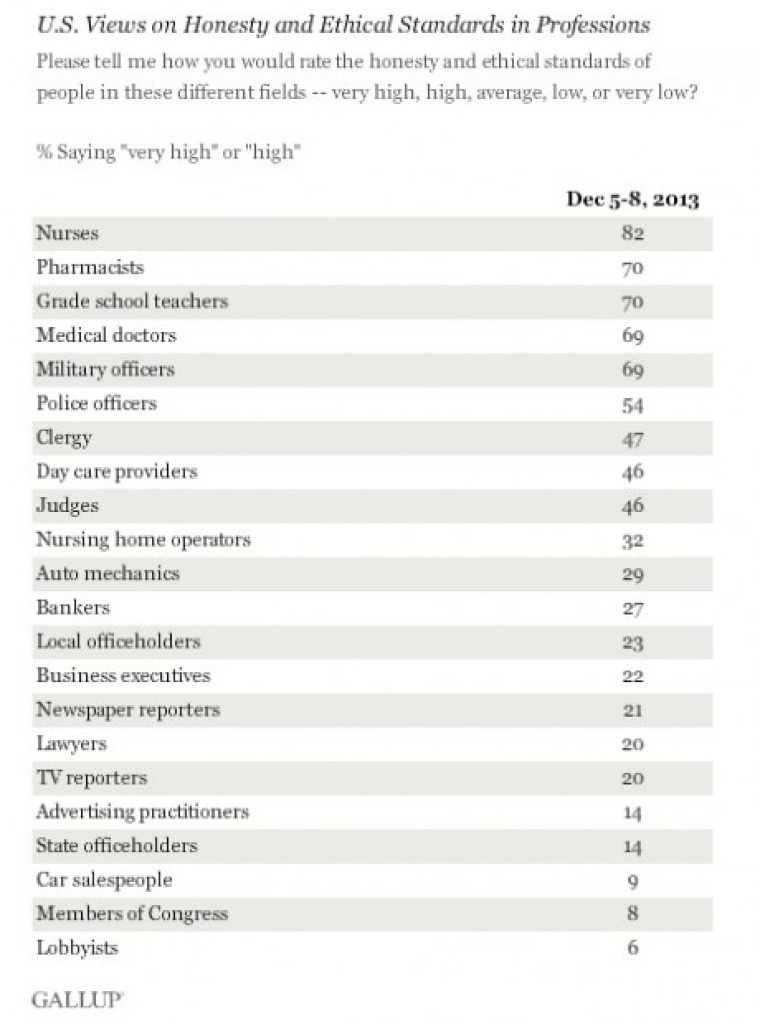 The Gallup poll also reveals that only single-digit numbers of Americans find any integrity in car salespeople, members of Congress and lobbyists, who with nine, eight and six percentage points respectively find themselves with a significant amount of ground to make up.
The Gallup poll results come from telephone interviews from Dec. 5-8 2013, among 1,031 adults, all 18 or over. There is ±4 percentage points margin of error.