New York City Mayor Remembers Hero Cop Dennis Guerra at Start of Al Sharpton's National Action Network Convention
NEW YORK — New York City Mayor Bill de Blasio paused during the opening ceremony of Al Sharpton's National Action Network convention Wednesday to remember an NYPD officer and married father of four who died Wednesday morning from injuries he received trying to save residents from a fire in a public housing complex Sunday.
Officer Dennis Guerra was pronounced dead at Montefiore Medical Center in the Bronx at 6:50 a.m., according to the New York Daily News, and de Blasio asked a packed conference room of NAN supporters at the Sheraton New York Times Square Hotel to remember the fallen hero Wednesday.
"I know it's a national convention, but we in New York City this morning are hurting and I wanted to ask your indulgence for a moment," began de Blasio.
"We've lost a good man this morning. A very brave police officer in Dennis Guerra who did something that most of us wouldn't understand how to do. He knew there was a fire in a public housing development on the 13th floor. He went selflessly toward the flames, selflessly toward those in danger no matter what the risk was to him," said de Blasio.
"It's something that our police officers do every day, it's something our first responders do every day. It's something we need to appreciate every day. A lot of us can't see ourselves doing something of such bravery. We have to appreciate those who do it on our behalf," he continued.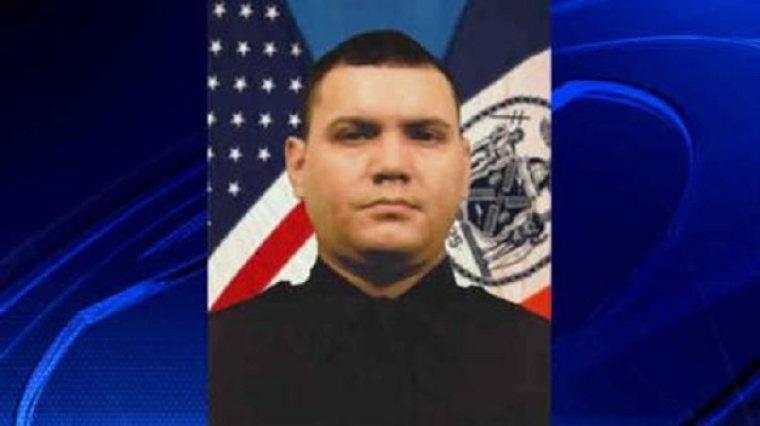 Mayor de Blasio then thanked the hero officer on behalf of the entire city.
"I've got to know his family in the last few days, a wonderful close family grappling with this tragedy, and I just want everyone to know that on behalf of all 8.4 million New Yorkers our hearts go out to the Guerra family. We will stand by them in their grief and beyond," he said.
Guerra and housing officer Rosa Rodriguez were overwhelmed by smoke from the fire that was started in a public housing development in Coney Island, N.Y., by a bored teenager on Sunday.
He had been in a coma since then and became the first NYPD officer to die in the line of duty since Dec. 12, 2011, when officer Peter Figoski was shot.
After sharing his thoughts on officer Guerra, de Blasio highlighted his commitment to running an administration that is committed to economic and social justice and supported Sharpton's role in that effort.
"I just want everyone to know that I am proud to stand with Rev. Sharpton. … He's the real thing. His vision is clear, his work gets more powerful with every passing year.
"We all seen lots of leaders come and go but when we find someone who stays the course … that's a blessing. I'm Reverend Sharpton's fan," he added.
The National Action Network was founded by Al Sharpton in 1991 and is one of the leading civil rights organizations in the U.S. The convention will continue through Saturday and is expected to feature several influential leaders including an appearance by President Barack Obama Friday evening.