Newlywed Woman Suffers Stroke on Stage While Testifying About God's 'Amazing' Redemption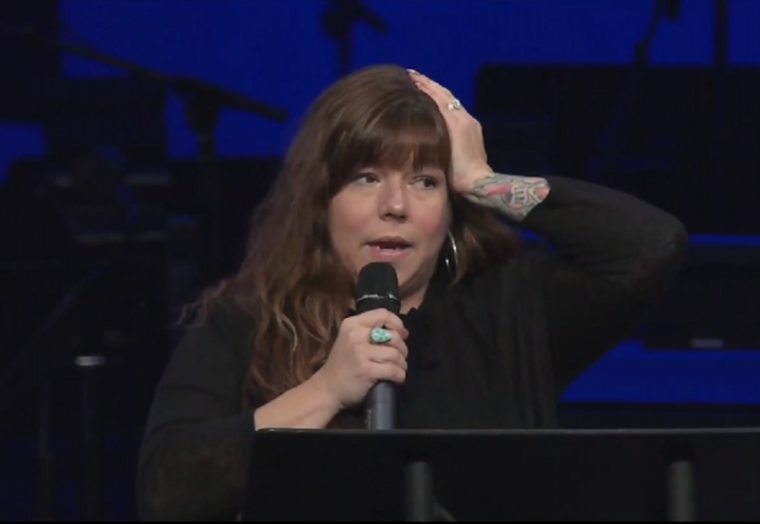 A newlywed woman, who was getting ready to start a new chapter in life with her husband and daughter, was left nearly speechless after she suffered a massive stroke while testifying on stage about God's goodness at her church in Chattanooga, Tennessee.
Chastity Watts was sharing her story of redemption with a crowd of about 1,500 people at Abba's House on Nov. 19 when tragedy struck, friends and family told WTVC NewsChannel 9 in Chattanooga.
"She literally dropped the mic and I just put my arms around her to steady her because her knees were buckling," said Chastity's friend, Theresa Biggs, who initially thought her friend was just nervous about speaking before the crowd that day.
In a video of her interrupted testimony, Chastity told the church that when she arrived in Chattanooga on a Greyhound bus three and a half years ago, she was addicted to alcohol and homeless and extremely pregnant.
"This is overwhelming to me, let me just soak this in," she said in the recording.
"I'm so very blessed for this moment right now because I am really excited this year, everything that God has done in my life. He has turned my world upside down in the most amazing way over the last four years and whewwwwww," she said breathing excitedly.
"I was extremely hungry. I really needed God. I was at a place where I just wanted to die. I wanted to commit suicide," she said rubbing the side of her head.
Even though she was raised in a Christian home, she told the church that she never knew about the love of God, only the fear of God. She explained that she fled an abusive relationship but lost custody of her son in the process. To compensate for the loss of her child, she said she turned to sex and alcohol and eventually became pregnant again. As she told her story, however, she continued feeling pain.
"This is so hard for me to do. My head is pounding," she said as the church cheered her on thinking she was just nervous. Eventually, however, she had to end her testimony prematurely and was taken to the hospital where she learned she had suffered a massive brain bleed.
"The doctor said, 'She's going to die.' Those were his words," Biggs recalled to ABC 9.
Chastity's amazing year had become a nightmare. She was getting ready to join her new husband, Jimmy Watts in Reno, Nevada, where he was already waiting.
When a surgeon called him asking for permission to operate on her brain he had little hope that she would survive.
"I didn't think she was going to make it," Watts said. "I at least wanted to be here and hold her hand and tell her how much I love her."
When Chastity survived the first surgery, doctors still had no hope. But Biggs, Jimmy and the church turned to prayer and now they say she has been improving a little bit each day.
"It was just miracle after miracle, improvement after improvement. The doctors couldn't believe it," Watts said.
Doctors, he explained, aren't hopeful that Chastity will make a full recovery but he has vowed to stay by her side "no matter what the outcome is."
"That's not the last time she will stand on that stage. She's going to tell the rest of her story," her friend Biggs added.
A GoFundMe campaign is now seeking $10,000 to help with her medical and living expenses.