NFL Kicker Graham Gano on How Jesus Helped Him Deal With Pain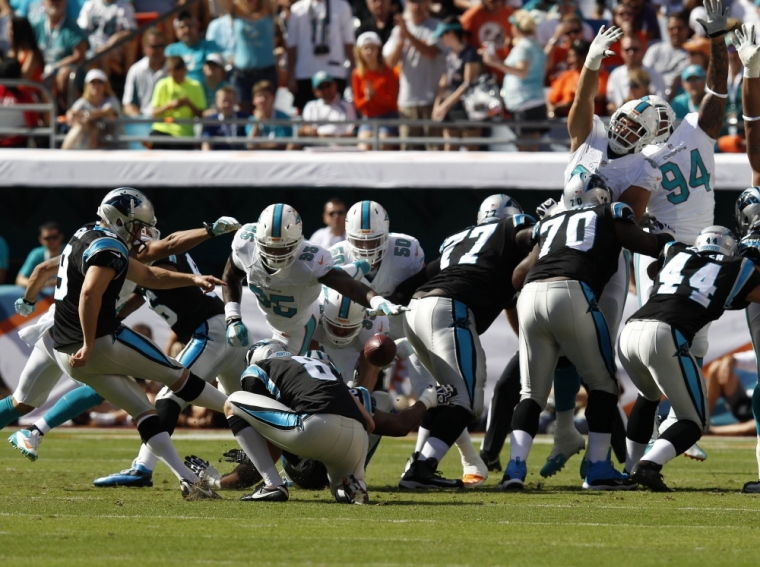 The NFL's Carolina Panthers are having an incredible season and are currently 13-0. Their team is filled with high-character players on and off the field. Panthers kicker Graham Gano recently joined Christian Post contributor Bryce Johnson on his syndicated UNPACKIN' it radio show to talk about his faith and the undefeated season. Graham played his college ball at Florida State and has been with the Panthers since 2012.
Bryce:  With winning this many games in a row during the regular season, how do you balance celebrating what is being accomplished versus not settling and wanting to accomplish more?
Graham: Coach Rivera does a good job of focusing on the week at hand and not getting too ahead of ourselves. He talks about the destination being important, but we need to make sure we're enjoying the journey and the process of getting towards that destination.
Bryce: What has it been like for you this year to remain focused on the important sides of life with family and faith, while enjoying and experiencing what has been going on with the Carolina Panthers?
Graham:  We have a lot of great guys on the team — a lot of believers. We bounce ideas off of each other, and we're constantly in the Word and talking about things. I think that helps out a lot.
At the same time, my wife and I host a life group through our church, so it's nice to meet with other believers and grow with them and share the experiences that we're having. It's a very trying time during the season and I feel it's important to stay in the Word and have a good support system around you.
Bryce: What has God been teaching you most recently?
Graham: Taking advantage of opportunities that are before me. When I was with the Redskins, I had so many opportunities to speak and attend different functions, but a lot of times I just said 'no' ... whether I was just shy about being a public speaker. But one of the things my wife and I have prayed about is to take advantage of saying 'yes' whenever things come up and being able to share my testimony whenever I get the opportunity.
Bryce: Let's give you that opportunity right now — I would love to hear a little bit about your testimony. What can you share with us today?
Graham: I grew up going to church in Pensacola, Florida. I got more serious about it when I was at Florida State. Right before my senior season I had a knee injury and didn't know if I was going to be able to play that year or not … and then I always had the goal to be a professional football player in the NFL.
I remember sitting down with Coach Bobby Bowden, who is a big believer, and he told me to pray about it. So I ended up having surgery on my knee and four weeks later I was back kicking in games and ended up having one of the best seasons that I had while at Florida State.
The thing that got me through that season, because I had a lot of pain in my knee, was thinking that no matter how much pain I'm going through is nothing compared to how much Jesus went through on the cross. And so on my right knuckles I wrote 'PAIN?' That motivated me throughout the season.
From there I bounced around and ended up in Washington, and then got released. Ten weeks went by and I was questioning if I was ever going to play again ... if teams thought I was good enough. So my wife and I prayed one day and said, 'Lord if football is what you want for my life, please open a door and show us what you want us to do, and if it's not, make something happen.'
I kind of just gave that up—having my wants and my desires ... and focused on what His plan for my life was. The very next day I got a call from Carolina saying they wanted me to come and try out ... and I don't think that was a coincidence. I've been here ever since and we feel like it's a true blessing — we really love it!
Bryce: Wow, what a great story — it's awesome to hear about your development on and off the field, and we wish you and the Panthers the best with the rest of the season. Thanks so much for joining us on UNPACKIN' it.
You can listen to this and other UNPACKIN' it interviews here: Podcasts.
Bryce Johnson is the host of the nationally syndicated sports and faith radio show UNPACKIN' it and is the president of UNPACKIN' it Ministries. Their mission is to challenge, inspire, and encourage sports fans to follow Jesus and become more like Him. Connect with Bryce on Facebook at UNPACKIN' it and on Twitter @UNPACKINIT.