NFL Star Josh Norman to Give Tithes, Offerings to Hometown Churches That Ask for Help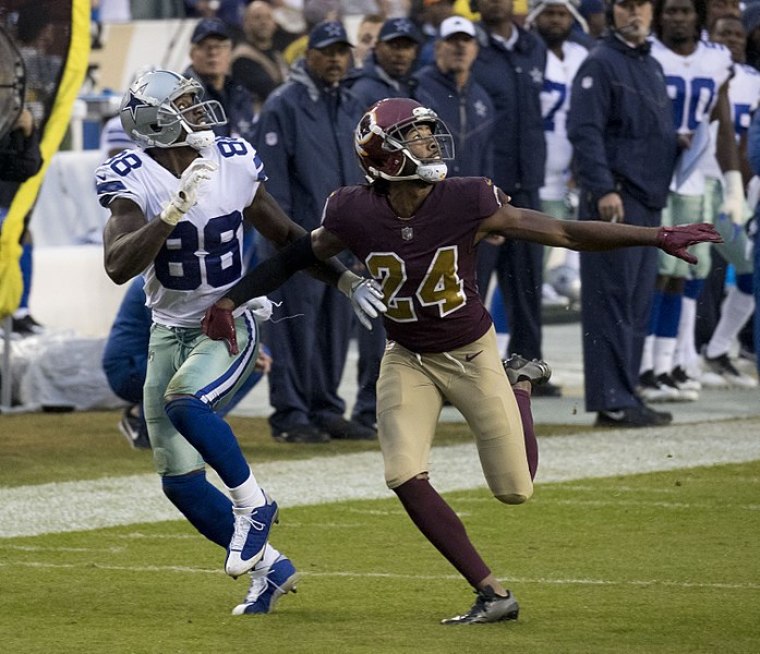 Washington Redskins star Josh Norman is calling on the churches of his hometown of Greenwood, South Carolina, to inform him about ways in which he, as one of the highest paid cornerbacks in the National Football League, can provide for their needs.
Just one day before Norman and his Redskins teammates took on Eli Manning and the New York Giants on Thanksgiving night in a Washington suburb, the 29-year-old took out a full-page advertisement in the Greenwood Index-Journal last Wednesday to get the word out that he is now looking to give back to to his hometown churches.
The former Greenwood High and Coastal Carolina University football standout's newspaper ad was in the form of an open letter addressed to the "shepherds of the churches of Greenwood."
"Your persistent prayers and devotion to the people of your congregation, to whom God has given you stewardship over, has not gone unnoticed. For the need of the people in the church and the community you serve is always above rapport," the letter, signed by Joshua Ricardo Norman, reads.
"This season, God has laid it on my heart as a servant of the crown to reach out and touch every church in Greenwood, S.C. with my tithes and offering of love and peace. It is my wish that everyone in your place of worship be touched by this blessing that I've been blessed by and now giving unto you."
Norman, who became the highest paid cornerback in the NFL when he signed a 5-year, $75 million deal with Washington in April 2016, requested that each church in Greenwood send him a letter stating the "concerns of the church," and the "needs of the youth."
The letter requested that the churches' letters be mailed to Redskins Park training and practice facility in Ashburn, Virginia, by no later than Dec. 12.
"I can't fulfill the entire list, but I am going to do my very best with what God has blessed me with to uphold the needs and the standards of your church," Norman wrote. "I will read through each one and get back to you all respectfully. I truly thank you from the bottom of my heart for being that beacon of hope to look up to and strive for greatness in your teachings and wessels on earth to reach our Father who is in Heaven."
Norman concluded his letter by citing Romans 12:13: "Share with the Lord's people who are in need. Practice hospitality."
Norman's ad earned the praise of Athletes in Action, the sports affiliate of Cru Ministries.
In an op-ed, Athletes in Action contributor Brian Smith stated that the one line from Norman's ad that stuck out the most to him was: "I can't fulfill the entire list, but I am going to do my very best with what God has blessed me with to uphold the needs and standards of your church."
"I love that statement because there is a challenge in it for me. And you," Smith wrote. "Am I doing my very best with what God has given me to uphold the needs of the church?"
"What if every Christian in the NFL took a similar approach? What if every Christian in professional sports did the same? What if — and this may be a little too crazy — every Christian, period, had a similar posture?" Smith asked. "What might it look like to love God and bless others with the resources He's given us in our local church community — our primary job description as a Christian? That is what happens when we understand that our primary job description — as a Christian — is to love God and love others with what has been entrusted to us."
According to SportingNews.com, Christian faith has always played a role in Norman's life. When he was at Greenwood High, Norman served as a counselor with the Fellowship of Christian Athletes.
Although Norman is a multi-millionaire, one of Norman's former high school coaches, Kevin Addis, told Sporting News in February 2016 that Norman has always been generous when it comes to giving back to his hometown.
"I think a lot of people think that Josh is this multi-millionaire NFL football player," Addis explained. "He's not ... He's given amounts of money that, probably, realistically, he doesn't really have. Or he doesn't need to be giving that much. I just think that shows you how much he loves where he's coming from."
Additionally, the Index-Journal reports that Norman gave $10,000 to six local churches in 2016.
"This year, God told me something totally different. He said, 'Why don't we touch all the churches this year in Greenwood County?'" Norman said. "It was constantly on my mind and weighing heavy on me."
Norman's newspaper ad comes after he donated $100,000 in September to support Hurricane Maria relief efforts in Puerto Rico.